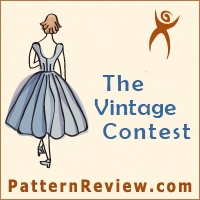 Do you love sewing vintage patterns? Participants of the Vintage Contest were challenged to sew an authentic period pattern issued and printed before 1980.
Contestants were also asked additional review questions, including whether vintage fabrics or techniques were used, and how the difficulty level differed from modern patterns. Very interesting to read! From dresses and tops to children's outfits, these vintage era submissions were all wonderfully crafted.
Now it's time to meet the winners for the Vintage Contest!
First Prize Winner: Chococat for Simplicity: 4410 (Simplicity 4410 Misses' Dress)
Congratulations, Chococat!
Chococat says, "I like using vintage patterns because of their construction. Since they come in individual sizes, I find they fit a little nicer than today's modern patterns. I have less trouble using vintage patterns than modern patterns because vintage patterns tend to have easier more direct instructions; today companies put out patterns without even proof reading them first, lol."
And, we have a surprise tie for second prize!
Second Prize Winner: Rubber duck for Simplicity: 2358 (Child's Sailor Dress)
Adorable dress, Rubber duck!
Rubber duck says, "The single sizing made it easy to use, no need to trace. It had clearly been used before which was nice. The little girl who wore it the first time round could well be the age of my mother now."
Second Prize Winner: ChildOfTheWild for Burda: 6807
Great work, ChildOfTheWild!
ChildOfTheWild says, "Since the pattern came from a magazine, it had to be traced. Take a look at this. Yup, not easy. Also I wasn't able to detect any grainline marks nor notches for waistline."


Congratulations to everyone who participated in this contest!
Many thanks to MrsCharisma, for managing the Vintage Contest.
So Vintage Patterns is the proud Sponsor of the Vintage Contest. Thank you!


Browse the Contest Gallery to see all of the submissions.

Review the Contest Rules and Report.
Read the behind-the-scenes Contestant Conversation.
Check out all of the Currently Running Contests on PR.