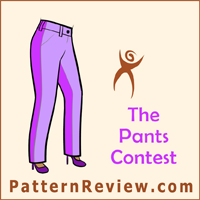 The Pants Contest has concluded! Participants for this contest were encouraged to sew any style of long woven pants with a button or zipper fly closure. Special criteria for the Pants Contest included use of finishing details such as pockets, lining, and belt loops. It's a challenging task to properly fit trousers, but these talented contestants created many inspiring, well-constructed garments.
You voted for your favorites! Now let's meet who won…
First Prize Winner: bstar for Sewaholic Patterns 1203 (Thurlow Trousers)
Congratulations, bstar!
bstar says, "I cannot thank Tasia enough for this unbelievable pattern...I have a longing for nice woollen coats, handmade cotton summer dresses, funky comfortable pants, hand knitted sweaters...The Thurlow Trousers pattern is my first project towards this end, and because it was such a pleasure to sew and because I am so pleased with the final result, I am FIRED UP to create a lovely (BIG) wardrobe of handmade clothes. Hurray!!!"
Second Prize Winner: emv1102 for Vogue Patterns 1200 (Misses' Jacket And Pants)
Wonderful work, emv1102!
emv1102 says, "This has easily become a favorite pattern, I've made it twice before and I don't think I'm done yet."
Congratulations to everyone who participated in the Pants Contest!
Special thanks to the Contest Manager, UrbanFool.
Style Arc is the proud Sponsor of the Pants Contest. Thank you!


Read the behind-the-scenes Contestant Conversation.
Review the Contest Rules and Report.
Browse the Contest Gallery to see all submissions.
Want to Join a Contest? See the all Currently Running Contests on PR.