On the hunt for a new sewing machine? See what our members have to say!
Bernina 550 QE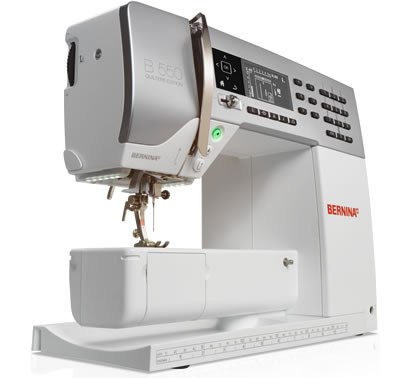 Whippet girl on the Bernina 550 QE Sewing Machine
Whippet girl says, "As a long time Bernina user my first impressions of the 550 were familiarity up to a point. Having traded in my 750 for her I had to get used to the more basic interface. That was not a problem, but I did keep trying to touch the screen! Slower learner alert! The machine is quiet, smooth and precise, as I would expect from Bernina."
"I would wholeheartedly recommend this machine to others. I have to say it has made me realize that I have gone for machine with more than I need on at times, and that has not always been the best course of action. I wanted the dual feed on the 750 and I thought I would really miss it, being a huge PFaff fan too. I have not missed it at all! Bearing in mind I have access to it on other machines. The feed on the 550 is excellent as it is and has coped with some seriously tiddly bits of starting points."
Read more about the Bernina 550 QE.
Baby Lock BLCS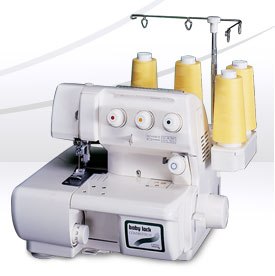 Scottiechick on the Baby Lock BLCS Coverstitch
Scottiechick says, "I've read so many positive things about this machine here on pattern review. When I found one on my area craigslist for $500 I snapped it up! I sew primarily with knits, so this was a type of machine I was strongly considering for some time, and after reading peoples' struggles with the Janome coverstitch only machines, I was hoping for the BL, but the $1000+ retail price tag was more than I would spend; that's more than my sewing machine, and double the price of my serger!"
"The tension takes a bit more work than I was expecting from other reviews of this machine that were indicating it was more 'set it and forget it' for them. I've also been switching between Maxilock and Wooly Nylon in the looper, which is probably why I'm requiring more tension adjustments. I'm no stranger to adjusting tension, but it was more than I was expecting. Adjusting the tension also isn't that intuitive in terms of what you must loosen/tighten when seeing problems. Thankfully I've easily been able to troubleshoot by searching the message boards here on PR."
"Overall, I'm very pleased. I can tell that it's taken my finishing up a notch, and I got the machine at a price I was happy with. Win-win in my book!"
See Scottiechick's full review here.
Browse recent sewing machine reviews
View more machine highlights from this series