Have a question or comment about your sewing machine features? Browse through our Sewing Machine Forum for practical opinions and recommendations from our experienced members!
Pfaff Performance 5.0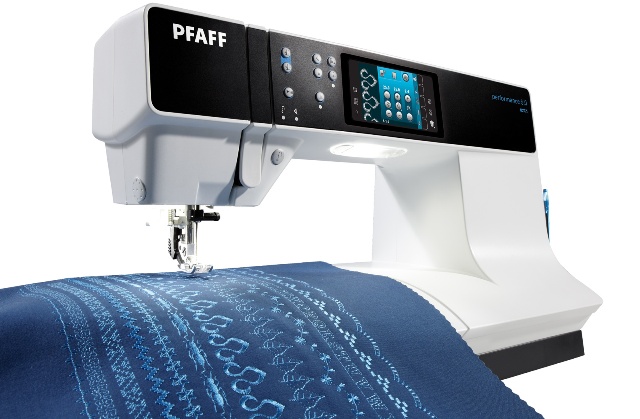 knit techie on the Pfaff Performance 5.0 Sewing Machine
knit techie says, "I decided to buy this machine after a two-year search for the right new machine for me to replace or augment my Bernina 435 Anniversary Edition (450), which had replaced my Pfaff 1475. I was never completely happy with the Bernina. I missed the Pfaff IDT dual feed terribly, and I wanted pivot and automatic thread cutting and excellent lighting, but didn't need embroidery. I almost bought the Pfaff Quilt Expression 4, but I read here about the problems with that machine."
"But glad I waited, because this Pfaff Performance 5.0 has all of the features I wanted within my budget and they work very well. Overall I am very happy with my new machine! So far I've made heavy cotton curtains with ball fringe trim, pieced a wall quilt top, mended, added binding to pot holders, and tested free motion work. Most of my sewing is quilting, home dec, bags and accessories, crafts, dog costumes, and occasional garments."
Learn more about the Pfaff Performance 5.0.
Elna 664 Pro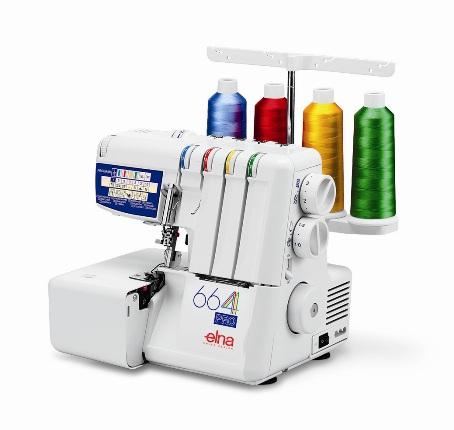 brandywine on the Elna 664 Pro Overlock
brandywine says, "I named my machine 'Brunhilda' and I am delighted with her. This is my first ever overlocker, my mother had a Globe, so I don't have much to compare it to. I picked the Elna because I have an Elna sewing machine that I love, and I wanted to stick to the same brand. Also, she is pretty. Pathetic I know, but I really liked the design, no knobs everywhere, and the COLOUR CODING. I love colour coding."
"Also, the instruction panel that tells you exactly what setting to have everything for a given stitch is handy, especially for a complete dummy like me. I would lose a reference book. Having the tools attached behind the cuttings tray is handy as well. She runs really well! I have yet to try and sew through something and it hasn't worked. My clothes all look so much nicer on the insides now, and it's so satisfying."
Read brandywine's complete review.
See all recent machine reviews.