July 26th, A Glorious Saturday - we met at Grey's Fabrics for a day filled with sewing, friends and creativity. Not to mention good food.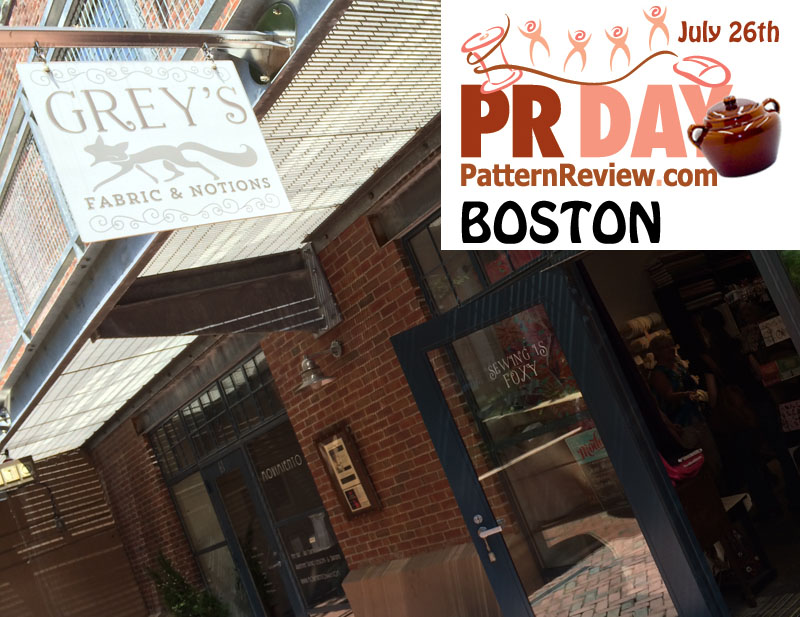 We browsed, talked, mingled and examined each other's lovely outfits while enjoying mimosas and cookies. Thanks Sarah!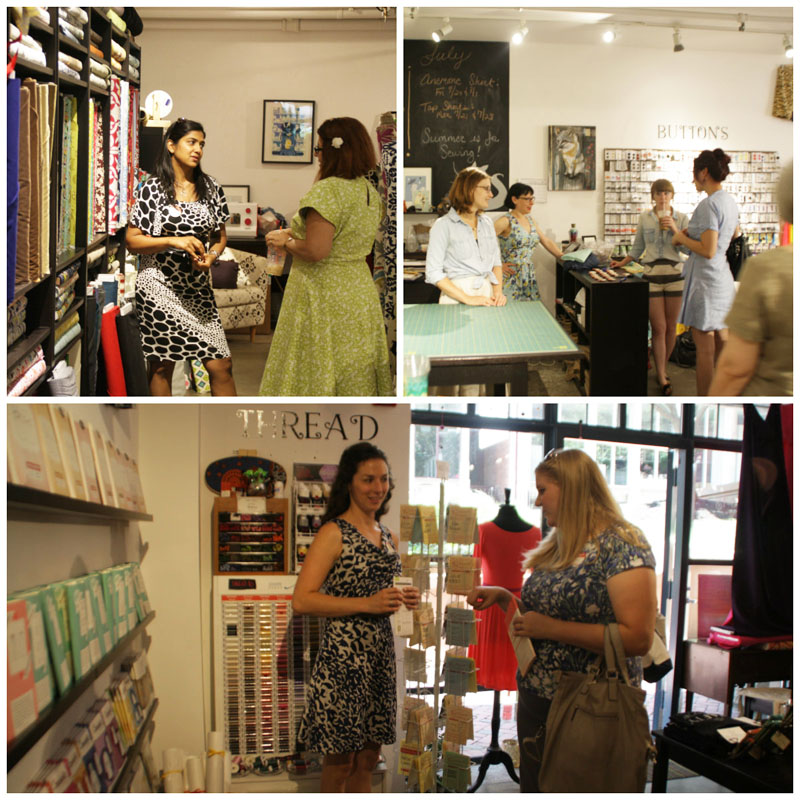 I am totally copying Carrie's dress! And Lisa, that Corset style top you were wearing was really inspiring. Sarah, (owner) has excellent taste and it shows in the whole store. Everything was so well laid out and labeled. It was a joy to be there. When asked, Sarah told us how she got started 7 years ago with the name and the store. When she was looking for a career change, her love of sewing and fabric led her to start Grey's fabrics. We're so glad you did Sarah.
All of us got 15% discount on everything in the store. We kept Katy and Ashley busy :)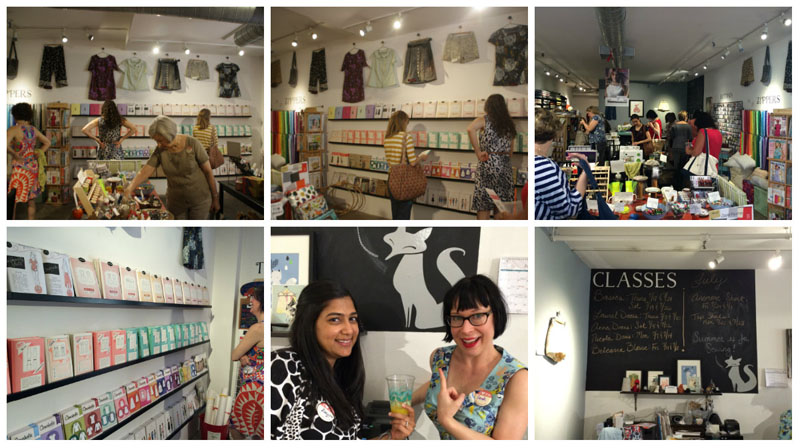 And then of course it was time for Pattern Swap!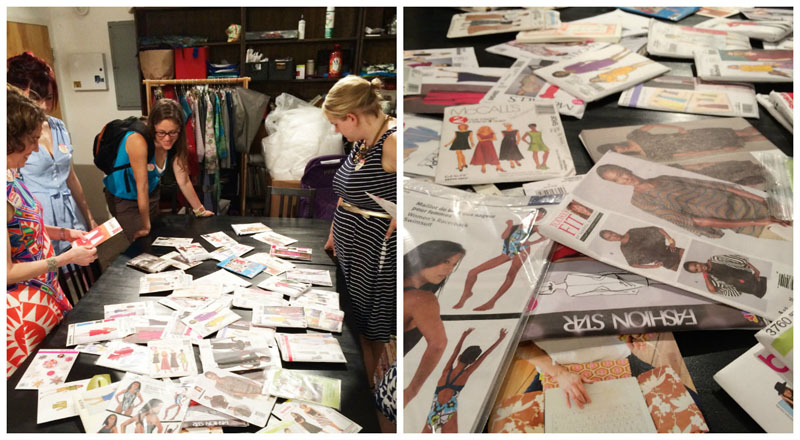 After Grey's some of us went for brunch at Cinquecento (delicious!) And since group selfies are a thing since Oscars this year, why not us? And yes, that's Maria of MariaDenmark in the photo. She came all the way from Denmark for this meetup! Just kidding. This was part of her US tour. I hope you had fun maria!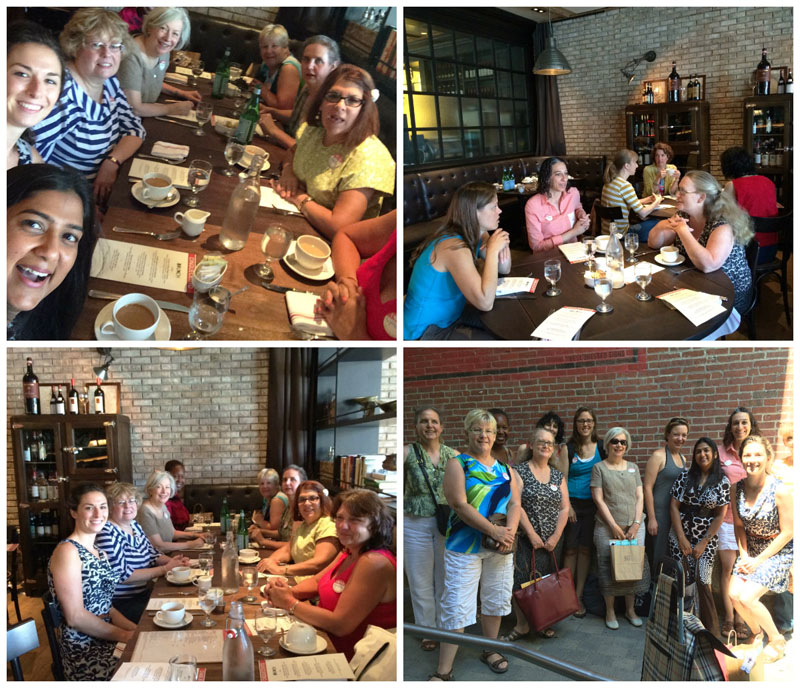 We couldn't resist walking in to Bead and Fiber when the sign said "Creativity is Contagious". Inside there were beads, chains, knitting yarn and all kinds of sparkly and yummy goodies!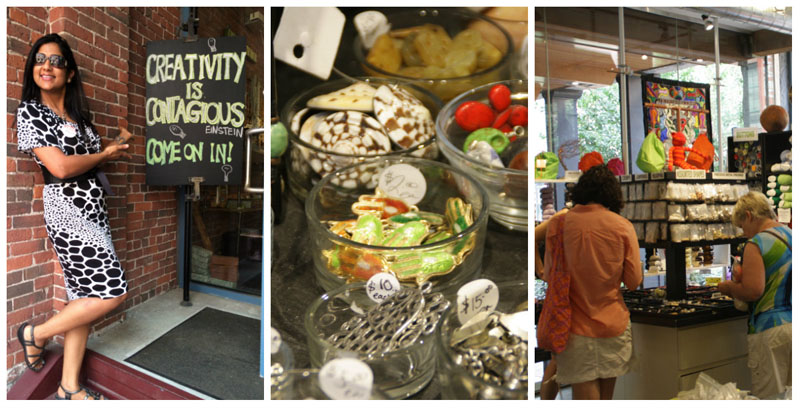 With a stroll to Winmil Fabrics in chinatown, we concluded PR Day Boston. Thanks to all of you for attending. It was such a pleasure meeting so many of you and reconnecting with some old friends. I've already washed all my fabric and even sewed a dress yesterday!
Who attended? I thought you'd never ask

Carrie( carrie18584 ) [Blog]
Maria (MariaDenmark) [Blog]
Jenny ( Jenny80) [Blog]
Barbara ( TrueBarbara)
Nancy (Nancy1955)
Jennifer ( weiswomen )
Sharon ( Sharon1952)
Marilyn ( MarilynB ) [Blog]
Deepika [Blog]
Patruthie
Norma ( nloehr) [Blog]
Beth (bethvanduzer ) [Blog]
Betsy ( BetsyV )
Ellen ( Daylily )
Diane ( diart )
grenoblegirl
Lillybeth
suvanni
Lori ( LoriKayMA )
Lisa ( lpoblenz) [Blog]
Kristina ( Kristina C )
Ebi ( makingtheflame ) [Blog
Amy (clover2010)
Ping ( peneloping ) [Blog
Carolyn (AllspiceAbounds) [Blog
If I've missed anyone, please let me know and I'll add it here.