Member Since: 2009
PR Name: sunnysewer
Name: Beth Galvin
Birthday: September 2nd
Blog: sunnygalstudio.blogspot.com
How did you learn to sew?
"My great-aunt Jo was my first teacher when I was 8 years old. I took some lessons after school with a woman in our neighborhood and any classes I could find up through high school. Later on, living in San Francisco I took classes at The Sewing Workshop with Marcy Tilton, Sandra Betzina and lots of other great teachers. Other than that I'd say mostly practice and getting to know which fabrics to use with various patterns. There were quite a few less than perfect items sewn when I was in junior high and high school but at the time I thought they were fantastic. Which is a good thing to give you the confidence to continue sewing and learning."
What aspect of sewing do you find most challenging?
"Mostly in deciding what to make! There are so many great patterns and fabrics that it is difficult to stick with any sort of plan so I rarely do. Pants are challenging for me as for many people, so I would like to get a really good pants pattern done that I can adapt to a lot of styles. I love tailoring so I try to pick an interesting challenge in that category each winter. Maybe I am the only one but I think pattern fitting actually fun, so the puzzle of working out the fit on a new pattern is definitely a challenge but something I enjoy doing. I love really complex patterns with lots of marking, pleating and multiple pieces although each time I finish one of these I have to make a quick knit top to clear my head."
Which sewing book do you refer to most often?
"Fit for Real People by Palmer and Pletsch."
What are your sewing goals for this year?
"I have been trying to make more separates and casual things that fit with my day-to-day life. I absolutely love to make coats but living in Northern California we only have a few months per year to wear them so I really don't need any more. I have more dresses than I can possibly wear but there are always so many ideas and inspirations so I do keep making new ones. I also want to get better at fitting pants, and make something in leather, which I have done before but not for a long time. I often make my own patterns by copying an existing item. I have a couple of these patterns completed for members of my family so I would like to get those sewn up in the fall."
What's your favorite pattern?
"This question is so tough! I am a big fan of the Vogue Designer patterns and my all time favorite is a Donna Karan OOP pattern, Vogue 2470 which I used to sew a coral red wool crepe dress. I rarely wear black so this is my LBD but in red which I have worn so many times."
What are you sewing right now?
"Just starting a silk jersey wrap dress in royal blue for a friend, using an OOP pattern, Vogue 7693. It has very mixed reviews so stay tuned."
What do you like/dislike about your current sewing machine?
"Well I am a loyal Singer user and still own the machine that I took over from my mom when I was 8. It is a Singer 404, straight stitch only, and I have pretty much sewn with that forever. I love the warm light it has and it sews beautifully, plus those old Singers have great punching power, so it can sew through just about anything. Also the various feet and accessories just have a nice feel and weight to them, all metal parts and they were made to last. For years people have always presumed that I have a very fancy machine, if they only knew! I guess sewing with an old machine is like driving a clutch – you have to be a little ambidextrous and turn the wheel, etc. but once you learn it sticks with you forever. A few years ago someone gave me a Singer 503 which is the zig-zag version of the other one, with all the various cams to do different stitches. It uses all the same feet and attachments and sews just as well."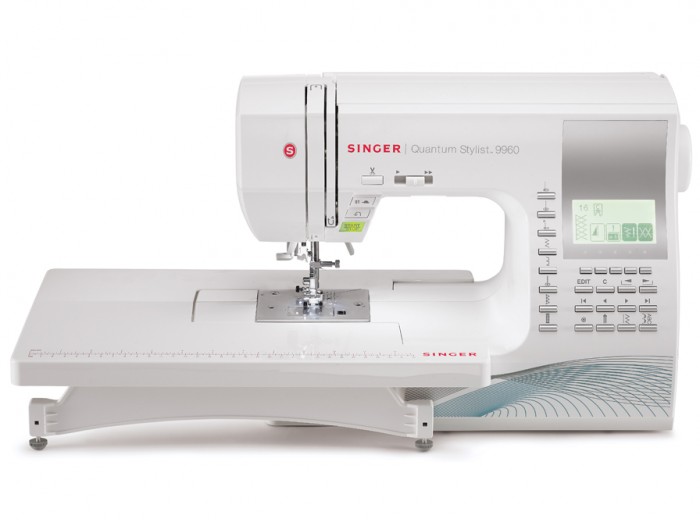 "Last year I bought a new Singer Quantum Stylist 9960 which is an electronic machine, my first. Mostly because students who hadn't used an older machine could not get the hang of the older one and it was a bit distracting to spend time on that instead of other techniques. The new Singer works well and is very easy to use. Plus it has the push-button thread cutting feature which is quite exciting for someone who never had any bells or whistles on my machine. However the buttonhole maker is useless. Most importantly – the older Singers have the best zipper foot, that slides left and right so that's what I use for invisible zippers."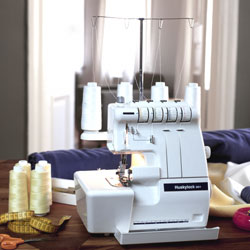 "I have a Huskylock 901 serger that lives at my house, it is my neighbor's but she 'loaned' it to me 4 years ago. I rarely use it, only for finishing seam edges that are not enclosed in linings or on fabrics such as denim. For knits I use my other machines and they work fine."
What you love most about PatternReview?
"I love being able to see how a pattern that I am considering looks on other people, with various fabric choices and body shapes. I am always on the lookout for a pattern that suits both my shape and the type of fabrics I want to use. I know PatternReview has saved me from sewing up something that will not work for me so I really appreciate that. On the other hand I see so many great items that I want to make too and there is never enough time! Because of PatternReview I have found so many great people sewing fantastic things and I get to have a peek into their creative process, they are such a source of inspiration."
Any other favorite hobbies?
"Too many, and every year something new. Gardening, cooking, baking, travel, sitting under a palm tree by the ocean, speaking Italian and studying French."
Tell us a little more about you - profession, where you live, etc.
"I teach sewing to individuals and sew custom pieces for just a few people. I also do consulting work in my previous field, sales/marketing in the biotech industry. I live in the San Francisco bay area, and have been here my whole life, it is such a great place to live. I know so many people look forward to the fall patterns but I really love warm weather so living in California allows me to sew and wear my favorite wardrobe category, summer clothes."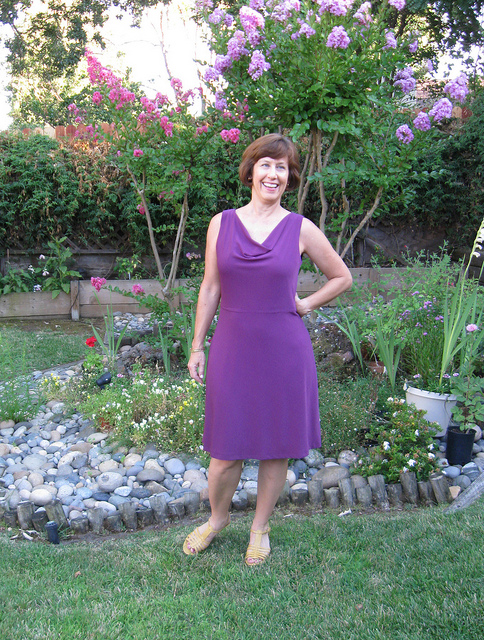 Thanks for sharing with us, sunnysewer!
Connect with sunnysewer on PR.