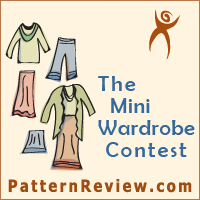 Who wouldn't love a wardrobe that could be effortlessly mixed and matched? The goal for the Mini-Wardrobe Contest was to create five unique pieces that could combine to create six distinctive looks. Lots of planning is involved to build a cohesive wardrobe, including color combinations and overall concept. For their final entry, participants created a composite review for their ensembles with a photo collage of all six outfits. Check out all of the contestant submissions in the Gallery – very inspirational!
You voted! Time to meet the winners...
First Prize Winner: annie11 for No Pattern Used: Autumn Berry Wardrobe (Mini-Wardrobe Contest 2014)
Fantastic work, annie11! Congrats!
annie11 says, "You know that time of year when it is still hot enough for short sleeves, but chilly in the morning, and the leaves start turning colors? The perfect time of year to go for long walks, and sit outside at cafes enjoying time with friends. It's my favorite time of year! That is feeling that I'm trying to create with my Autumn Berry Wardrobe."
Second Prize Winner: ToileAndTrouble for Self Drafted Pattern: 355971-1001 (Orange Is the New Black)
Lovely colors, ToileAndTrouble!
ToileAndTrouble says, "I'm pleased that the combination ended up being so cohesive. I'm also happy that I followed through on my plan. I'm looking forward to wearing these! And, I think that this exercise was great practice for sewing with mindfulness and considering a collection of clothes to wear as a series of outfits."
Congratulations to everyone who participated in the Mini-Wardrobe Contest!
A big thank you to the Contest Manager, Sigrid.
PatternReview is the proud sponsor of the Mini-Wardrobe Contest.

We love surprises here at PatternReview and thought the contestants deserved a little something extra for their amazing entries. So we've sent a surprise gift in the mail for all of you! Congrats on your new mini-wardrobes!
See all the submissions in the Contest Gallery.
Review the contest Report and Rules.
Follow the behind-the-scenes Contestant Conversation.
Join a Contest on PR today!