If you've recently moved to a new house or apartment and are in the process of arranging your sewing space, things can be a little overwhelming! Whether you're adjusting to a larger or smaller sized room for your sewing, it's always great to have suggestions for making our spaces more efficient. We love Sugar Pie Chic's practical storage solutions for her new open workspace.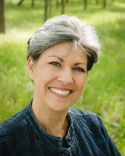 Sugar Pie Chic says, "It has been a while since I showed my sewing room Sewing and Craft Studio. Mainly, the space has been a mess and we needed to resolve some storage issues. We were storing a box spring for a neighbor. There were these storage shelves that have since been moved to Mr. Seasoned Homemaker's office... When we last left off the room was in progress. While there are a few things that still need addressing, it is at a place that is functional and full of storage. My friends, I give you my (newly renamed) Sewing and Craft Studio."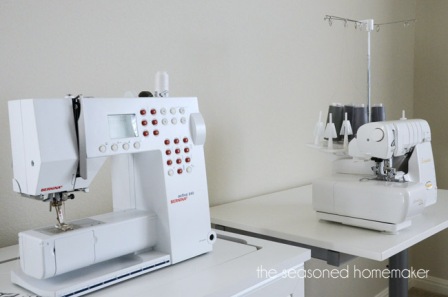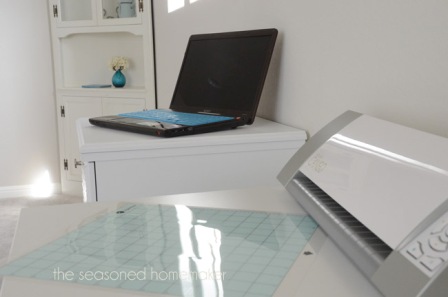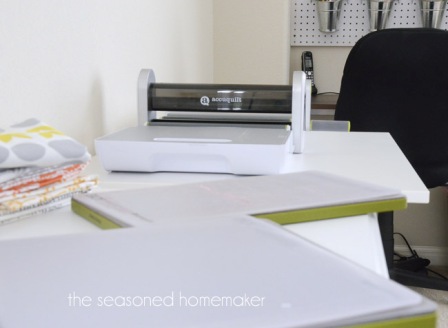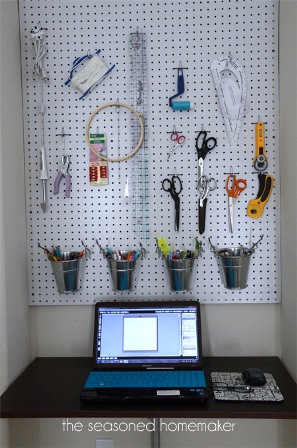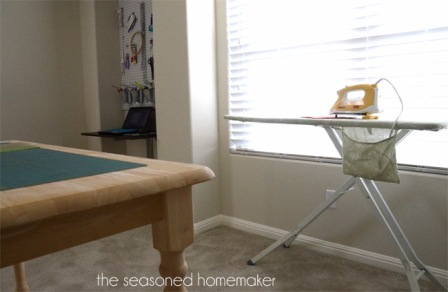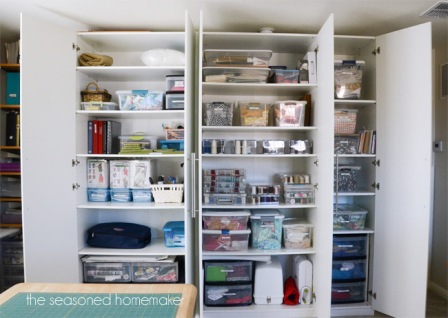 "Having this room is such a blessing. On the plus side, the mess from most projects stays upstairs and away from our living areas. The only reason to go upstairs is to use the room. Nothing is really permanent (except those cabinets which are never getting moved) and I can rearrange things to suit my needs."
Republished with permission from Sugar Pie Chic.
Thanks for sharing with us, Sugar Pie Chic!
Visit Sugar Pie Chic's blog, The Seasoned Homemaker, for more details.
Get this look!

Images left to right: Arrow Sewing Cabinets Sewnatra, Ikea Pax, The Container Store Elfa.
Tour more sewing spaces from this series:
Meleliza, Irmartin, ColeenS, Deb Thompson