Friday night – You don't want to mis this! Bernina is sponsoring a fun evening of show and tell (to share your favorite fabric purchase of the day), there will be a table for pattern adoptions, Bernina will be demonstrating their newest machines and there is plenty of space to move around and visit with all the other participants. We will be serving hors D'oeuvres with a cash bar.
Saturday, April 25th – Interactive Fit Seminar with Lynda Maynard
Renowned fit expert and author of Dressmaker's Handbook of Couture Sewing Techniques, in her all day seminar Lynda will fit upto 4 garments (time permitting) on our live fit models. She will start with an A-Line Skirt, moving on to the Sheath, Pants and a Jacket! 4 volunteers will bring their pre-sewn muslins to the seminar and Lynda will show us how to fit them right there. She will then demonstrate how to transfer the alteration on the pattern pieces. During lunch break, we will have practice workstations so people can try those alterations on half-scale patterns. Lynda will be available to answer questions during this time.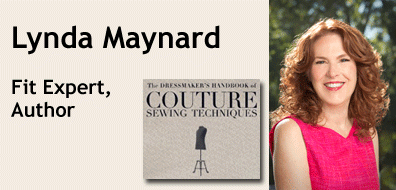 Saturday Night - Group Dinner at a local restaurant.
Sunday, April 26th (optional)
Plans for Sunday will be on your own but the program will include options for bunch and other things to do in downtown LA. If you haven't bought enough fabric, most of the stores in the garment district will be open for business.
Ready to Party?
Register Now PR Weekend Registration is now CLOSED.
PR Weekend Registration - $150 (Non-refundable) If for some reason you cannot attend, you can transfer your registration to another member.
Registration will cover
1. Guided fabric shopping and transportation to Mood Fabrics and LA Garment District.
2. Friday night reception with hors D'oeuvres (cash bar)
3. Transportation to fabric stores
4. Interactive Fit Seminar with Lynda Maynard on Saturday
5. Saturday night group dinner
6. Information Packet and Souvenirs