On May 13th, 90 PR members came together for our 14th annual PatternReview weekend held in Chicago. The celebration was two-fold. We were celebrating not only 15 years of PatternReview, the website, but also YOU and the Craft of Sewing. How it has united us beyond borders into this kind and loving community. We also invited 4 awesome Independent Pattern Designers and educators to speak at our panel on Friday - Jennifer Beeman from Grainline Patterns, Emilie Fournier from Jalie Patterns, Janet Pray from Islander Sewing Systems and Angela Wolf from Angela Wolf Designs.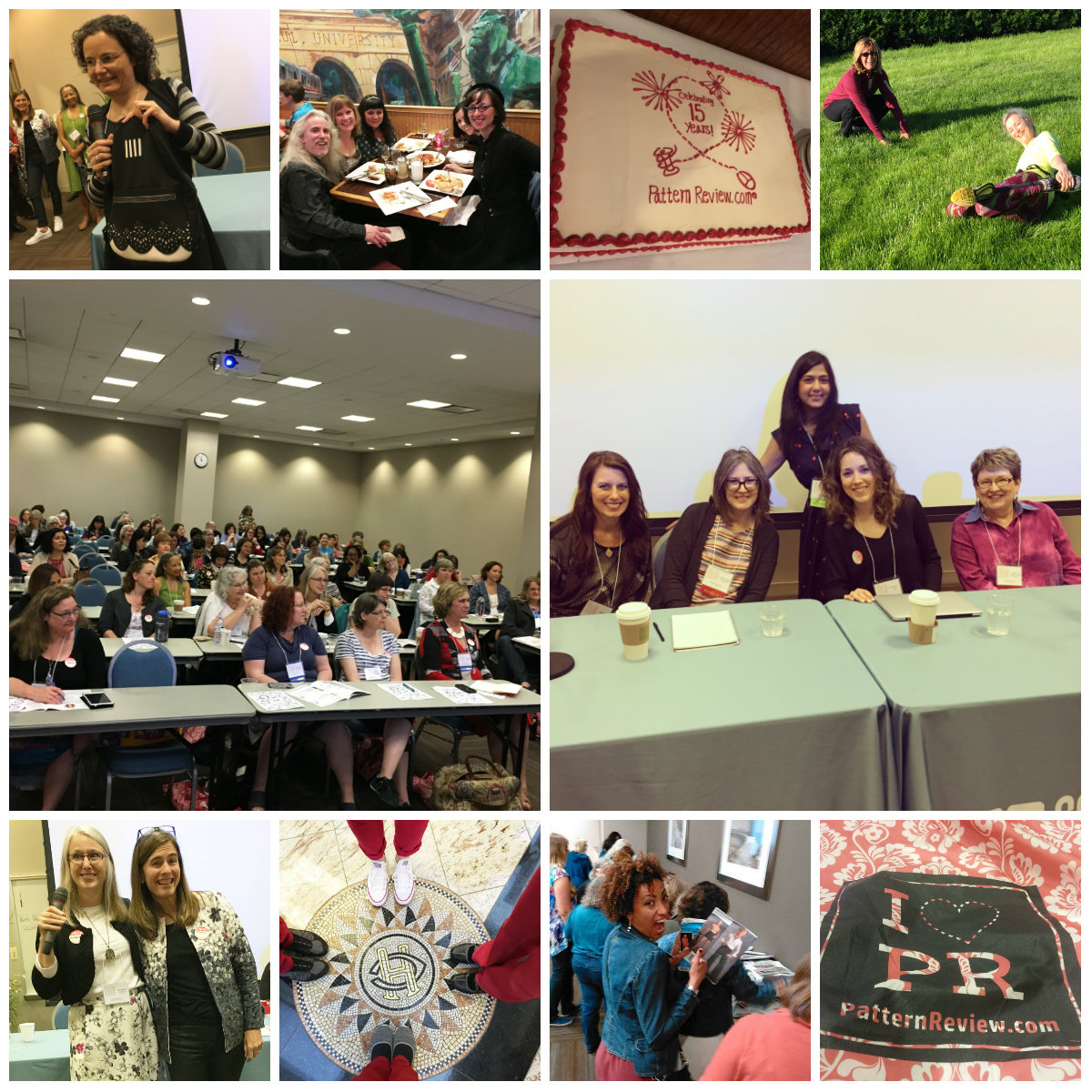 For those of us who came in early on Thursday we handed out the PR Weekend swag bags and the booklets with help from our volunteers. Amy-may , RobinMCPA , Hon-Bon (Bonnie W) , Janet (guilijm) , Carolyn (ChicagoCalCal), Kristen (leftcoast) and Markita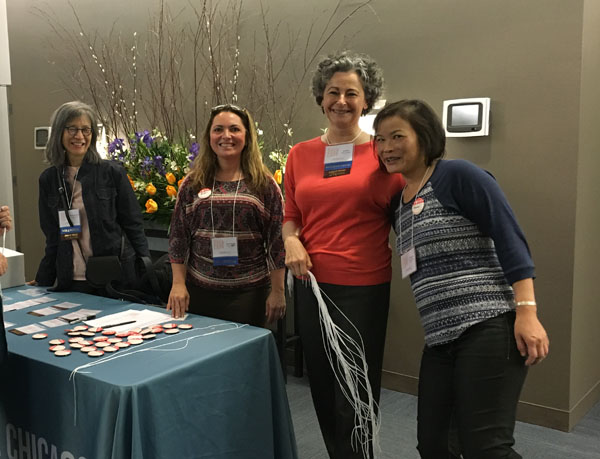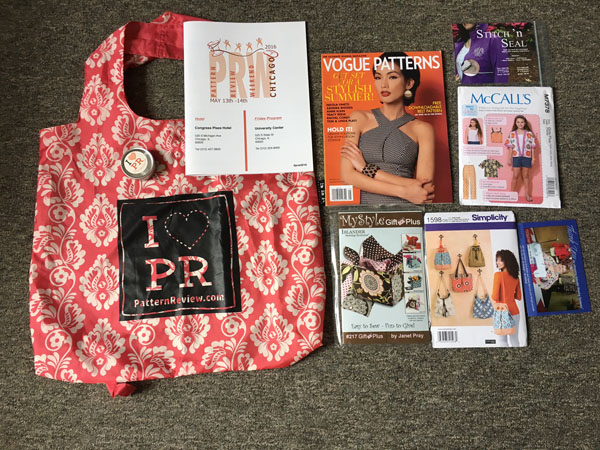 Special thanks to Robin for handling the packages for all the bags and stuffing them. That was no easy task!
Friday
Bonnie O organized a Fun Run/Walk in the morning and Chicago weather cooperated. She may have started a new PR Weekend tradition!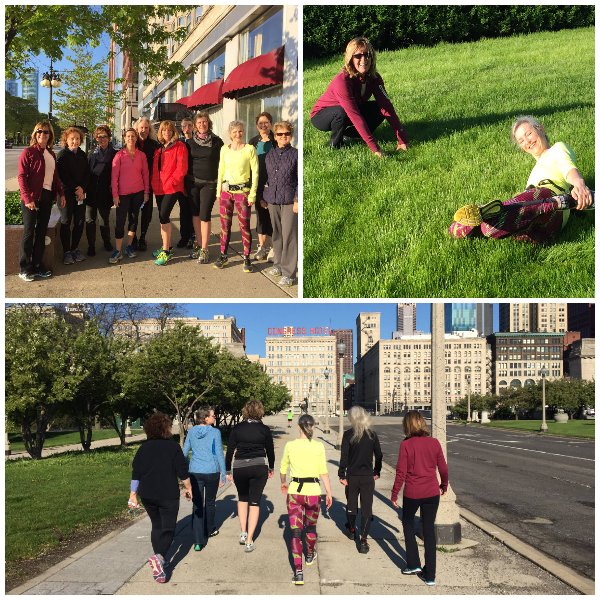 Indie Pattern Panel, Accessory Contest and Pattern Swap
We had a fantastic morning talking about the Indie Patterns, their future and some of the challenges and struggles of running a pattern business. Our panelists shared their stories and shed a lot of light into what goes on behind the scenes. It was truly eye opening. Thank you Jen, Angela, Janet and Emilie for being on the panel.
After the panel, we had an indie pattern showcase where we were able to buy their patterns too.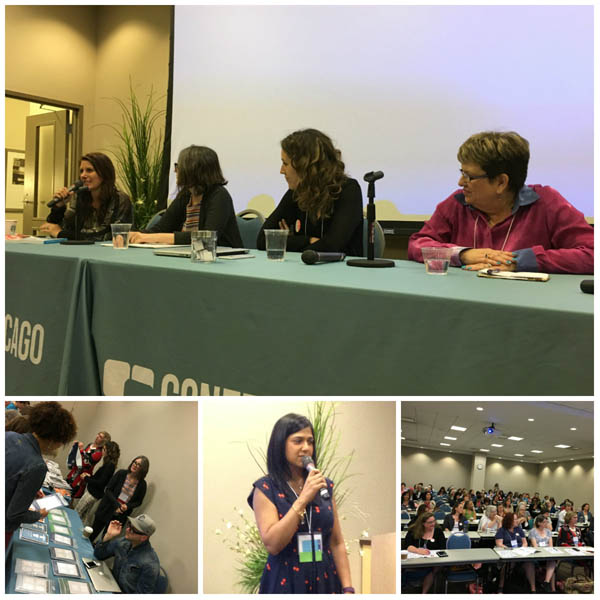 Above: photo credit Connie
And of course the epic pattern swap (Thank you Liz and Elaine)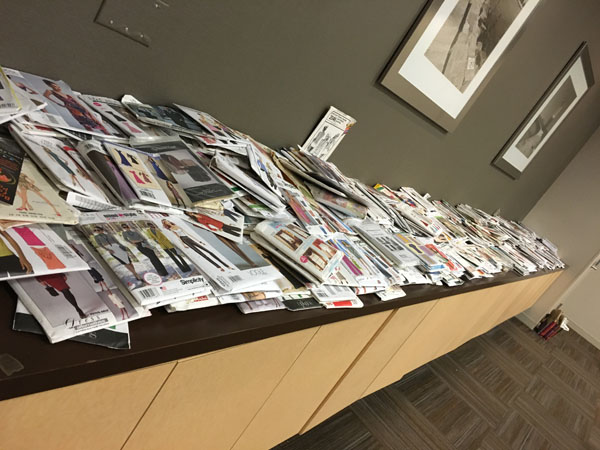 After lunch it was time for...
The Accessory Contest
Browsing online and reviews are all great but we don't want you to spend all your time browsing and not sewing. That's why contests are so important to us. In keeping with the same spirit we aked our attendees to make an accessory of their choice. To add a challenge we asked them to incorporate the number 15 into their project (if they wanted) or what it signifies. We had a fantastic line up from self made boots, bags, Scarves, neckace, hats, gloves and a cute teddy bear. To see each one in depth check out the instagram feed #prw2016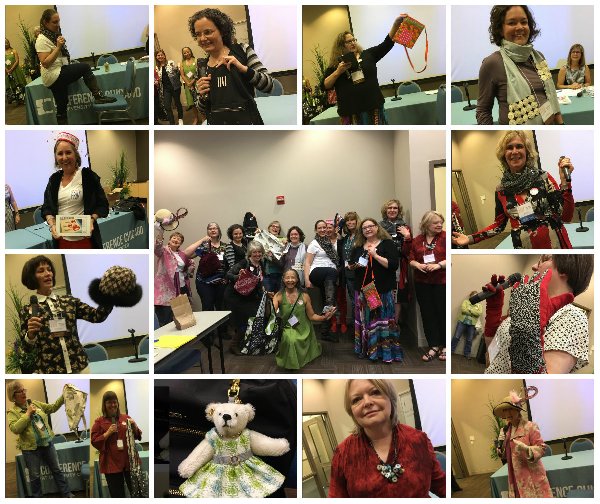 But it is a contest after all and there have to be winners. Markita took home the first prize (Thanks Kai Scissors) with her 15th anniversary ensemble! She made shoes, her shirt, hat and the earrings. She was clearly going for the gold :)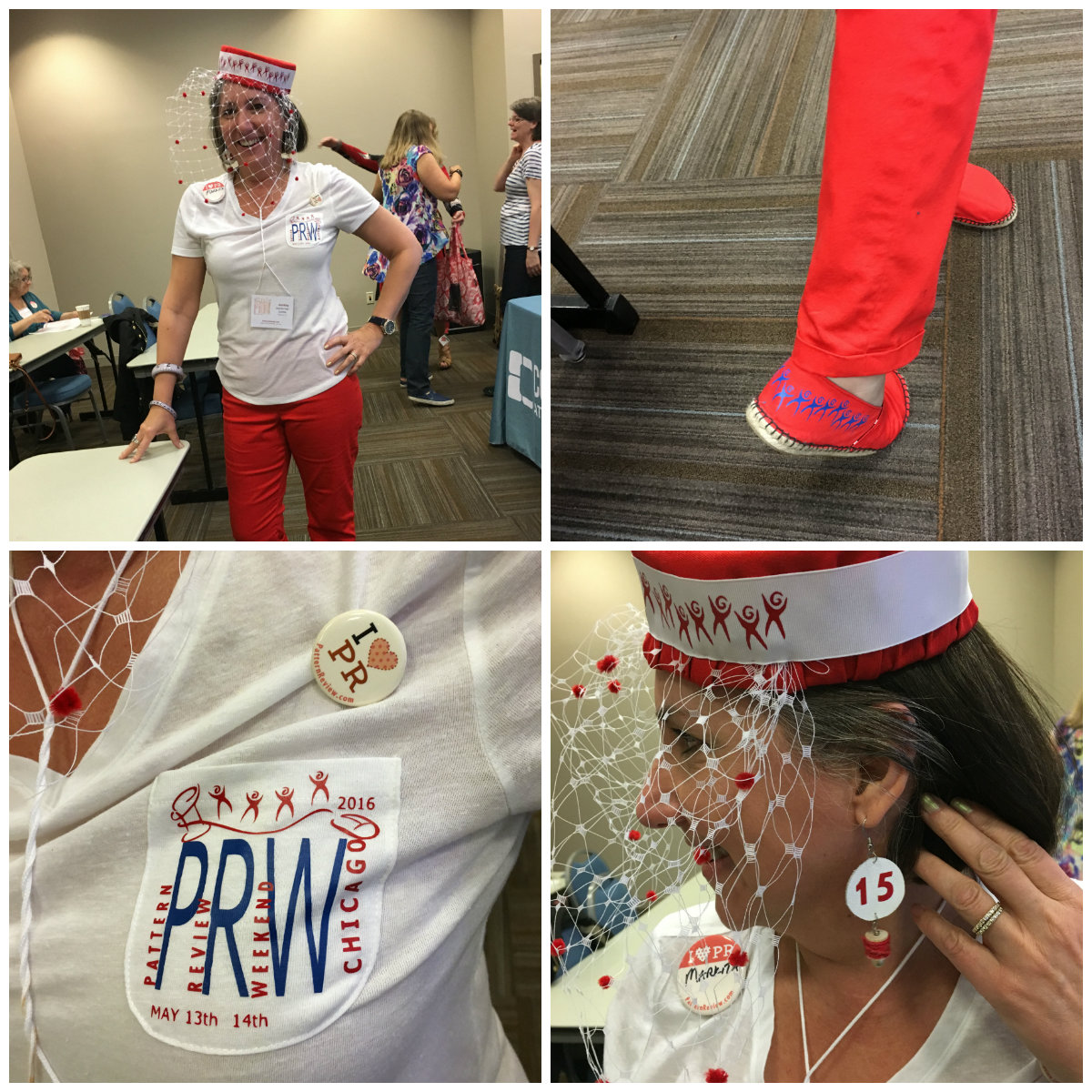 Here are the 5 winners (L to R) Kyle (BlossomKyle) , Melanie (Melwyk) , Markita , dianewilson and Kristin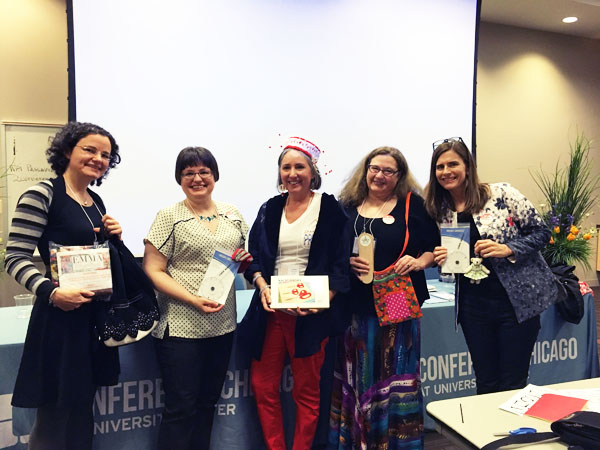 Dinner at Exchequer Pub
Part of the fun of PR Weekend is to be able to change multiple outfits and get dressed up in our makes. So of course when it was time for our celebretory dinner, we are going to bring our A-Game! Conversation flowed easily as we enjoyed the greek inspired menu, cake, beer and wine :)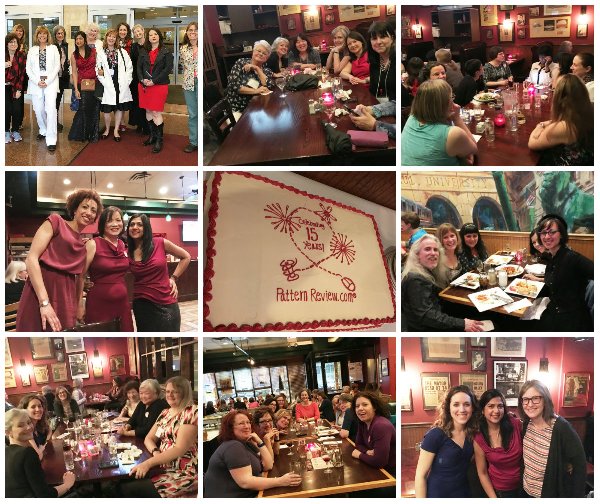 Saturday - Shopping Day
We gathered in the Congress Plaza Hotel Lobby for a fun Red Pants Photoshoot! It was so much fun. A bunch (25) of us joined in by wearing red pants for shopping day. A lot of them were Jalie 3461 (Eleonore Jeans)!

Above: Photo credit Becky
We even won Jalie dollars!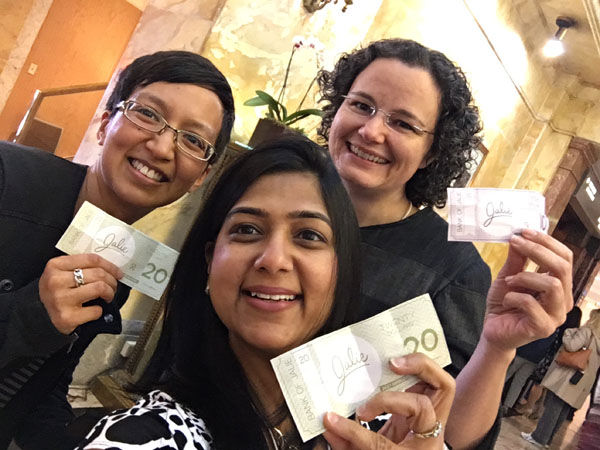 Speaking of winning, there were a lot of prizes to be had at the PR Weekend. Thank you to our sponsors for generously donating.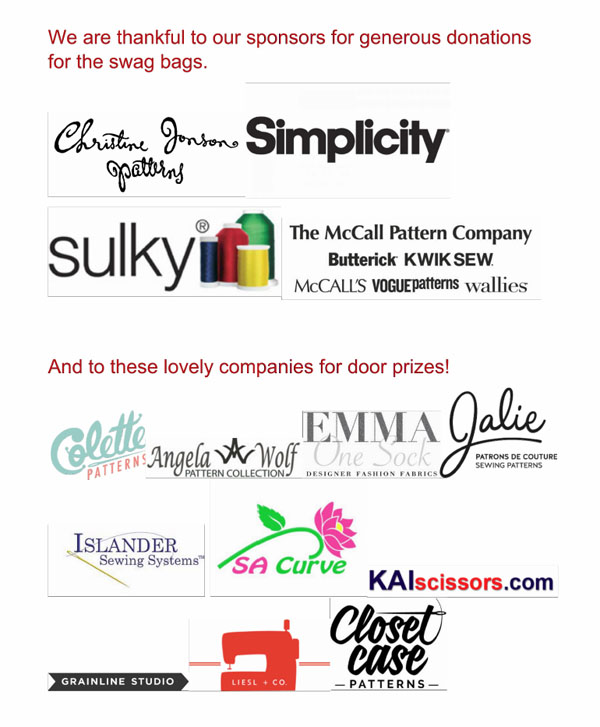 Fabric Shopping
Led by Robin, Shira, Heather and Norine, our group split into 4 to take advantage of Chicago's excellent transit system to visit all the stores which gave us a warm welcome and generous discounts. Can you guess how much fabric we bought? 900 yards and counting!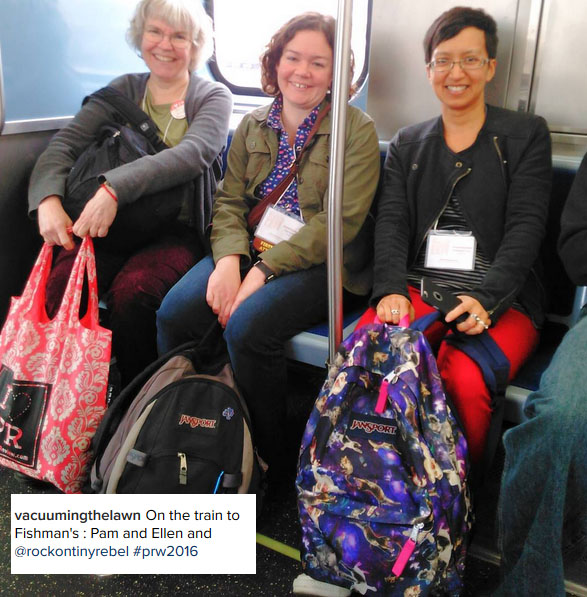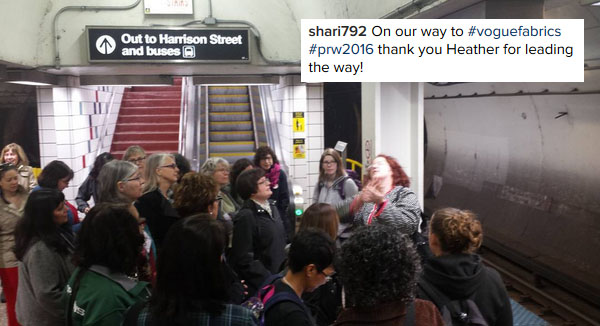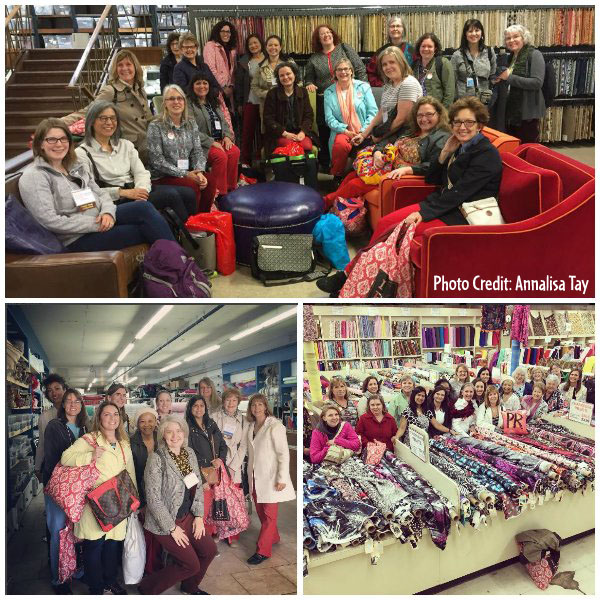 Top - At Fishman's Fabrics. Bottom row left - Supreme Novelty Fabrics, Right: Vogue Fabrics Evanston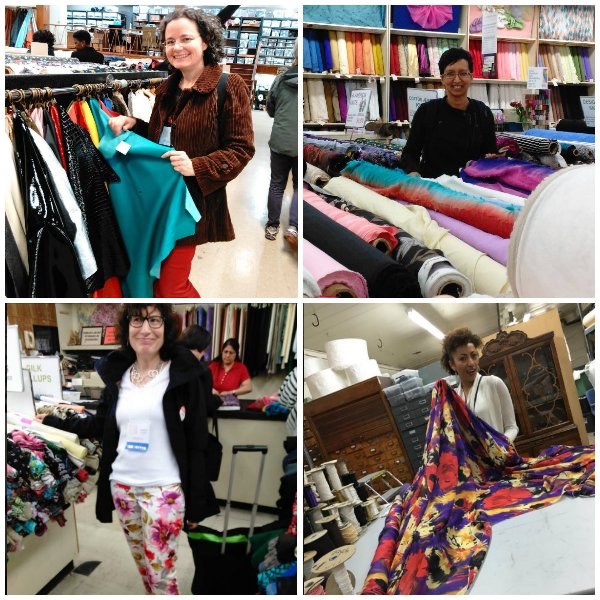 Chicago is such a wonderful city with so much to offer. So after shopping some of us went to see the Dressing Downton Exhibit at the Driehaus Museum while others indulged in some chicago style deep dish pizza. Yum!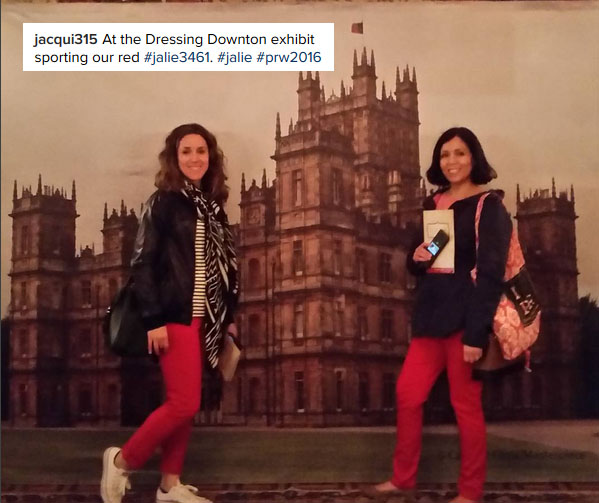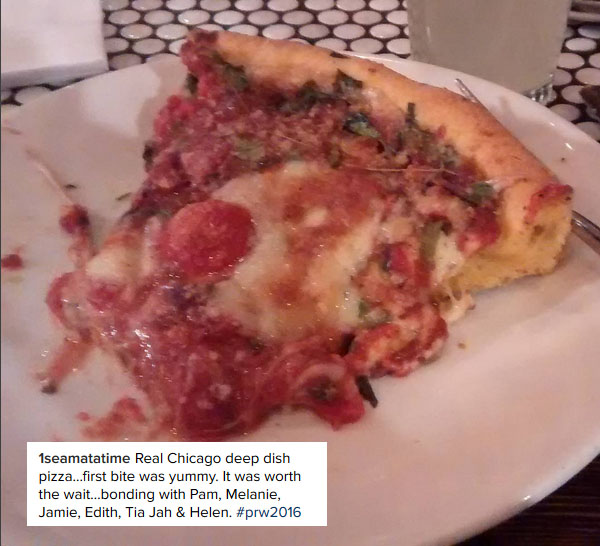 Sunday - Architecture Walking Tour with Dan.
Shira's friend Dan led a group of members to a fantastic 2 hour walking tour. What a treat. Thank you Dan!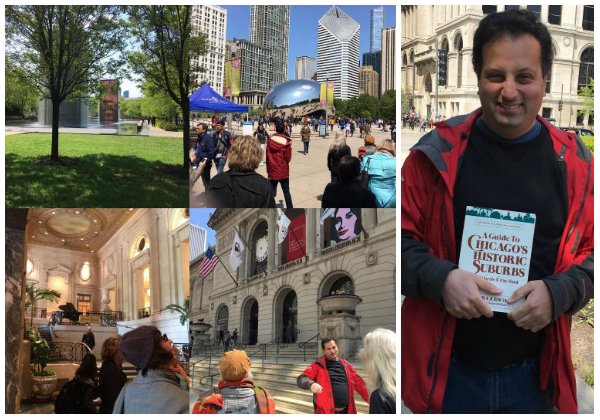 Thanks
An event like this is impossible without the help and support of volunteers. I have so many people to thank. A shout out to those of who pitched in whenever needed. Especially to Rita (mrsm) who drove people back and forth from Vogue store to their warehouse. And also to these fantastic shopping chaperones. Norine, Robin, Shira and Heather.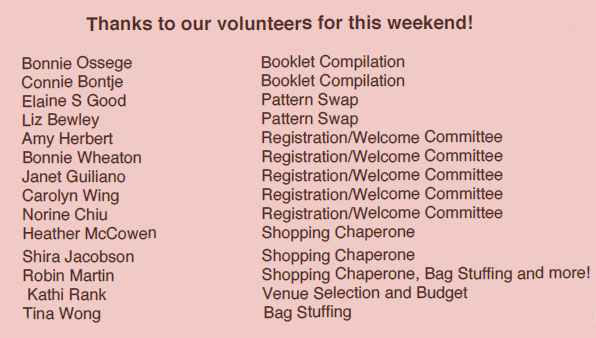 Also to our sponsors, vendors and advertisers for the swag bag and door prize donations.
More Photos
Want more? Check out our instagram feed #prw2016
So I know what you're thinking... Where is PR Weekend Next Year?
I am glad you asked. Drumroll please...
New York City!
I'll leave you with my favorite moments which capture the spirit of PR Weekend perfectly!

Writeup of PR Weekend on attendees' blog