Chat with Kathleen Fasanella, April 18th, 8 PM Eastern Time ( 5 Pacific, 6 Mountain, 7 Central).

Join us on April 18th at 8 PM for a chat with Kathleen Fasanella.

Chat Topic: Sewing Faster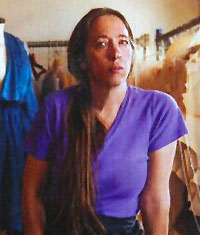 Kathleen Fasanella is the driving force behind Fashion-Incubator and has worked in the apparel industry for 27 years as a pattern-maker, specializing in suits, lined garments, leather products (mostly coats) and outerwear. She is also a consultant and trainer. She lives in New Mexico with her husband, adult son and six cats.

Kathleen is the author of The Entrepreneur's Guide to Sewn Product Manufacturing. This book is often described as the garment industry "Blue Book" and discusses many aspects of apparel manufacturing. It provides tips and tricks from production pattern-making techniques to fitting ideas to picking sewing contractors. This book is considered required reading for any potential sewn-product consultant.

The chat is open to all Friends of PR members. Chat instructions will be posted on the PR home page on Sunday morning.