PR Weekend Philly Recap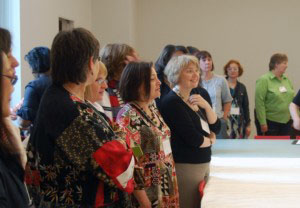 PR Weekend Philly was a long-anticipated event and, by all accounts, lived up to everyone's expectations.

The weekend started off with a bang with our own Kenneth King's wonderful presentation. Kenneth showed an interesting technique for reproducing artistic work on the lining of a garment that impressed everyone. The focus of his presentation was embellishment, and Noile noted that members had a ball using the techniques he demonstrated, looking at his samples and toolbox, and just plain playing and having fun with the things they brought to work on. It was a truly inspirational event!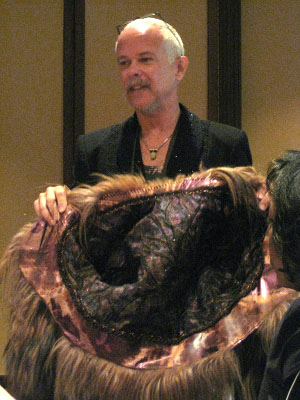 After lunch, the group went to the Philadelphia Museum of Art for a special behind-the-scenes tour of the museum's textile collection. In the words of Karen6790, they were all "knocked out" by the impressive display of garments. At least one member dreamed of reproducing the fabulous couture details when she got home.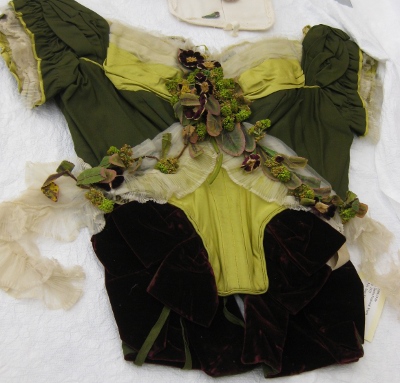 Saturday was the day for retail fabric therapy on Philadelphia's Fabric Row, and members worked out all their issues by buying loads of fabric and notions (so much that some haven't managed to unpack them yet!). Some deals they came across were: wool or silk remnants $5/yard, all other remnants $3/yard, must take whole piece. Fabric heaven!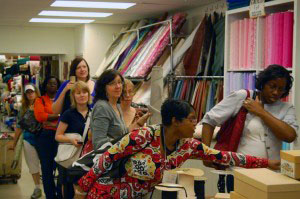 Dinner was a great opportunity to make new PR friends and greet old ones. Thanks to the rain, members had time for an impromptu fashion show.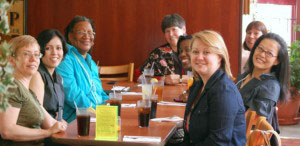 ConnieBJ joked about all the PR members doing the same thing: looking at the garments worn by women in the street. She also suggested that there should be a reality show called something like "Desperate Home Sewers", based on how they all looked during and after the PR Weekend.

Kudos go out from everyone to the organizers: Karen6790, andrea670, elaray, yardbird, silknmore and elainesews for a fabulous and well-organized weekend. Members especially loved the booklet that contained bios, the itinerary, maps and contact info for the fabric stores visited. And, of course, all the fun!

Thanks to Noile, ConnieBJ and Karen6790 for the pictures and information used to write this article. Please visit Noile's blog and ConnieBJ's blog for more pictures and their write-ups of PR Weekend Philly.

Discuss the PR Weekend Philly.