Chat with Sheena Matheiken and Tara St. James of the Uniform Project on Sunday, June 27 at 8 PM Eastern Time (5 Pacific, 6 Mountain, 7 Central).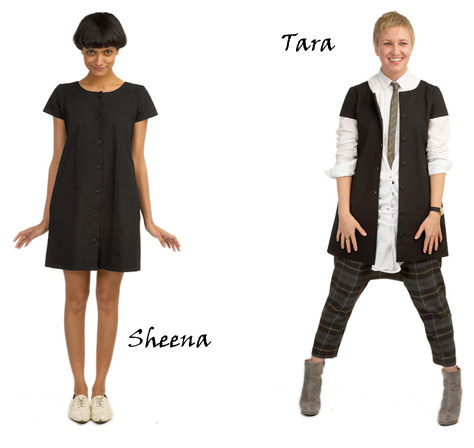 Join Sheena Matheiken, the founder of the Uniform Project and Tara St. James, Fashion Director for the Uniform Project, for a live chat on Sunday, June 27 at 8 PM, Eastern Standard Time.

Sheena wore a little black dress for 365 days as an exercise in sustainable fashion, but, with the help of accessories and her creativity, she never looked the same way twice! The money raised by this project supports the Akanksha Foundation, a grassroots non-profit founded in 1990 to bring improved education to children living in the slums of India.

Irish-born, Indian-raised and Brooklyn-based, Sheena is the founder, creative director and the first pilot of the Uniform Project. Prior to the U.P, she worked as a creative director at Digitas Inc., an interactive ad agency in New York. With an MFA in Design and Technology from Parsons School of Design, NY and a BFA in Art from Stella Maris College, Chennai, India, her experience in digital design and online media spans over 10 years and has been key to the positioning and viral success of the Uniform Project. Through the course of her career, Sheena worked on award-winning brand initiatives, viral campaigns, e-commerce sites and iphone apps for clients such as Converse, American Express, Samsung, Delta Airlines, US Open Tennis Association, Anne Klein and a variety of other small businesses, artists and alternative creative ventures.

Tara is a no-waste fashion fanatic and a self-professed math nerd. Born and raised in Montreal, Tara earned her degree in menís tailoring in her hometown and spent a year studying art history in the South of France. She then traveled around Australia and South East Asia, interning with a couturier for drag queens, which was an education in both menswear and womenswear. With a decade of experience in the fashion and denim industries, Tara launched her first solo collection, Study NY, at New York Fashion week in September 2009, entitled The Square Project. It was made up entirely of no-waste square cuts of fabric. The eco-fashion designer continues to seek out new developments in sustainable textiles, no-waste pattern-making techniques and production methods. She also lectures on sustainable design at FIT and is the current design mentor for Awamaki Labs in Peru. One of U.Pís most generous accessory donors whose work was often featured during Sheenaís 1 year challenge, Tara soon became a consultant to the U.P for ethical production research and guidance. She officially joined the UP team in April as Fashion Director.

To see pictures and a link to the video showing Sheena's wardrobe for 365 days, click here.

Discuss this upcoming chat here.

The chat is open to all FoPR members. Chat instructions will be posted on the PR home page on Sunday morning.