We just returned from our first Canadian PR Weekend in the lovely city of Montreal. 56 of us attended this fabulous event, including our guest speaker, Kathryn Brenne and special guests Emilie and Jeanne from Jalie Pattern Company.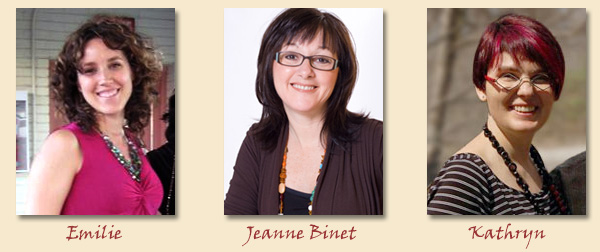 Our official venue for this event was the beautiful campus of University De Montreal so after we settled in to our rooms, 30 of us went for dinner at Montreal's favorite - St. Hubert's.



After a long drive from MA, arriving into a room full of welcoming smiles and warm hugs was a special treat for me. But this was just the beginning. There were many many more treats awaiting us. At the dinner we acquainted and re-acquainted ourselves to our fellow PR members which is always a lot of fun. I insisted that it was not the first time I was seeing Sue W, but she still maintains this is her first PR Weekend. For me I feel like I know all of you from your reviews and your posts on PatternReview and it is about meeting the creative people who make PatternReview what it is today. And creative and stylish you were, I must add. No corners were cut in your outfits and no effort was spared in achieving that perfect fit. I am so impressed and so inspired.

Before I get carried away again, let me narrate what happened the next day. We began the "official" PR Weekend with registration with Rhonda in Montreal who helped me welcome our attendees. I loved to watch her radiant smile and hear her lovely french as she talked to each and every one of the members who walked by. Each attendee received a special eco-friendly envirosax bag printed with our PR Weekend logo. They also got the lovely name tags made by Connie. Aren't these lovely?



Our host, the lovely Anne-Marie welcomed us and introduced Kathryn Brenne. Kathryn's seminar and trunk show was really inspiring and we got to touch and inspect the beautiful garments she had brought to the event. Meanwhile, caffeine deprived members were happy to see a big pot of coffee specially brought in by Connie. We refreshed ourselves several times during the day and Connie, Kay, Claire and Anne-Marie deserve special thanks for this.



The university is a short walk from a variety of restaurants and fresh fruit markets so we decided to take a break and get lunch. And because high heels and long walks don't work well, I decided to take the Metro instead
After a delicious meal, we were ready for the vivacious Jeanne Binet who was going to demonstrate her favorite techniques of sewing with knits. In 2.5 hours, she sewed 5 tops, proving that sewing with knits is easy. We also got a sneak peek into the new Jalie collection coming out in the next few months. Some of us even bought fabric the next day for the patterns we liked!



4:30 - If you think the day is over think again. The fun has just begun! Yes, it is time for the much awaited cocktail dress/outfit contest and fashion show. We hurried back to our rooms and changed into our cocktail outfits and guess what? Sharon had a surprise for us. Glitter tattoos! "Why not"? I said and within minutes I got a neat little purple tattoo which is still making me smile.




At 6:00 PM after a professional photo shoot, we began the cocktail dress contest. Did I mention that the punch was delicious? Anne-Marie, we need the recipe!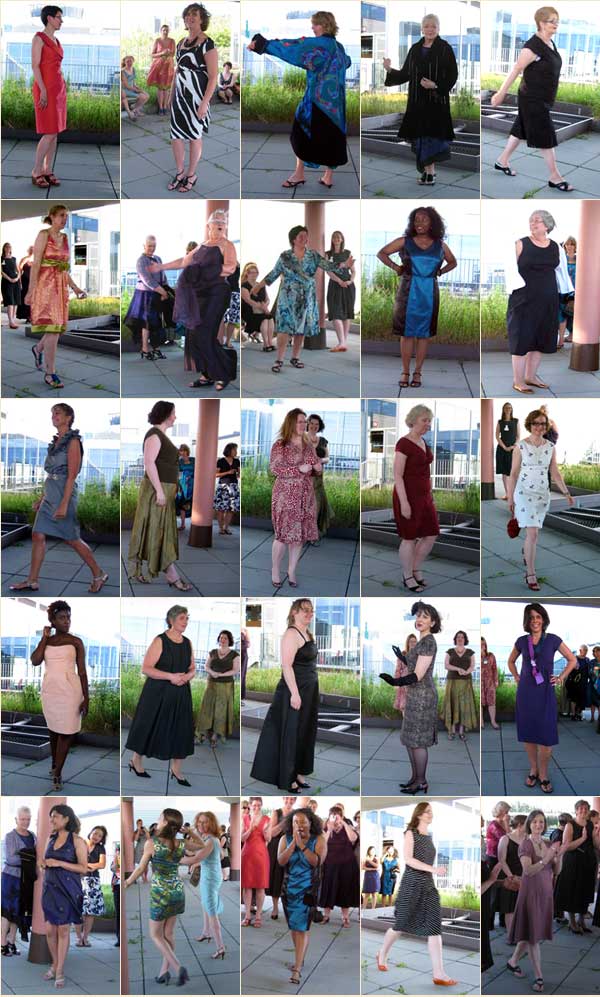 For the cocktail contest we judged on three different criteria - Fit, Best use of Fabric, Creativity. And at the end of the contest when all the judges compared notes, I got goosebumps when I saw that all of us had given all the contestants the highest points for fitting. That's what PR members do - They strive for that perfect fit and do not rest until it is achieved. Mission accomplished!

Our winners lmg (Maria), Lynnelle (Shylynn) and gcariou (Gail) received gift certificates to shop at Madeline Soie et Laine the next day.





The dinner was spectacular! What a spread. Great food, awesome company and good conversation. What more could one ask for?

What a day! But since we needed all the energy we could for the next day, we headed back to our rooms, tummies full and hearts warmed.

Saturday, June 19th- Rise and Shine. 8:15 AM we left for the highlight of our PR Weekend. Fabric Shopping at St. Hubert st. Since there were 56 of us and we wanted the store owners to welcome us (not kick us out), we split into two groups. Emilie and Jeanne led one group to their favorite knit stores and Anne-Marie took us to some of her favorites. I am sure there will be reviews of all of the amazing stores we were in, be sure to read them. During the day we split into smaller groups and kept bumping into each other from one store to another.




It is Montreal, so we had to stop several times during the day to get coffee and buttery croissants (yum!). We all met up for lunch at the famous Jean Talon market. The buckwheat crepe I had was the most delicious lunch ever!



And then as is the PR Weekend tradition, after the long day of shopping we reconvened in the hotel for an informal Pizza party. We also did a little show and tell and while everyone was looking at the fabric, all I saw was the smile, the excitement and the contentment on each and every one of those 56 faces.

And that is what I call A PR WEEKEND!




I'll do the pictures to do the rest of the talking. But before I do that, let me thank our wonderful, courageous, kind and generous hosts who did ALL of the work, planning and preparation for this PR Weekend and as I said to them earlier, our first Canadian PR Weekend was worth the wait. Every. Single. Minute. of it.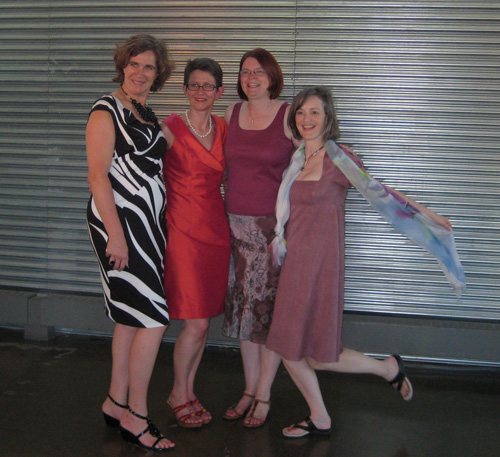 Left to Right: Connie, Kay, Claire, Anne-Marie


More Photos on Flickr

P.S. If you care to know, we bought over 700 meters of fabric! Now is that a stash or what?

PR Weekend Highlights on Blogs

Couturesmith.com (Connie's blog)
The Slapdash Sewist (nicegirl's blog)
At Tana's Attic (Kellie's Blog)

---