The Dream Has Become a Reality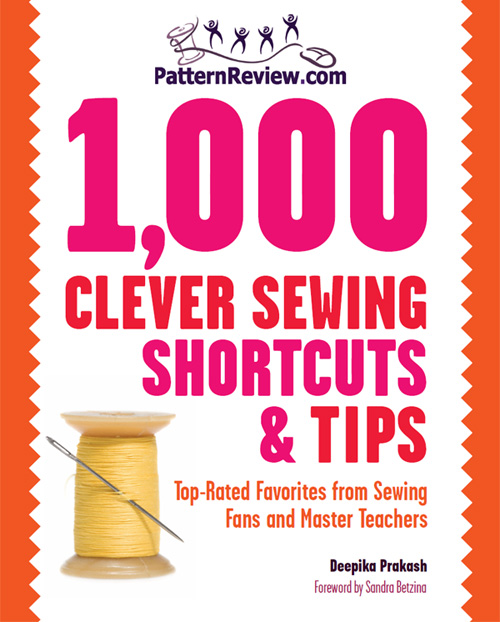 PatternReview.com 1,000 Clever Sewing Shortcuts and Tips: Top-Rated Favorites from Sewing Fans and Master Teachers, the book we've all been waiting for, is at the printer's, with a shipment date of September 1, 2010.

About the Project

If you haven't heard about the book before, let me give you a little background.

In the summer of 2008 I was contacted by a publisher with an idea to write a book. After months of pondering and then hours of brainstorming, we came up with what we think is a book which is going to rock! How many of us read pattern directions in bed? Well, we thought, what would be better than being able to read PatternReview in bed? And so we compiled a collection of 1,000 sewing tips from the site contributed by the members of PatternReview.com! The hundreds of voices in this book along with their stories, is what makes this book so unique, so fabulous and so wonderful.

To this collection we added Master Classes by our fabulously skilled PR instructors: Kenneth King, Susan Khalje, Sarah Veblen, the late Shannon Gifford, and Anna Mazur.

The result? With a foreword by Sandra Betzina, this is the perfect book to cozy up with and a great book to enjoy and learn from!

Early Endorsements
From the many wonderful things industry leaders are saying about this book, here's one which moved me the most so I decided to share it with you.

To be given the opportunity to review 1,000 Clever Sewing Shortcuts & Tips: Top-Rated Favorites from Sewing Fans and Master Teachers was a great honour.

From the very first pages I knew that this book was going to be one of the most useful tools in my sewing reference library. Just the fact that all this information has been offered by generous men and women all over the world, makes it that little bit more personal. You can see this has been a labour of love and dedication by Deepika to bring her famous website to many, many more people.

To be able to have a book where you can find out all about sewing feet, needles, pressing equipment, tools of the trade etc -- to setting up your sewing room, how to fit correctly, cutting and marking and embellishing through to the section on Master Classes by some of the best known authorities on sewing in the world – now that is truly inspiring.

Just think, all those problems answered by someone who has 'been there, done that' and posted the solution on PatternReview.com for all of us to share. Now we can keep this treasure trove of information beside our machine and find the answers at a moments notice.
I wish Deepika and her team every success with this publication and I know all of you around the world will support her as well.

Lynn Cook
Editor in Chief/Publisher
Australian Stitches – the Fashion magazine for People Who Sew.

A Book with a Conscience

But this book is also one with a conscience, a not-for-profit project. I will distribute the entire $5000 honorarium for the book to the PR members who provided the 1000 tips. Also, since the inception of PatternReview.com in 2001, I've noticed so many of the members affected by breast cancer. And in their honor, I have decided to donate all the royalties from this book to the National Breast Cancer Foundation. Royalties kick in after we sell 7500 copies of the book. So the more you buy, the more we can give to the NBCF to support the cause.

A big shout out to the PR members who decided to donate their honorarium to NBCF as well.

A Preview of What's Inside

Here are some preview shots of the book. Don't they look great? We really love the color scheme and the sewing-related art.


Back Cover

Table of Contents

A Sample Page

Master Class



Pre-ordering the Book

Why wait 'til the September 1, 2010 shipping date? You can pre-order the book now on Amazon.com for only $13.49 (a 33% discount off the cover price of $19.99).

Order now!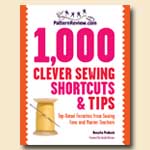 To all those who participated in this project I thank you for believing in it and supporting the effort. And a thank you in advance to all those who are considering buying this book!

A big thank you to Kenneth King, Sarah Veblen, Susan Khalje, Anna Mazur and our beloved teacher, late Shannon Gifford for contributing to this book.

This book has made PatternReview.com REAL! And anyone who uses this site should feel PROUD today!