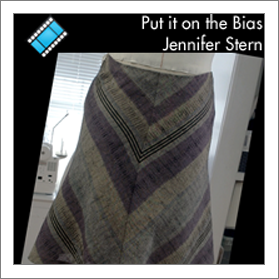 Put it on the Bias Class

An online video class by Jennifer Stern

Bias - When it works, its beautiful and drapey and flattering and all sorts of gorgeous. But boy when it goes wrong, its ripply and crazy and poofy. Good news is that Jen will show you how to work with bias and everything you ever wanted to know aobut bias is right here in this 14 video class which also includes this skirt pattern FREE!

01 - Intro to the Bias Grainline
02 - Prepare your pattern pieces
03 - Laying out and Cutting Fabric
04 - Part 1 - Matching Stripes
05 - Part 1 - How to Sew the Seams
06 - Part 1 - How to Adjust for Fit and Flare
07 - Finish and Press Seams
08 - How to put in a zipper
09 - How to construct a waistline facing
10 - How to finish a waistline with a facing
11 - Taming a stretched out waistline
11 - Part 2 - How to finish a waistline with a lining
12 - How to mark a hem
13 - How to do an easy elastic waistline on the serger
14 - 5 different types of hems - raw, decorative serger hem, faced hem, faced blind stitch hem.

Want to learn more about whats in the class? Read my blog post about it here.


All that for only $29!!!! (Regular Fee $49)
Sale ends Friday, July 24th

New Patterns from Sewaholic
Harwood and Nicola Shirtdresses
Did you see the new shirt dress patterns from Sewaholic? Tasia at Sewaholic continues to outdo herself in designing creative and wearable wardrobe staples.
The Nicola dress features a v-neck, has a subtle collar and can be made with either cap sleeves or long sleeves. The Harwood dress has a crew-neck, is sleeveless, and has two length options. Both dresses are perfectly versatile: they are great transition pieces to wear between seasons. Wear them to the beach, out running errands, or to the playground with the kids. Pair them with cardigans for a sophisticated office look or with flip flops and sunglasses for a casual weekend look.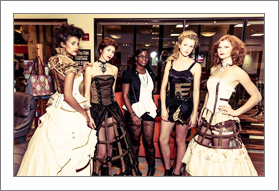 An interview with Ichigo Black - local designer
Madeline interviewed Ichigo Black, a local indie fashion designer.
Here at PatternReview.com we are a community of people who love to sew for themselves. But we also have members who sew for a living and to inspire them we decided to showcase a local fashion designer, Ichigo Black. Ichigo designs her own Japanese-inspired streetwear under the label Kyoko's Closet and bridal/formalwear under the label Till Death Bridal.
All of her garments are handmade in Southbridge, MA.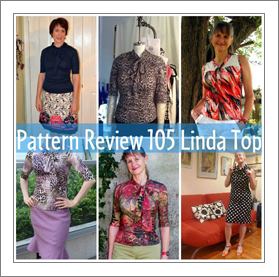 Linda Top - Hacks and More...
Earlier this year we
announced
the PR exclusive
Linda Top
. We offered it as a FREE pattern to all
Friends of PR members
(
get it
now if you don't have it). Since then, we've had a great response to Linda and we're super psyched to see all the lovely variations you've created.
We thought its about time we showcased some of the ways you've customized it. Its a great summer top!