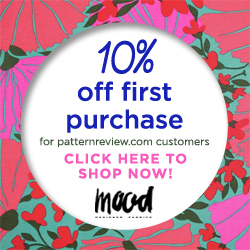 Platinum Sponsor - Mood Fabrics
If it's fabric, it must be Mood!
Mood Designer Fabrics, otherwise known as North America's most famous fabric company, specializes in high end designer fabrics and is home to Project Runway. We exhibit the widest collection of fashion fabrics, home fabrics, trims and notions for the sewers like you.

Until February 28th, we are handing out 10% off discounts for any product on our site with your first time purchase. This offer exclusively exists for members of PatternReview.com. Enter into the world of designer fabrics where quality is key.
Shop now and don't forget to follow us in Pinterest, Instagram and Facebook.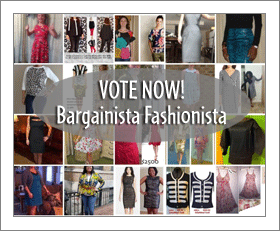 Bargainista Fashionista Contest Voting


Vote now in the
Bargainista Fashionista Contest
! Our first contest of the New Year,
participants
were challenged to create a garment or outfit inspired by an original piece seen in a store, magazine, or online. After the rush of the holidays, January was the perfect time to do a little splurging on you. For this contest, you could sew a lookalike piece for yourself or someone else.
There are a few special review requirements to consider while voting. Contestants should have a calculation of the percent saved on the garment, using the retail price of the inspiration piece, the bargainista price, and finally the percentage saved. For comparison, entries must also include one photo of the finished garment and another of the inspiration piece.
Voting for this contest will be open until Tuesday, February 10th. Vote today!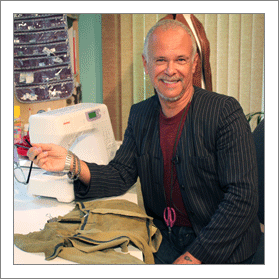 Learn to Sew with Leather

-
Kenneth D. King
Sewing with leather (real or faux) isn't as daunting as some people would believe. With basic knowledge and a few extra tools, you can sew leather garments or accessories easily. In this class I am going to show you how to sew different types of darts, seams and flaps. And to help you put these to use, we will create a
stunning peplum top in buttery suede from start to finish.
This is a video class with 3 hours of high-definition video which you can watch whenever you want.
Recommended Pattern: Vogue 8815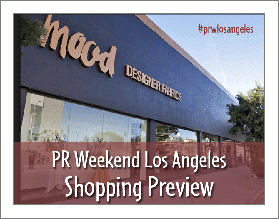 PR Weekend 2015 Shopping Preview
Our LA shopping excursion is going to be amazing. I have been looking for websites so you can get a feel for what the stores have to offer, however, most of the downtown merchants are small mom and pop shops without anything as sophisticated as a website (or in many cases, posted prices). These sites are offered to give you an idea of what the bigger stores carry, but not as a comprehensive list of what they will have to offer since the short run fabrics are likely to show up the store without ever hitting the website.
Everyone wants to visit Mood Fabrics - and it is on the list. Mood is an institution with the Mood Sewciety blog, participation in Project Runway and the best selection of fabrics. We will have a bus running between the neighborhood where Mood is located and the downtown district stores.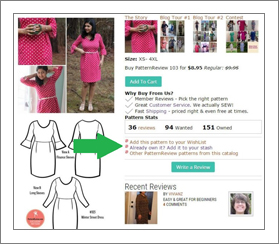 Feature Fridays - Pattern Stash
If you have a huge collection of patterns at home but can't seem to remember which ones you've purchased, give our
Pattern Stash
feature a try! It's simple to use and quick to access when you're shopping online or at a store. If you want to compare a new pattern to a similar one you already own, the Pattern Stash is the perfect way to go! You'll easily avoid buying lookalikes or duplicates.
The Pattern Stash is a cataloged list of the patterns you already own - not to be mistaken for our Wish List! For easy reference, the patterns in your stash are linked to the reviews on the PR. For Friends of PR members only, you'll also get unlimited storage space for your Pattern Stash.
Ready to get started? Here's how to add items to your Pattern Stash...