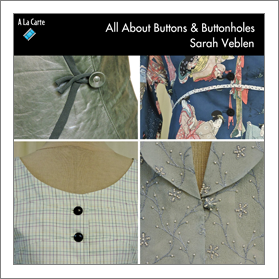 All About Buttons & Buttonholes - a new ? la carte class!
Now you have the ultimate flexibility in taking classes here on PatternReview. We call it A la carte video classes which allow you to buy any number of packages you want based on the time and the skills you want to learn. Isn't that clever? Yes, and its taken us a while to create this class so we hope you'll really like it. Check out the first in this series - Buttons and Buttonholes by Sarah Veblen.
Choose from these packages. They start at only $10.75!
Video 1 package:
Machine Buttonhole Basics (21 minutes), including information on supporting the buttonhole area; sewing basic buttonholes, keyhole buttonholes, corded buttonholes; and cutting buttonholes.
Video 2 package:

Vertical Spacing of Buttons (11 minutes)
Marking Buttonhole Placement on the Garment (8.5 minutes)
Marking Button Placement and Sewing Buttons (25 minutes)
Video 3 package:
Sewing Hand-worked Buttonholes (17 minutes)
Sewing Bound Buttonholes (38 minutes)
Video 4 package:
Making Cloth or Corded Loops for Buttonholes (23.5 minutes)
Forming Thread Chains for Loops (15 minutes)
Video 5 package:
Slot Seam Buttonholes (12.5 minutes)
Chinese Ball Buttons and Loops (8 minutes)
Video 6 package:
Covered Plackets (16 minutes)
Making Your Own Covered Buttons (7.5 minutes)
Want more? Check out this free video on How a button size relates to a pattern (21 minutes)

Click below for more information and the free video.
(as low as $10.75!)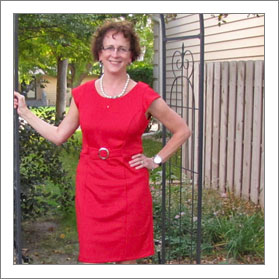 Meet Sue Parrot - Member in Focus
Even though she learned to sew in her teens, sewing didn't really appeal to Sue until she became a mom. She still loves to sew for her daughter.
Read on to find out more about Sue.
What aspect of sewing do you find most challenging?
"I would say achieving the perfect fit is most challenging! Although I do hope to master this skill some day!"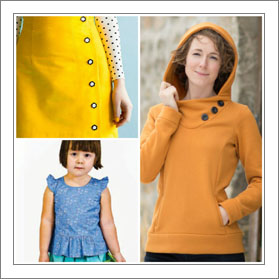 Lots of new Indie Patterns!

Spring is definitely here and these cute new styles from some of our independent designers prove it!
Still chilly where you are? Raising hands here. Make yourself this uber comfy, head turning
Jasper Hoodie
by Paprika Patterns.
Ready to let some sun on those legs? Make a cute
Arielle skirt
by Tilly.
Buy these and more in the PR Shop and don't forget, your 10%
Friends of PR
discount applies on these patterns.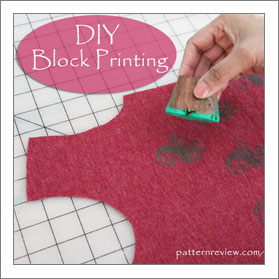 DIY Block Printing

I've always adored the block printed fabric from India. There is something very earthy and organic about it. I've had many opportunities to buy and use this fabric, a
nd I have
. But I've never seen a block printed knit. So I decided to do it myself! I couldn't believe how fast and easy it was. The trick is in finding the Indian Wood Blocks first.