Newsletter
Choose another Newsletter from the archive12/23/02
Pattern Recreation
I hope you are enjoying the holidays! I wish you and your family Happy Holidays and a Happy New Year! May the new year bring peace and joy for all!
As PatternReview.com grows bigger every day, I have been working on improving the site functionality, thus making it more efficient and easier to use. Here are a few new features:
Search in comments too! When you search for something and do not find it in the reviews, try to search the Pattern Review comments. This feature is available on every search from the top right hand corner. Just type in what you are looking for, and hit the search button. When the results are displayed on the next page and you don't find what you were looking for, there is an option to search in comments. Currently it searches only in the Pattern Review comments. This feature will be available in all the other comments also soon.
Experiencing a writer's block? It happens to all of us. When you sit down to write a review and find yourself wondering what to write, the new review templates will come to your rescue! Just click on the template check box and it will pre-fill the review box with a few questions. All you need to do now, is to answer them in the order and you're done! Doesn't get any simpler than that. There is a button to preview your review before you decide to post it. This is especially useful if you notice any spelling errors before posting it.
Classifieds get a makeover! The For Sale and Wanted Classfieds are now separated in two different columns. There are incredible deals in those classifieds. Don't miss them!
Wish List: Did you know that now you can add books also to your wish list? Click on the add to wish list button from any book review page if you like the book but are not ready to purchase it yet. Never forget about a good book! In the next few weeks you will be able to add notions and sewing machines/sergers to your wish list too.
Upcoming chat this weekend: Have you ever wanted to get those professional touches in your jackets but were not sure how to go about it? Sewing jackets is not that hard. This Sunday (Dec. 29th 9:00 PM EST) Peggy Sagers talks about How to Sew Jackets like a Pro. If you had the chance to attend Peggy's earlier chats, you'll agree that she is an excellent teacher! She makes things so simple. You wouldn't want to miss this chat either. Please note that the chat room is only for registered PatternReview.com members, so you need to log in with your PR e-mail address and password in order to participate in the chat room.

As promised in the last e-mail here's another helpful article contributed by Dale Chun.
Pattern Recreation - Bell Sleeves
by Dale Chun


Last month, I spent over $50.00 on 4 patterns. That was ridiculous. How many of you feel the same way about the cost of patterns? Here's my solution. Perfect the fit of a few basic designs and use them to redesign and create new styles. If you already make minor alterations to your patterns, this isn't difficult. Here are a few basic rules to start:

Plan - Sketch what you want to create and jot notes down regarding where changes will be made on your basic pattern.
Change ONLY what you need to. If the fit is already perfected, adding design details shouldn't affect the fit.
Sketch each piece, even facings, bindings and interfacings. This step will help you remember what pieces you'll need and will also help you think about the process of putting your garment together.
Measure, measure and paper fit. You want the design lines and details to fall in the right place, so this is a must.
Do not change grainlines. Keep them parallel to your original line if you're cutting a pattern apart.
Be sure you transfer adjustments to any other pieces affected by your changes. Example: If you replace bodice darts with shoulder gathers, mark where you will place them on your back or yoke piece.

Here are a few tools you will need to gather up before starting. Most of us already have these things lying around the house:

Pencil and paper - I like to use colored pencils so I don't have to keep erasing. I use one for tracing the original pattern, another for drawing construction lines and a third for drawing the final pattern piece.
Scissors (for paper)
Tape (lots of it)
Ruler and yardstick
Tape measure

Optional items: L-square, french curve, fashion ruler.

We'll start with redesigning a basic fitted t-shirt with straight long sleeves and convert them to bell sleeves that flare out below the elbow.

| | |
| --- | --- |
| | a) Here I drew a picture of what I wanted, sketched the pattern pieces and jotted notes regarding the changes I'll make. Now I know where to start. |

b) Trace off your basic pattern and remove seam allowances. For this tee-shirt, I will only change the bottom half of the sleeve starting from the elbow. Measure from shoulder to elbow and mark this measurement on your pattern. Draw a line straight across your pattern at the elbow. This line will be the starting point for our changes.
c) On the lower portion of the sleeve, draw a perpendicular line at the center of the sleeve starting from the fold proceeding down to the hem, and add 2 more lines evenly spaced to the left and right of this center line. [I want fullness to be added equally all the around the bottom edge. Adding inches only at the seam line of the sleeve will add fullness only in that area. This will affect how the sleeve hangs.]

I've decided to make the "bell" opening at the bottom of the sleeve a total of 16" wide. Divide the amount you want to add by 6 and place your sleeve piece on paper.

d) Cut across the elbow of your sleeve, leaving a "hinge" at each edge. Then cut up from the hem to the elbow line, again leaving a "hinge" at each cut. Space the pieces evenly apart and tape them to your paper. You will also need to cut from the center of the elbow up to the shoulder.
e) True your curves and redraw your hemline along the bottom. I shortened the center portion of the sleeve by ½" and lengthened the outer edge (at the seam) by ¼". This will keep the hem even. Add seam allowances, hem allowances, and VOILA! You haven't changed the rest of the pattern so fit should remain the same.
Here's the finished product. I did a simple lettuce leaf hem and folded and stitched neckline using a feather stitch and turning the edges outward instead of inside. I flat-felled the shoulder seams, again using the decorative feather stitch. This way, when the neckline was turned, the seam allowances were not showing.

NOTE: Double check sleeve length before cutting this out. This change will add a little bit of length to the sleeve. I left mine as is.
Copyright © 2002 Dale Chun. All rights reserved.
Coming up next week... Solving the Mystery of the Spiraling Sleeve
Happy Holidays!
Deepika
PatternReview.com

Online Class
Sewing with Slippery & Drapey Fabrics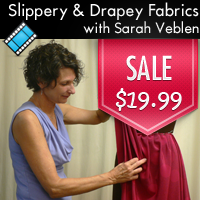 Online Class
Break your Serger Out of the Box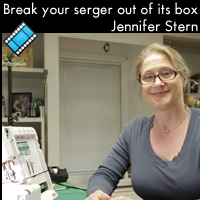 Petite Plus 302 Pattern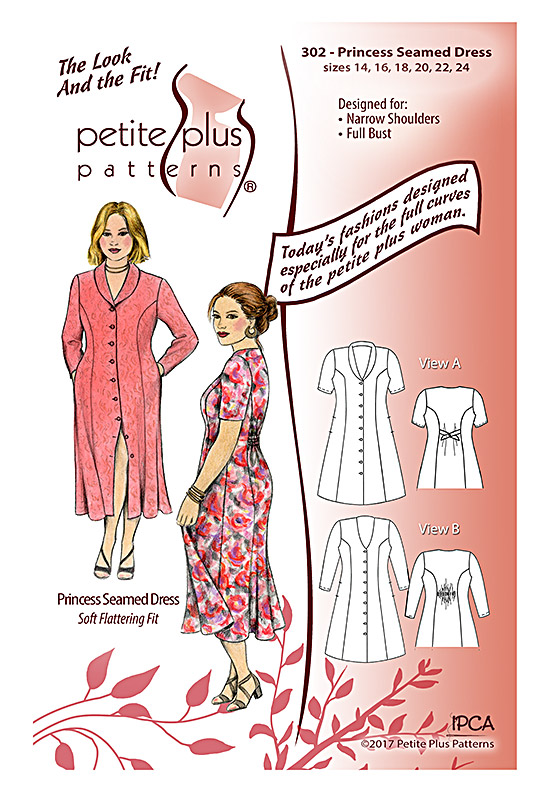 Pattern Details
Petite Plus 203 Pattern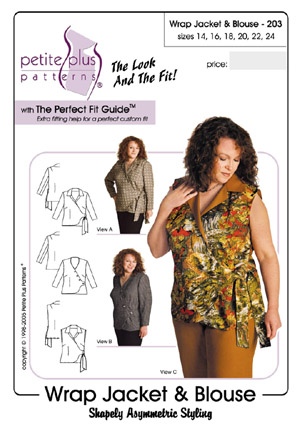 Pattern Details