Every time I post a new pattern review I feel like I'm nine years old again and it's Back-to-School Night. Remember? Your teacher would display everyone's work on the walls, and you'd be so excited to show your parents that Very Special Project you'd been telling them all about. You wanted your mom and dad to pick your artwork or story or scale model out of everyone else's and tell you that yours was the Very Best Project in the class and probably in the entire world.

PatternReview's Review Gallery is our grownup equivalent of Back-to-School Night. We're usually proud to show off photos of our latest work, and, personally, the flattering feedback members post encourages me to keep sewing no matter how frustrated I get at times. But PatternReview serves a greater purpose beyond its role as a giant refrigerator where we can pin up our photos of our work. By allowing us to see what our fellow members have created, PatternReview helps us make key decisions when it comes to choosing patterns and fabric. Members who post clear photos (where the pattern's design and details are easy to see and you get a strong idea of a fabric's textures and colors) do us all a great service by making our decisions--is that pattern a good style for me? which fabric will look best? -- that much easier.

Because I wanted to improve the quality of the photos I take for PatternReview I decided to seek the advice of a professional photographer. Fortunately this is easy for me to do because I work for a catalog company and we have our own photo studio and a top-notch photographer on staff. Michael is a commercial digital photographer with over 25 years in the catalog industry specializing in product, still life, and rotation photography. I was afraid he'd tell me to learn about apertures, exposures and F-stops when, hey, I'd rather be figuring out how to use my new serger, but Michael says there are just a few simple steps that we PR members can take to significantly improve our photos. All you need is a basic digital camera and a willingness to play around with it.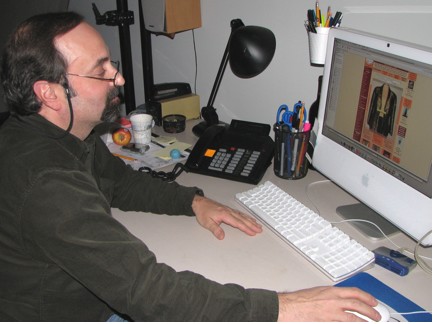 Michael taking a look at the Review Gallery on PatternReview. Deepika offered to have Michael critique some of her photos for this article. (Thanks, Deepika!)
Step 1: Find a background that compliments your garment.

There's a phrase the marketing people here at my catalog company are prone to telling the art directors when they want a product to really stand out on the catalog pages: "Make it pop," they say. You want your garment to "pop" too, both in the photo and on the Review Gallery page. That's why you need to find a background that contrasts with your garment. "If your garment is dark, stand in front of a lighter background; don't wash a white blouse out by posing before white walls," advises Michael. "And try to keep your designated background as free from distractions as much as possible, so your garment can be the primary focus. If you have pictures hanging on your wall and you can easily take them down, do so; push light furniture, kids and pets out of the way too."
Good backgrounds, according to Michael, are blank walls, solid doors, drawn curtains, solid greenery like hedges. Michael uses a neutral gray backdrop in our studio. You can also create a backdrop much like the ones Michael and other pro photographers use with a bed sheet: I like to drape a sheet over one of the horizontal poles that anchor my patio awning. DIYPhotography.net has a simple way to make a backdrop for about $50 or less out of PVC pipe and fabric.
Step 2: It's all about lighting.

"If you're shooting indoors, try to stand close to a window that lets a good amount of daylight in," advises Michael. Barring that, you can use the light from a table or floor lamp. What you want to do is position the light so it hits the side of you (or your dress form) and falls across your garment. A side light is softer, creates interesting shadows, and enables us to really see the texture of your garment. Generally bad lighting: overhead, which creates harsh shadows on your face (do you really want to look 10 years older?), and lighting directly from the front, like from a flash. This direct lighting will "wash out and flatten all the details of your garment," according to Michael.
So now you have soft, natural light hitting one side of you. Here's a simple trick from Michael to fill in the shadows that will appear on the side of the garment that's away from the light. Pick up a piece of white foam core, or cheaper yet--oak tag, from your supermarket or office supply store. Photographers call this a "fill card". Positioning this on your opposite side allows the light to bounce off it and then subtly fill in any shadows or dark spots. (I have my son hold the fill card just off to my left side while my daughter snaps my photo. If you don't have a pair of willing extra hands around, you could tape or clamp the oak tag to your dress form, side wall or a floor lamp.)
The same lighting rules apply to outdoor photography. The sun provides the best light between 8 and 10 a.m., and between 2 and 3 p.m. Pose so the sun hits the side of your body and try the fill card trick to light your opposite side.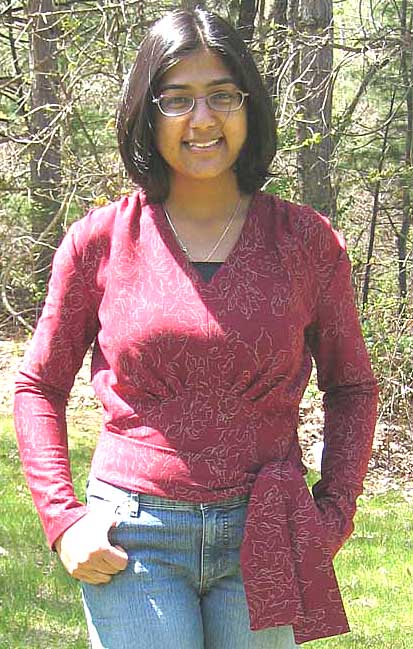 There are a couple of ways to improve outdoor photos like this, says Michael. Shooting a little earlier in the day would have produced a softer light. Or, Deepika could have positioned herself so the sun was directly behind her and coming over the top of her shoulders (called a "rim shot"); that would have avoided the left side of the top being washed out like it is here. And a fill card held in front of her would have bounced the sunlight back onto her top, creating interesting shadows.
Step 3: Strike a pose.

Take a cue from the fashion magazines and strike a flattering pose. (You know that silly feature in magazines like US Weekly where random people on the street are shown photos of two different celebrities wearing the same dress and are asked which one wore it best? Hands down every time the celeb that posed best for the camera gets voted the winner.) Try turning your body toward the camera in a 3/4 pose. For example, if your side lighting originates from the right, tilt your left side slightly toward the camera. Placing your hands on your hips usually creates a nice line and helps slim your body. By all means avoid plastering yourself against your background. If you can, stand at least three feet away from it. "Stepping away will enable the camera to focus on you and your top or dress and then blur the background," explains Michael.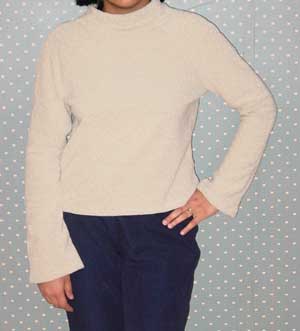 In this photo, stepping a few feet away from the wall would enable the camera to focus on Deepika's top and blur the background, causing it to go darker and contrast with the light top. Facing the light source straight on washed out much of the top's texture, but if Deepika had turned a shoulder slightly toward the camera, soft shadows would have appeared, allowing us to see the details much better.
Step 4: Ready, aim, shoot!

"The beauty of digital photography is that you can take as many shots as you'd like," says Michael. Set your camera to shoot in the auto mode (Michael says this is the best setting for the types of photos PR members want to take), snap a few shots and then check them in your camera's LCD display. Are the key features of your garment being shown to their best advantage? Try placing your hands in different positions until you find the pose that flatters your garment (and you). Check to make sure your garment isn't getting bunched or wrinkled. Michael recommends shooting from a slightly downward angle, which makes shadows fall behind you. (Helps hide double chins too!) Try several different poses to see what works best for you.
Step 5: Edit your photos for best results.

Most digital cameras come packaged with editing software, or you can purchase an entry-level editing and photo enhancement program like Adobe Photoshop Elements. A few quick editing touches to your photo can really help members see the details and textures of your work. For example, use the cropping or trim tool to ensure the focus of the shot is on your garment. "Don't be afraid to crop the top of your head, your elbows or your knees," says Michael. "You want your work to fill the frame. It's nice that you're allowing a peak into your homes or backyards but what your fellow PR members really want to see are the details of your project." Michael also recommends using the color adjustment feature in your software to brighten your final shot. "Nine times out of ten a little lightening will reduce shadows and display your piece more accurately," says Michael. "Images tend to darken some when displayed on a monitor so adjusting the color counteracts that."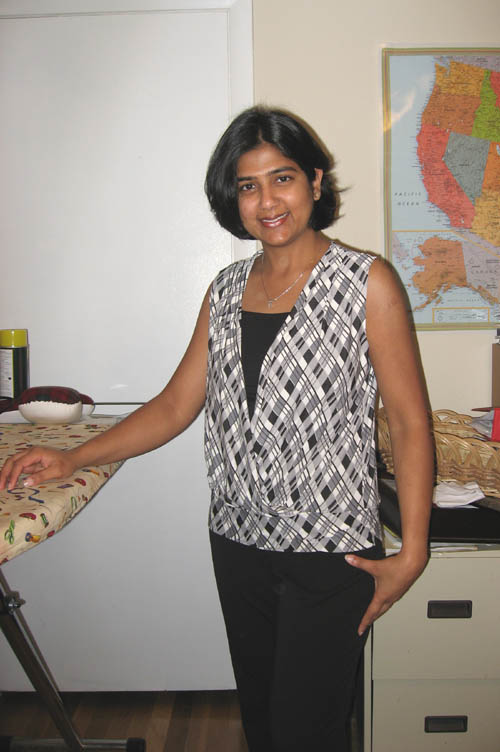 According to Michael, this is a good photo that can benefit from a little cropping so the emphasis is on Deepika's top and not her ironing board and map.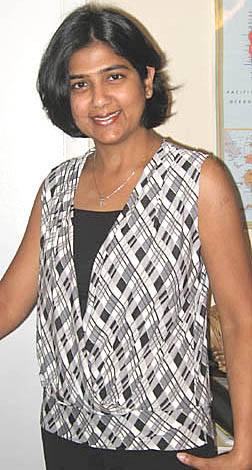 A tighter crop of this photo redirects the focus to Deepika's top. Tip: Fill the frame with your garment.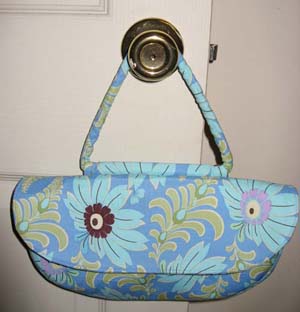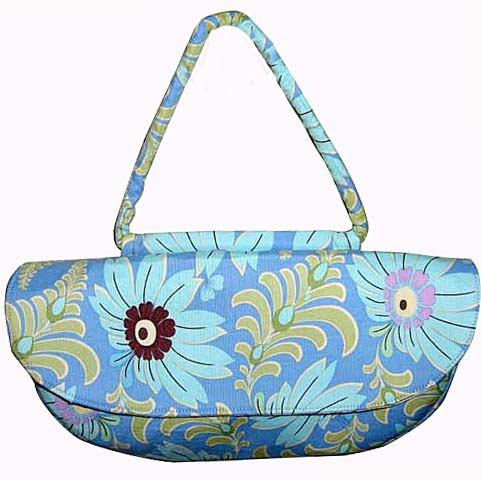 Here's a very stylish bag Deepika made and photographed (top photo). Michael used Adobe Photoshop to silhouette the bag and "create" the top part of the handle that was hidden by the doorknob. He also brightened the color and sharpened the image. Tip: Prop bags and other objects on a table against a piece of foam core or oak tag that acts as your backdrop. Pin the handle to the foam core so it stays up, or loop transparent thread around the handle to hold it up; tape the threads to the backdrop out of the camera's range.
More helpful tips

Use a tripod when you can't get anyone to take your photo; you'll get a much clearer shot than you do when you shoot into a mirror. (Mirror shots tend to wash out the colors and details, so avoid these shots if you can.) Most digital cameras have self-timers on them and tripods can be purchased for as little as $25.
"I've had great luck with the Gorillapod by Joby, which has these flexible little legs that grip onto almost anything. You can place it on top of books stacked on a table or attach it to a floor lamp or door frame and you can get the same results as you would with a traditional tripod," says Michael.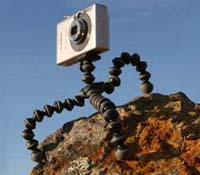 For shots where you want to photograph from your hips or waist up, adjust your tripod's height so the camera is aimed straight at a point between your chest and head, and place it about 3 to 4 feet away from you. If you need to get your entire body in the shot, position the camera level with your waist. Most often you'll want to mount your camera in a vertical position on your tripod. Note the spot where you want to stand so you can return to it after you set the timer on your camera; digital cameras will automatically focus on you when you enter the frame. Take a few test shots, then move your tripod closer or away as needed to allow your garment to fill the frame. Avoid laying pieces flat to photograph them. This distorts their dimensions and effectively takes the life out of your garment. Hang it on top of a door or curtain rod, or have someone hold it on a hanger. "You can always crop out their hands later," advises Michael.
Don't feel you have to follow these guidelines to the letter. Sometimes when we improvise on a pattern's directions or alter the design things turn out better. The same goes for photography. A classic photo of actress Rita Hayworth posing in a negligee on a bed became all the more provocative when the photographer's flash failed to go off. Michael took several photos of me modeling a tunic I recently made, but I actually prefer the shot where we didn't use a fill card. Don't be afraid to experiment with your lighting, backdrops and poses--with digital photography it doesn't cost you anything to play around. (Wouldn't it be great if trying new fabrics and patterns didn't cost us an arm and a leg?)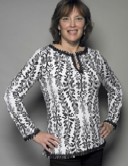 Final words of advice: Take a break from sewing and play photographer.

Before I interviewed Michael for this article I thought there was just one place in my house suitable for taking photos, and I had planned on taking all my Review Gallery photos there. But I found that posing by various windows in my house and using the natural light from them resulted in some nice shots that complimented my work. And because I am now cropping my photos more tightly, I don't need to worry so much about what is in the background. I spent an hour one morning taking photos all over my house, inside and outside, of my dress form wearing a top I made. I have to tell you it was a lot of fun playing around with lighting and backgrounds and then seeing the different results I was able to produce. Posing my dress form next to a window turned up some surprisingly good shots, for example. By applying the tips here and taking just a little bit of time to experiment, I think you'll also be pleasantly surprised with your results.