This fall as the weather shifted from the balmy days of Indian summer to the sweater weather of fall I realized that while my shelves were full of lovely sweaters, many of them were unwearable. Some were the huge oversized sweaters of the mid 1980's. Some beautiful wool sweaters had mistakenly been machine washed and had shrunk. Others were beautiful, except they had some less than lovely characteristics, unflattering necks, ugly shapes. I had also discovered that living in my overheated apartment, that my wool turtleneck sweaters get worn only once or twice a season.,the rest of the time they just sit un-worn on the shelf. The sweaters that I do wear regularly are little fitted cardigans.

Like may of you I had seen lots of magazine and blog articles on remaking sweaters... While many of them were charming, the de-constructed or overly embellished looks featured were--I hate to admit, way too young for me. As much as I want to dress hip, I'm 45 years old and there are looks I just can't pull off with out looking like those slightly desperate older ladies in my youth wearing mini skirts with their wrinkled legs.

I needed to re-construct my sweaters so they would be wearable. I will take you through the process step by step with sweaters that present some problems in their present state. I will take the sweaters to a state of wearable chicness.

When I started reconstructing sweaters in the fall, I hadn't expected the results to be part of an article. So I didn't take before and after photos. I can however show you a selection of sweaters and tell you how I reconstructed them. I want to assure you that my crocheting skills are minimal. I can do only one stitch. The results are fairly quick. I was able to reconstruct the demonstration sweater in an hour, including a lunch break.

Method I - Crochet Edging
Supplies: You probably already own everything you need to do a grownup reconstruction of a sweater.
a sweater that does not quite work
sharp scissors
fine metal crochet hook
lovely yarn
a thicker crochet hook ( optional)
The Process
My demonstration sweater is a beautiful fine guage sweater Agnes B sweater made of a silk/cashmere/ wool blend.. It feels delicious on. The neck is a thick mock-turtleneck which is just plain ugly on me. I love the blue grey color but that awful mock turtle-neck renders the sweater unwearable.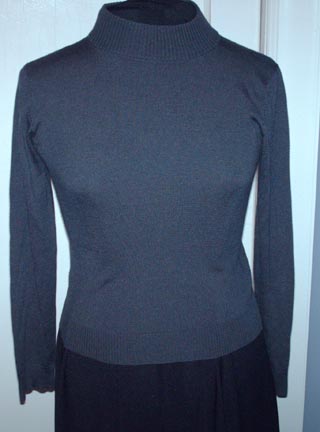 I decided to turn the sweater into a cardigan. So I carefully folded the front in half and cut the sweater open. It was vastly improved as a cardigan.
I hunted through my zipper stash to see if I had a separating zipper that I could insert and have a cute zipper cardigan. Unfortunately, my zipper stash came up short so I came up with plan B.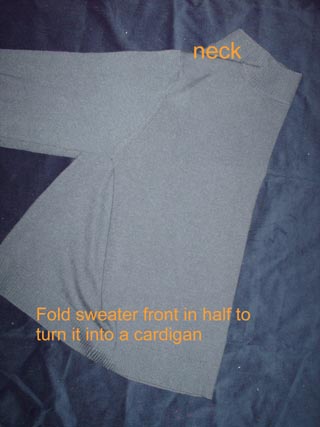 So to complete plan B, I decided to crochet the edge. I decided to cut a v neck on the sweater, but I could have left the neck as it was .It is a stylistic choice that you are free to make on your own sweater.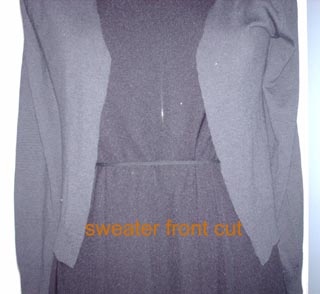 After cutting the V neck, I selected a yarn to use. I have a lovely collection of decorative yarns so I pulled out a few possible balls of yarn to see what would work best with the sweater. After rejecting the red multi-stranded yarn as being a bit too flashy for my current needs, and the had spun blue/peach for being too difficult to work, I settled on the tweedy red silk yarn.
Refashioning sweaters is a great way to use up bits of fancy yarns that you may have collected. You can use leftover bits from other knitting projects or you can splurge and purchase some of those terrific expensive yarns. You don't need very much yarn so one ball of flashy wonderful yarn can be used to trim a couple of sweaters.
I use a fine metal crochet hook for the first row of crocheting. The fine hook makes it easier to get through the fine sweater knit. You can use a thicker crochet hook for subsequent rows. I know that some PatternReview readers are very accomplished knitters and crocheters. The skill level that you need to do this project is not very high. My own crochet skills are pretty minimal. I can do only a single crochet stitch. Check out About.com for basic crocheting instructions. Those of you who can do fancier stitches should not be limited by my lack of skills. I could definitely see a sweater like this edged in a shell stitch, for example.
If you don't crochet at all, you can accomplish nearly the same look by doing several rows of buttonhole or blanket stitch along the edges of the sweater.
Just crochet from one sweater bottom all the way around to the other side of the sweater. Take a look at your work. This may be enough and your sweater may be complete. On this sweater I did two rows of crochet. Feel free to add as many rows as you like.
Closure
When I began refashioning sweaters this fall, I had assumed that I would add closures to the sweaters either in the form of buttons or crocheted ties. What I have done instead is I have used some of my many brooches to close the sweaters instead.
Depending on my mood I may pin the sweater at the neck or at the bust or at the waist. I like having the versatility and I also like being able to wear some of the lovely pins in my collection. Sometimes I just wear the sweaters open.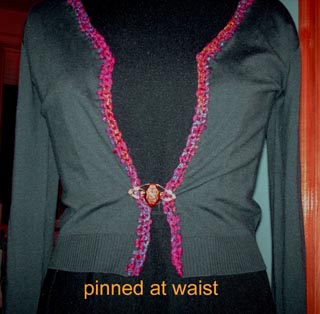 Method II - Banded Edges
Supplies

a fine guage sweater that does not quite work
sharp scissors
fabric to edge the sweater
serger or sewing machine
The Process
Is very similar to Method I. A serger will do a terrific job sealing off the edges of a cut sweater. So after you cut your sweater to it's new desired shape, Sergers make quick work of taking in a too wide sweater at the side seams. It is perfect for reshaping boxy "80's" sweaters to the more svelte silouette worn today. Just serge along the side seamline and down into the sleeve seam until you are satisfied with the results. If you are good at planning ahead, pin the sweater to the correct size before you begin. If you like to sew by the seat of your pants just keep taking skinny slices with your serger until you are satisfied with the results. I have found the seat of your pants method much quicker .
The sweater I have used as the demonstration model is a cashmere sweater that I found in a thrift store. The cashmere was lovely. Unfortunately it was the color I call band-aid. That color is good only if I want to gather sympathy for myself. That pinky beige makes me look like I died three days ago...but I was never informed.
I dyed the sweater with greyish blue dyes. The color was improved but the cut was still not very flattering.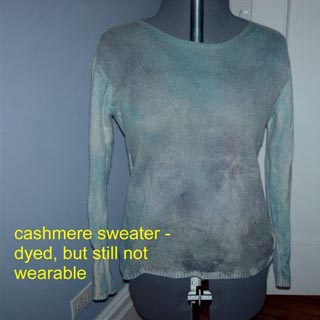 To remedy the less than flattering look, I cut several inches off the bottom of the sweater. I cut the front open and serged strips of black wool jersey to the raw edges. I added longer ties to the bottom front so I can wrap the sweater. Now it resembles a ballet sweater.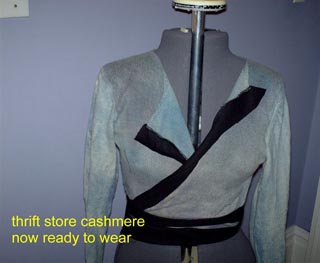 Sweater #3 began as a cardigan that ended just at the widest part of my hips ( and we all know how flattering THAT looks).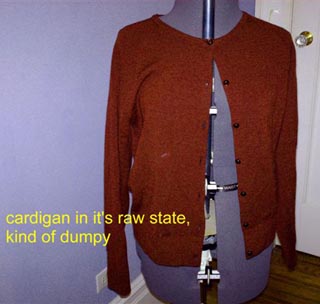 So first I cut it short.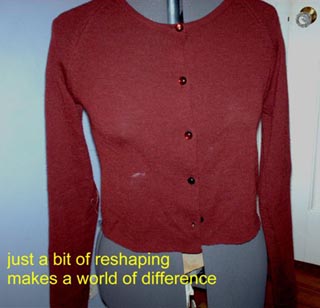 The raw edge was finished off with a doubled strip of stretch velveteen in a coordinating paisley print. I serged the velveteen to the sweater and then top-stitched so it would lay flat.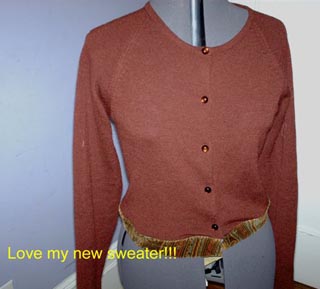 You can fix a problematic sweater in one felled swoop or in stages. Here are some ideas:
Sweaters can be trimmed with trimmings from another sweater, or with strips of velvet, chiffon or ribbon.
Make a collar out of fake fur or just play with small treasures from your stash too small to make a garment.
Sweaters can co-ordinate with other garments you already own. Snoop shop at Anthropologie.com or at Jjill.com for grown up ideas of sweater embellishment. Here are some more snoop shopping sites.

Please post the pictures of your own sweater surgery results. I would love to see what you come up with.