Do you have a fabric stash? The majority of devoted sewers will answer "yes" to that question. Most sewers love fabric. And why resist the allure of fabric when all those luscious colors, prints, and textures spark our imagination. Plus, if you feel like starting a project, frequently you can "go shopping" right at home amidst your own wonderful collection of fabrics.

For many different reasons, fabric is a crucial element of a garment's success. And the more we can learn about fabric, the more educated our selection process becomes. So let's explore the world of fabric.

The psychology of stashes.
Whether your stash is just a few pieces of fabric or a whole closet full, you've probably experienced being in a fabric store and feeling like you literally cannot leave without buying a certain piece of fabric. You just have to have it. Perhaps it's a color that you love; maybe it's a print that's charming or whimsical; or it's a sale price that you can't resist. Some or all of these things may be true. But most importantly, this piece of fabric calls out to your sense of creativity. It has either subtly or overtly sparked your imagination. And it represents the potentiality of what you can do -- of what the sewing process is to you. With this piece of fabric, you have the potential of creating a unique garment.

The importance of creativity
Most people who sew apparel love the creative process. Sure, they enjoy the end product: wearing a great looking garment. But I've rarely met a really avid sewer who is driven by just wanting a bigger and better wardrobe. Even if a sewer dislikes one of the steps along the way -- such as cutting out or the handwork -- the actual process of creating a garment is enjoyable. And for some, being creative is downright addicting. Lots of sewing enthusiasts get a wonderful sense of well-being or completeness when they're working on a project. This feeling of satisfaction is part of the allure of the creative process. And when our garments are really successful, the sense of satisfaction is even greater.

Why fabric plays such a crucial role in a garment's success
The "right" fabric will make a particular garment absolutely perfect, while the "wrong" fabric can turn the garment into a total flop. If you want a skirt to be floaty and soft, you'll steer away from crisp and/or heavy fabrics. Unfortunately, it's not always obvious which fabrics to use for each and every garment. Some people seem to have a knack for selecting just the right fabric for a particular style of garment. But if you've made a few (or a lot!) of mistakes along the way, this is something that you can learn to do. And the key is learning more about fabric.

Develop a comprehensive fabric vocabulary
Just about every hobby, job, and subject area has its own vocabulary. A specialized jargon serves an important purpose: it gives us a way to communicate with precision. Armed with a wider breadth of fabric knowledge, you'll become more self-assured when making your fabric selections. If you already have a pretty good fabric vocabulary, a review will give you confidence about what you already know, and it just might clear up one or two things that are still a bit confusing.

The difference between "fiber content" and "fabric type"
When placed side by side, the difference between these two terms seems pretty obvious: "fiber content" is what the fibers are made from; the "fabric type" is the particular weave or construction of the cloth. But these two distinctly different properties of fabric are frequently used inexactly and interchangeably in general conversation. Until it becomes completely second nature, separate in your mind what the fiber content is versus the weave or fabric type with each fabric you look at.

Fiber content. The fibers used in making fabric fall into two categories:

Natural fibers
There are four major natural fibers.

Wool comes from the fleece of a sheep or lamb, but can also come from the hair of other animals such as alpaca, camel, and goat.
Cotton comes from the downy substance that surrounds the seeds of the cotton plant.
Silk comes from the cocoon of the silkworm.
Linen comes from the fibers that lie under the woody stems of the flax plant.
There are also a number of less common natural fibers, such as bamboo, hemp, and ramie. (See photos of a selection of natural fiber fabrics below.)

From left to right: embroidered linen, plain weave linen, and open weave linen.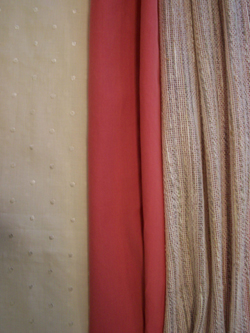 From left to right: cotton brocade, cotton damask, and printed cotton corduroy.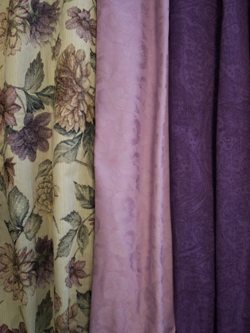 From left to right: silk chiffon, embroidered silk doupioni, and silk georgette.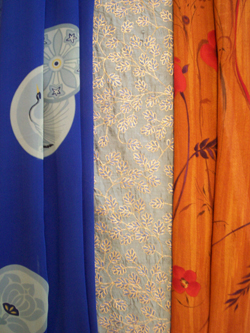 From left to right: wool chenille, wool jacquard, and a wool plaid.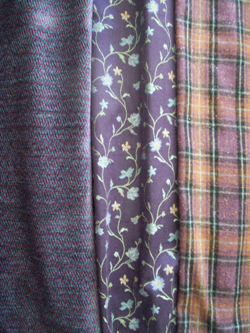 Man-made fibers
There has been rapid advancement of man-made fibers in the last decades. Compared to the early polyesters of the 1950's, many man-made fibers are quality products and well regarded by knowledgeable sewers.
In brief, man-made fibers are manufactured by first forming a liquid slurry of the particular product being used; the liquid is then forced through a spinneret (something like a shower head); the stringy liquid that's extruded is called a filament, and when dried, is referred to as a continuous filament fiber. We generally think of man-made fibers as being chemical-based (often a petroleum product) such as polyester; other chemical-based man-made fibers are acrylic, Dacron, nylon, olefin, and vinyl.
There are also man-made fibers that are cellulose based (vegetable fibers or wood pulp) such as acetate, lyocell, rayon, and triacetate. If you've ever wondered why a man-made fiber such as polyester doesn't "breathe," yet another man-made fiber such as rayon does, now you know the reason: because polyester is a petrochemical and rayon is cellulosic.
Fabric types and weaves
There are hundreds of types of fabrics and weaves, which makes the world of fabric fascinating and richly varied. From plain weave cottons to ornate silk brocades, man's interest in cloth has brought into existence an amazing range of fabric types.
Look for a sequel to this article for a description of some of the most commonly found fabric types.
Conclusion:. Armed with a better understanding of fabric, your garments will be more successful – because you'll be able to select the best fabric for any given garment, or choose an appropriate style of garment for the fabric you want to work with. Learning about fabric types is part of the puzzle. But developing a good sense of the hand and drape of the fabric is equally important. Look for some great information about this, too, in my next article.
BONUS IDEA: Trying to keep the size of your stash under control? Instead of buying that next piece of fabric you lust after, try the following. Get a swatch and give yourself the time to go through the creative process of combining fabrics, deciding on just the right pattern or garment style, and selecting the perfect notions. Put all of this on a piece of paper and post it somewhere in your sewing room where you'll see it frequently. If you get an idea of how to make your potential garment even better, jot down a few details, add a swatch of a new trim, or modify the pattern's style lines. In a week or two, there's a good chance that you'll feel completely satisfied from just having gone through the creative exercise. And if you still feel like you want that fabric, you'll have all the questions about your garment answered and the decisions about details made - so you're much more likely to actually get started on the project.