The LA Fashion District is the hub of the garment industry on the West Coast and covers about 90 blocks in downtown Los Angeles. According to the FashionDistrict.org website the District has the largest concentration of trim, beading and fabric for apparel and home decorating in the United States. A visit to the website is a good way to prepare for a visit -- you can request a map, get general information about the neighborhood, search the district for a particular type of product and find out about market weeks. One of the most valuable tips from the website is that many stores only take cash and bargaining is encouraged.

Getting there
Fabric enthusiasts don't have to cover the entire District since most of the fabric stores are located in the area from 8th St. to Olympic and Maple to San Julian, a more manageable area of just 4 blocks. If you are arriving by car, park in one of the lots off 9th Street so that you can deliver your parcels back to the car and avoid hauling all that heavy fabric with you as you peruse the stores.

If you happen to be in LA without a car, you can take either the Red or Blue Metro line to the 7th Metro station, exit the station, take the Downtown Dash, Route E to 9th and Los Angeles Street and then walk 2 blocks east to Maple. Generally stores are open 10:00am to 5:00pm with Saturday the busiest day of the week. Once you are standing on the corner of 9th and Maple, you will think you are in fabric heaven.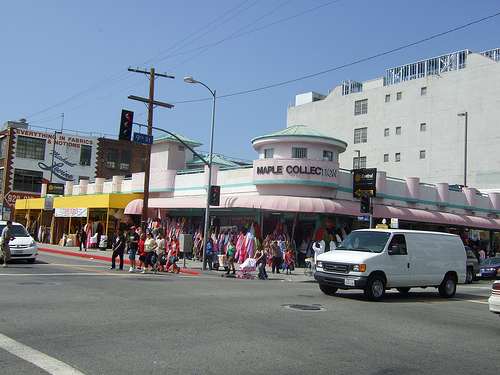 Photo credit Christina Sonja
Don't judge a book by its cover
For a first time visitor, the amount of fabric on display can be overwhelming but don't be shy and don't be put off by the mountains of cheap fabric out front. Walk in with a friendly demeanor and strike up a conversation with the store staff -- in many cases you will be speaking with the owner of the store. If you are looking for something specific, ask for it; if you are just browsing, ask what they specialize in or what's new in the store.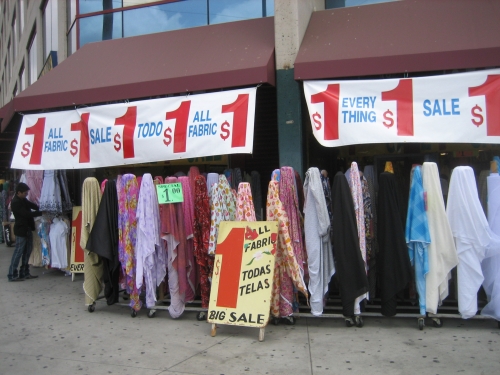 Don't be fooled by the outside -- go inside to see what they really have to offer!
The Fashion District website lists over 100 stores selling textiles and notions to the retail trade. On my first visit I tried to shop with a list of recommended stores, but the sheer volume of fabric calling me into large and small retail spaces took hold and I just wandered from one store to the next. To get you started, a block by block listing of the stores that created the most buzz among PR Weekend participants follows:
Favorite Stores
The building at 305 E. 9th Street is really a mini-mall of fabric retailers.

Check out Silk City (Space #120) for a nice selection of silks at great prices.

and Niki Fabric Gallery (Space #109) for top notch high end fabrics. Walk around the corner on Maple to see all the stores in the building.

Fabrics and Fabrics (403 E. 9th Street) is the place to go if you need silk lining with every color you can imagine neatly stacked in one area. The back room includes fabric stacked on pallets like cord wood -- someday I hope to see how they pull one bolt from a cube of fabric stacked 5 feet high.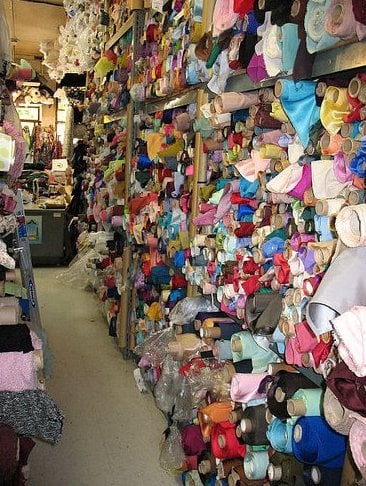 Photo credit MelissaB

Journal Fabric (corner of 9th and Cecelia St.), (419 E. 9th St.) has a huge selection of $1 per yard fabric outside along the side of the building. The store is large and well organized and has a nice selection of high end fabric on wall mounted bolts and a wide selection of all types of fabric.

Across the street is Carmel Tex (432 E. 9th Street) a store that looks like all the others until you get inside and chat with the owners who will point you to the better silks and rayons. Some of the bargain fabric out front is good quality home decorator fabric from a few seasons back.

Kashcool's (416-418 E. 9th Street) is a great place for serger thread and zippers. Although many of the stores sell zippers, Kashcool's has one of the best zipper display areas making it easy to find the zipper you need.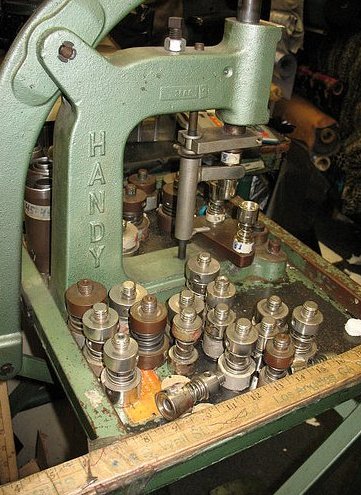 Covered button maker at Kashcool. Photo credit MelissaB
The 800 block of S. Maple (between 8th and 9th Street) is the place to go if you are looking for beading supplies, hot fix crystals, stones and related tools.

The Bead Factory/Bohemian Crystal (810 S. Maple) is a favorite of many shoppers.

This block also includes Button and Trim Expo (828 S. Maple), the largest selection of trim and fold over elastic around with great prices and a friendly, patient staff. Button and Trim Expo is one of the few stores closed on Saturday, but they are open on Sunday.
The 900 block of Maple is the home of Michael Levine (920 S. Maple) with their home decorating store and the Loft across the street. Michael Levine is the only traditional fabric store in the district where you can buy a full array of notions, patterns and fabric. They don't have the best prices, but it is a familiar layout and they have a restroom (for a small fee) and will validate parking in the lot behind the store with a purchase. The Loft has been described as the flea market and thrift store experience of the fashion district where fabric is jammed in boxes and stacked on shelves and is sold by the pound. Make your selection and take it to the cash register to be weighed -- that's right, fabric is sold by the pound at the Loft.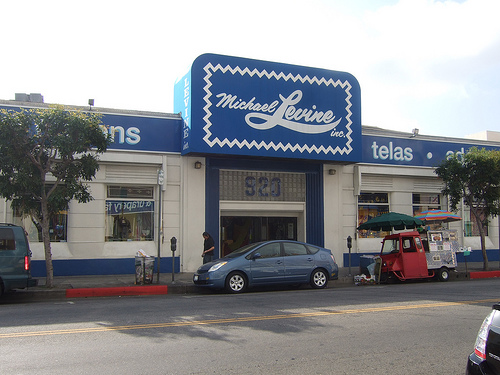 Photo credit Christina Sonja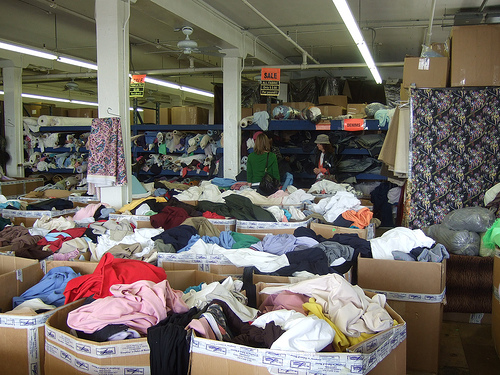 Fabric by the pound! Photo credit Christina Sonja

Mike's Fabrics (821 S. Wall Street) is one of the most organized stores in the district with an exceptionally friendly staff.

A couple of doors down at 829 S. Wall Street is Alan's Fabric, a store with an amazing selection of Hawaiian print fabrics in all price ranges, chairs for the weary to rest for a few minutes and an owner that will loan you the restroom key.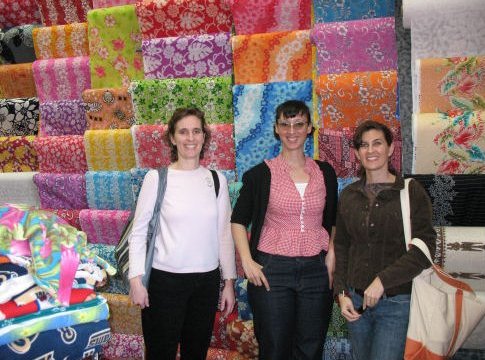 PR Weekend LA at Alan's Fabrics. Photo credit MelissaB

Across the street is Zip Up Zipper (828 Wall Street), a jumble store full of notions, zippers, buckles and purse hardware. It may be a challenge to find what you are looking for but the low prices make it worth the effort. Don't expect to find twill tape in packages, this store sells the whole bolt, but the price is so reasonable it is difficult to resist.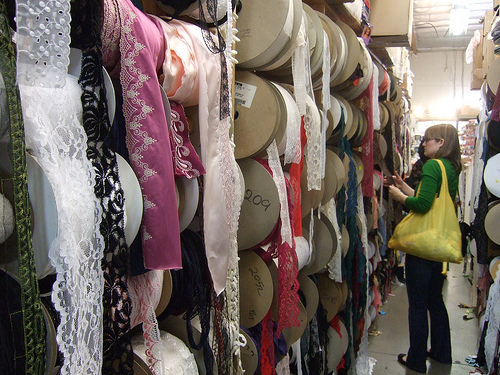 Photo credit Christina Sonja
Within a few blocks
The campus of FIDM (9th and Grand) includes a museum featuring fashion related exhibitions, a museum shop and a nice garden where you can sit down and relax after a long day of shopping. Also on the FIDM campus is the Scholarship Store, a fund raising venture selling merchandise and fabric from area manufacturers. The inventory in the store turns quickly, is eclectic and is always a great bargain. The fabric selection is small but you can generally find some unusual items here and the prices can't be beat at a flat rate of $1 or $2 per yard.
If you need tailoring supplies, fine wools for suit making or just want to take a step back in time to a store from the 1920s, you should visit B. Black and Sons (548 S. Los Angeles Street). Fabric bolts are lined up on three floors, with very few prices displayed. This store caters to both the retail and wholesale trade, so you will have to ask the price or better yet, tell the staff what you are looking for, your price range and let them recommend fabrics. Don't miss the remnants stacked on counters on either side of the first floor; the prices are exceptional as is the quality.
The Wholesale Flower Mart is located on Wall Street between 7th and 8th and is open to the public (with a small admission fee) until noon every day except Sunday. If you have the time, it is worth the price of admission just to soak up the scent of the flowers and see the huge display of fresh flowers.
Re-fueling
At some point in your shopping expedition you will need rest and refreshment. The district isn't the place for quaint cafes and coffeehouses, about the best you can do are the chain store locations (Quizno's, Subway, McDonald's) and the Food Court in the 900 block of Santee. Find the Starbuck's on the corner of 9th and Santee and head toward Olympic. Better yet, head over to the flower mart and eat at the Operetta Bakery on Wall St., a good place for breakfast or lunch.
So, to recap
Visit the Fashiondistrict.org website
Corner of 9th and Maple = Fabric Heaven
Carry cash with you
Don't be shy to ask for a specific fabric or to bargain
For Buttons and Trims head on to the 800 block of S. Maple
Stop at the Food Court (900 block of Santee Alee) for a quick bite to eat.
Beyond the district, FIDM exhibits is a must see. And don't forget the FIDM Scholarship Store.
The flower mart located on Wall Street between 7th and 8th is worth the price of admission just to soak up the scent of the flowers and see the huge display of fresh flowers.
When you're back home don't forget to hop on to PatternReview.com and write reviews of the stores you visited. These stores need all the help they need to remain in business.
Take the plunge and start shopping!

Store List
Alen's Fabric - 821 S. Wall St.
B. Black and Sons - 548 S. Los Angeles St.
Bead Factory/Bohemian Crystal - 810 S. Maple Ave.
Button and Trim Expo - 828 S. Maple Ave.
Carmel Tex - 432 E. 9th St.
Fabrics and Fabrics - 403 E. 9th St.
FIDM Scholarship Store - 919 S. Grand Ave.
Journal Fabric - 419 E. 9th St.
Kashcool's - 416-418 E. 9th St.
Michael Levine - 920 S. Maple Ave.
Michael Levine Loft - 919 S. Maple Ave.
Mike's Fabric - 829 S. Wall St.
Niki Fabric Gallery - 305 E. 9th St., Space #109
Silk City - 305 E. 9th St., Space #120
Zip Up Zipper - 828 S. Wall St.