| | |
| --- | --- |
| Shop @ PR | Patterns, Books on CDs, Videos, Online Sewing Classes, PR Buttons, PR Gifts and so much more! |
Susan Khalje received her professional sewing training at the New York couture salon Chez Cez et Bez. After a 25-year career as a couture dressmaker, she is now a Contributing Editor of Threads Magazine and was recently honored with the Association of Sewing and Design Professionals' Lifetime Achievement Award.

She founded the Couture Sewing School in 1993 and teaches nationwide, and regularly travels to Paris with couture enthusiasts. For more information, please visit www.SusanKhalje.com.

Susan also teaches online sewing classes on PatternReview.com


Shipped from Maryland, USA



Shipping Rates
US First Class
Free
US Priority Mail
Service not provided
International Mail
$8.00
Canada First Class
$8.00
Canada Priority Mail
Service not provided
Products by Susan Khalje
BRIDAL COUTURE, a CD book by Susan Khalje
[sk-bridalcouture]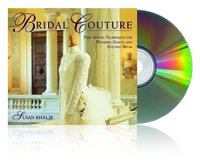 Fine Sewing Techniques for Wedding Gowns and Evening Wear

The apparently effortless grace of a successful gown is always underpinned by solid dressmaking skills--the skills described in Bridal Couture.

Starting with a portfolio of breathtaking gowns designed and sewn by the author, Bridal Couture covers all the major techniques used to sew these sumptuous couture creations, including choosing fabric, working with lace, creating a muslin, and problem-solving tricky construction issues. Every conceivable style of skirt, sleeve, and bodice is included, as well as suggestions for fabric combinations to evoke just the right mood. A final section details the construction of four actual gowns, giving readers a
chance to apply what they've learned.

Ideal as a wish book for brides, a textbook for sewing students, a reference book for dressmakers, or a companion book for anyone hiring a dressmaker, Bridal Couture is finally a book about fashion and the
practical knowledge needed to create fantasy.

List Price
Friends of PR Price
Your Price
$39.99
$35.99
$39.99
Add to Cart