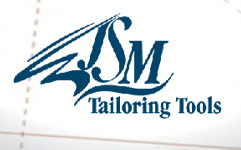 Notify Me when new patterns are available for sale

Shipped from JSM Tailoring Tools (Michigan, USA)

Categories

Pants
Joyce Simons Murphy (JSM) has degrees in apparel design and education plus 20 years experience running a tailors shop, altering clothes, constructing garments and selling men's made-to-measure suits.

As owner of JSM Tailors, Joyce saw a need for new tools to make tailoring easier. In response to this need, Joyce developed the JSM Hourly Rate Calculator; the Pricing Alterations Made Easier system; JSM Pant 1, a pants pattern with classic styling; The Pants Folio and an entire system for fitting pants.

As owner of JSM Tailoring Tools & Teaching (formerly JSM Patterns), Joyce writes for Threads magazine, trains sewing enthusiasts everywhere in the use of her professional tailoring tools and continues to develop new tools designed to save you fitting time, time making and adjusting patterns and time spent on business tasks thus giving you more time to design and construct custom clothing.