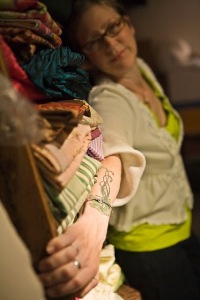 Notify Me when new patterns are available for sale

Show All

Recent Catalogs

Oct-10
Categories
Accessories
Coat/Jacket
Home Dec
Skirts
Paradiso Designs was started by Cheryl Kuczek over 10 years ago as a custom design business. In the fall of 2007, Cheryl introduced her own independent pattern line with four handbag patterns named the Anna Handbag, the Okashi Courier Bag, the Xine Basket Bag, and the Tiny Bag.

Fall 2009 and Spring 2010 brought 3 more patterns from Paradiso Designs, and also finds Cheryl working on a sewing project book that uses many types of fabrics in different and unusual ways! As a teacher Cheryl loves helping her students learn to sew beyond what they thought they could do by helping them create her handbag patterns, clothes that really do fit, and all kinds of stuffed creatures. Children are encouraged to draw their own patterns that are then used to make their projects. Adults are helped with their projects to not just complete them, but to really understand the design on how it looks and the evolving creation process.

Cheryl continues to teach and design with passion. She finds joy in the ability to give others a reason to sew and create too. Visit Cheryl's blog at www.paradisodesigns.blogspot.com today, and get inspired.