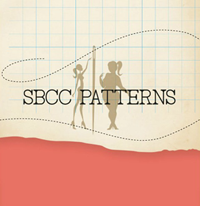 Notify Me when new patterns are available for sale

Show All

Recent Catalogs

Jan-2016
Oct-2015
Sep-2013
Categories
Coat/Jacket
Dresses
Loungewear
Pants
Skirts
Tops
Skinny Bitch Curvy Chick Patterns (SBCC, for short) are designed for modern and fashionable petites from XXS-3X

- Skinny bitches are considered any one under 5 feet 4 inches with a shorter torso and legs, and sometimes shorter arms. SBCC patterns are designed for the woman with a shorter stature, but no less attitude.

- Curvy is the new normal and the average woman is not a size zero. SBCC patterns recognize women have curves and different fitting needs in correlation to their dress size. The XL-3X patterns are specifically tailored to the larger lady with a shorter stature.

Not a petite? No problem. The patterns are easily modified for taller gals!