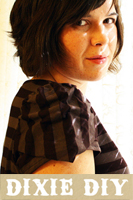 Notify Me when new patterns are available for sale

Show All

Recent Catalogs

May-2015
Sep-2012
Categories
Dresses
Shorts
Tops
I'm Dixie I started Dixie DIY Patterns as a way to learn new sewing techniques but it has evolved into a company aimed at sharing my personal style with others.

Dixie DIY Patterns is about creativity and self-expression through building a handmade wardrobe that reflects YOU. All of my simple, cute and functional designs are easy to alter to make your own.

My patterns are great for those who know enough about sewing from a pattern to feel comfortable and now want to whip up something they will love to wear and shows their personal style. I believe that sewing should be challenging, fun and rewarding and I'm so excited to share my patterns with you!