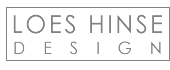 Notify Me when new patterns are available for sale
"Timeless Classics for the Modern Home Sewer" is Loes' promise. Her concept reflects soft feminine shapes with simple lines that are easy to mix and match. Because of this, the patterns can be made in a variety of fabrics to suit the individual's preferences.

These patterns come in extended sizes (XXS-XXL) that work for women with varied needs and are flattering for most body types.