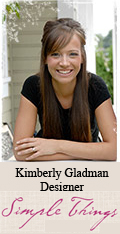 Notify Me when new patterns are available for sale
Kimberly Gladman
There is nothing more inspiring than being surrounded by great family and awesome friends! After having a child of my own, many of my concepts and inspirations come from the simplest necessities of motherhood and real life. I am passionate about color, fabric and design but mostly embracing my role as wife and mother of my growing family.

In sharing my sewing inspiration with you, I hope to bring a collection of affordable, high quality PDF patterns. In doing so, you will identify with the movement of home sewers across the continent who harness their creative energy by sewing things that are beautiful, practical and fun! This collection is for everyone - from beginner to advanced seamstresses and it really will be as easy as click, print and sew. I am so thankful for the opportunity to reach you with my designs in a modern and simple way.