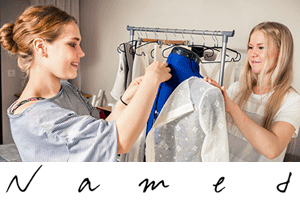 Notify Me when new patterns are available for sale

Show All

Recent Catalogs

Sep-2016
April-2016
Sep-2015
March-2015
In this Catalog
Dresses (4)

Tops (4)

Pants (2)

Shorts (1)

Lingerie (1)
Named is an independent clothing pattern label founded by Finnish sisters Saara and Laura Huhta. The story of Named started from the dream of turning a passion into a career, designing an own collection of clothing patterns felt like a natural way to implement both sisters' love for fashion and DIY. The duo wants to encourage fellow fashion lovers to give sewing their own garments a try.

Named garments are a combination of Scandinavian clean-lined simplicity and interesting details. The aim of the collections is to bring a new perspective to making one's own clothes and to support ethical and ecological consuming in contrast to a clothing industry focused on fast fashion. Self-made clothing also allows for freedom of choice; by choosing one's colors and materials and by changing garment details, the customer can be part of the design process. If dressing is a way to express oneself then self-made clothes are self-expression at its best.

Named launches two main collections a year, and the patterns have five levels of difficulty, which means that anyone from a beginner to a more experienced sewer can find patterns suited to their skill level.