California, UNITED STATES
Viewed 6645 times
Posted by:
Michelle in Oaktown





About Michelle in Oaktown
CA USA
Member since: 6/3/05
Reviews: 5 (classes: 1)
Favored by: 3 people
more...

Posted on:
5/29/07 0:09 AM
Rating:
Review Rating:
Helpful by 3 people Very Helpful by 28 people
Web site/URL:
I do not know a single person who sews clothing for themselves who does NOT want a dress form that mimics their own shape and size. Leaving aside the fantasy options, a low-cost solution is to make a duct tape or paper tape double. Since my husband refuses to ever tape me up again (I guess I was a little too bossy and fidgety last time), I was happy to find a class at a local sewing studio (The Stitch Lounge in San Francisco) in which I could wrap and be wrapped.

The good news: This class has a wrapping technique that preserves more of your body's contours than I have ever seen accomplished with a duct tape dress form.

The bad news: The cost is $75, and you supply the materials yourself.

When you register for the class, you are sent a materials list. First on the list is Ace brand duct tape, two inches wide and sixty yards per roll. It does need to be Ace brand. The "hand" of the Ace brand duct tape is ideal for this process; it has a strength, durability, and resiliency that the other brands do not. (One participant brought 3M brand and it was much thinner--when you tore off strips, it tended to rip down the length instead of across.) You are told you will need two or three rolls, or four rolls if you are larger than a size 12. As a size 18 to 20, I brought four rolls, and ended up only using two of them. I bought fashionable black duct tape and was told the silver would have been better as it was stronger. I had no difficulties with the black, but was told you would ideally use the fun color for the last layer of the wrapping, and the silver for the first two layers.

You are also told to bring "two bags" of polyfill stuffing. They don't tell you what size bag, so I brought four 20-ounce bags. I used all four bags and needed a fifth bag to finish stuffing the form.

You wear a form-fitting t-shirt to provide the base for the wrapping. I whipped up a turtle-necked mid-thigh version of Vogue 8151 (the nonwrap view). You are told to bring a roll of Saran wrap. It turns out you only use a few yards of this to fill in the neck area (if you have a regular neckline on your t-shirt) and below your hips (if you have a regular hemline on your t-shirt). The brand doesn't matter, so you can either grab a roll from your kitchen drawer, or rely on the kindness of your classmates.

The materials list includes "a pair of sharp (but not fabric) scissors". These are used to cut you out of the completed form. You could probably use a classmate's scissors. I had a pair of cheap bandage scissors (you can pick them up at most drug stores) which the instructor used on all of us. They are well worth having if you plan to ever make another form. The angled blades make it much easier for the person doing the cutting.

Not on the materials list, but I would recommend, a scarf, bathing cap, shower cap, or wide headband. Not matter how well you put up your hair, those little hairs at the nape of your neck will escape, and either your partner has to keep trying to brush them aside, or they get caught in the tape (ouch!). Also, wear bottoms with minimum bulk at the waistline (or hip). Two of my classmates wore blue jeans, which added lumps to their hipline. (I had no such excuse for my hipline lumps.) It goes without saying that you should wear a bra with good support.

If possible, take this class with a friend. The quality of your form depends on the skill of your partner, and you might be reluctant to speak up if that nice young stranger seems to be doing a bad job. The instructor will step in and help if she notices something going wrong, but you need to let your partner know if something feels too loose or too tight. Our instructor set our expectations in the beginning when she shared the tale of a neurotic participant from a past class who stressed over the placement of every piece of tape. She explained that it is unrealistic to expect your form to be perfectly smooth, and that some wrinkles were going to happen. Also, this is a very hands-on experience. Be prepared to touch and be touched as the tape is smoothed on. (After about twenty minutes, we stopped apologizing to each other and forgot about the body under the tape.)

The class began after we signed waivers (a standard procedure at the Stitch Lounge). The instructor handed out a single page of instructions to each of us which clearly outlined the procedure. She demonstrated the wrapping techniques, and assisted while the participants wrapped each other in turn.

If you have a choice, be the first one wrapped. The wrapping will take an hour or two, and of course you spend the entire time on your feet. Not just on your feet, but standing still with your feet together. Wear very comfortable shoes. If you happen to have an anti-fatigue mat in your sewing room, you should bring it with you (this is hindsight speaking). You can relieve the pressure on your feet by doing a hamstring curl, keeping your knees together and bending your knee and flexing one foot toward your back. If you can manage it, stand in front of the mirror while being wrapped so you can learn the procedure to repeat on your partner. Being in front of the mirror also helps you to fidget less. Our instructor cautioned us not to bend our heads forward to look down to watch, as this distorts much of the stomach, chest, and back. If you are the second one wrapped, you will have been on your feet, moving around, for the first hour or so, be given a short break, and then be expected to stand there, already tired, without moving, feet together, for another hour or two. So when the instructor or your partner asks if you'd like to be first, volunteer cheerfully.

A good technique we learned was to tear as many strips of duct tape as we had table edge and shelf edge to hold. Mostly you will tear strips around 24 inches long, and rip them to smaller sizes as needed. The easiest way to tear the tape is to press the end of the tape to the table edge, pull the roll to unwind the tape to the desired length, then press your thumb into the roll and rip down and away from yourself. You will become quite skilled at this by the end of the class.

The wrapping procedure was in three layers: foundation, structure (fitting), and final (smoothing). We learned the technique for applying the tape with minimal wrinkles (anchor one end of the duct tape, hold the other end at an angle--taut--and smooth with the back of your finger or side of your hand as you apply the tape), and learned to let the tape follow the body rather than try to force it to be parallel. If the tape wanted to curve up or down when going over your contours, you let it. If you ended up with gaps, you filled them in with another piece of tape. From underbust to bottom, the tape ran vertically (foundation and final layers) or horizontally (fitting layer). In each of the three layers, the breasts were separated by a "cross your heart" X of tape. The bust was taped without compression or distortion using an asterisk pattern. The same X of tape went between the shoulder blades. The shoulder blades and upper back were contoured using a shallow herringbone (or chevron) pattern down each shoulder blade (foundation and final layers), giving an overlapping "W" look to the back.

Before you are cut out of the form, remind your partner to make horizontal reference marks in several spots across your back. You will be very anxious to GET OUT of the tape by this point, but pause and have the marks made. These will help you tape the form together during the finishing process (this is more hindsight speaking). Starting at the bottom, and keeping her hand between the form and your body, she will cut straight up the back. You can then shrug out of the form. The foundation t-shirt remains in the form. (This seems obvious, but one of our classmates kept asking if she could remove it.) Our instructor told us at this point you could fold up the form and finish it at home. The form would not be harmed and would retain its contours.

Some clever finishing techniques we learned included lapping the back edge a half inch to compensate for the thickness of the duct tape, and using mason jars (or other tall object) to prop the back up while you are taping it closed. The form has a tendency to want to be circular, and most of us are oval. One way to keep the correct distance between your belly button and backbone is to apply a strip of tape inside from the front to the back, then anchor it with more tape (like a pair of square brackets: ][ ). If you forget to do this, you can go back and use one of those wicked long upholstery needles or long crochet hooks and a piece of twine or cording, and give your double a belly button (pierce at the belly and go through to the back, tightening the twine to the right depth and tieing it off). We also learned to leave a one-inch lip before crossing the tape across the bottom; otherwise, the stuffing will bulge at the bottom, and you will have a Weeble dress form.

I learned that the duct tape form is compressible--you can lace it into a corset (handy for those of us who make historical clothing) and when you are done it will spring back into shape. You are supposed to stuff it firmly, but so it still has give. It should feel as mushy or firm as you do. I was also pleased and surprised to learn that the form is adjustable. If you gain or lose weight, you can make slits, let it expand (or overlap them), and tape them up.

We discussed various methods you could use to hang or mount your form. Some solutions included the space saver (before taping closed, you insert a hanger; the form then hangs in your closet when not in use--though I wonder who has that much space in their closet--and from a ceiling hook when using it), and using PVC pipe inserted in the bottom so you can slip it onto any of various existing stands (including heavy duty music stands and camera tripods).

We briefly touched on maintenance and covers. If you choose to leave your form uncovered, and you notice a spot where the edges of the tape are gummy, you can use a cotton swab and...er...I didn't pay attention to what you used to clean it because I plan to cover mine. It might have been rubbing alcohol or it might have been fingernail polish remover. Sorry! In any case, you should cover the form, then this won't be an issue. For covers, the easiest solution is to make a knit t-shirt for it. If you used silver duct tape, you can mark the reference lines on the form with a dark marker, and use a thin, light-colored knit so the marks show through. (My preference is to use contrasting elastic pinned into the form to mark the waist, underbust, center front and back, armholes and neck.)

I highly recommend this class. The instructor encouraged us to learn the procedure with the expectation we would go forth and make more forms; there was no mention of proprietary techniques. It was a long and tiring process, but the results are well worth it. Before this, I preferred the paper tape double as being a truer copy of my body; now, I love the compressibility of Big Black Betty.

<< Previous
Next >>
Comments
Login to Add a Comment
Online Class
Pattern Work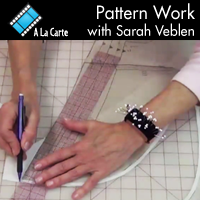 Online Class
Fun with Fitting - PANTS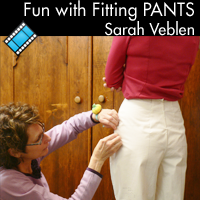 Sewn Square One Upline Jacket Pattern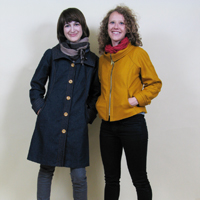 Pattern Details
SewBaby Blankie Buddies Pattern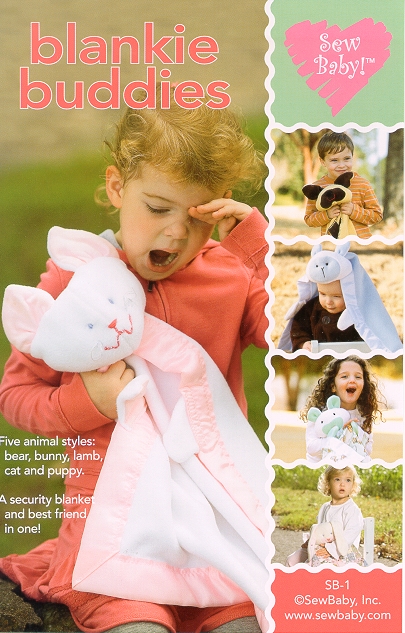 Pattern Details