Viewed 15023 times
Posted by:
Debra H





About Debra H
NC USA
Member since: 7/16/04
Reviews: 194 (tips: 4)
Skill level:Advanced
Favored by: 214 people
more...

Posted on:
12/31/07 1:44 AM
Review Rating:
Helpful by 2 people Very Helpful by 29 people
Web site/URL:
Featured in the PR book!
Silk/rayon velvet is one of the most exquisite apparel fabrics...almost watery in its drape and softer than other velvets. It is often called silk velvet, but there is no such thing as 100% silk velvet. It generally has a silk backing with rayon pile. It is perfect for soft blouses, unstructured loose jackets, flowing dresses and skirts and wide-leg pants.

Sewing any fabric can be frustrating and silk velvet has its own quirks. Sandra Betzina has very good basic tips on sewing with velvet in her "More Fabric Savvy" book, but she does not specifically address silk/rayon velvet. Below are tips learned from sewing 7 different garments from the fabric over the past few years:

PRE-WASH: Do this to save your sanity. Test a small area first to make sure that it will fade out or bleed badly...if so, you might try washing with Retayne (available from Dharming Trading Co and often crafts stores). The advantages of machine washing are that the garment will be machine washable, it gives it a soft vintage look and it will be more helpful in hiding iron marks and other imperfections. Wash in cold water on gentle cycle and dry on low heat/fluff cycle.

CUTTING: Serrated edge scissors work the best. Make sure you cut all pieces in one direction. Look at the fabric in various lights and angles to see which direction you like best. One way will usually look lighter/shinier. Cut single thickness only. This means that any pieces cut on fold are copied and taped together to create a non-folded piece. Cut piece #1 and then place it pile side down (pile will meet pile) where you want to cut its mirrored piece. Tape it at the edges or use pins in the seam allowance to hold in place...then cut the mirrored piece.

MARKING: Unless using a light color velvet, washable or air erasable fabric markers are great, especially for marking dart lines. Test first if using a light color to make sure the markers will wash out and not be visible from the right side. Do not press down when using the markers...a light touch is all that's needed.

PRESSING: Use a steamer or iron that produces alot of steam heat, which is the best way to press open seams, etc. You will also need either a type of needleboard made for pressing high pile fabrics (June Tailor's Velvaboard is a common option can can be found at: http://www.carolharrisco.com/notions-irons.shtml) or you can use a dense plush cotton towel. You may need to change out the towel if its pile gets matted from pressing. When ready to press any part of the velvet, lay it with the pile facing down over the velvaboard or towel with the pile facing up). Wrap some scrap velvet or a piece of terrycloth around your index finger...both to protect it from the heat and to prevent fingerprints on the fabric. Release as much steam as you can about 1/2" above the backside of the fabric...the iron should not touch it. Remove the steam and quickly use your wrapped index finger to press open the seam, crease the hem, finish a collar or cuff, etc. Repeat this as often as needed. Make sure that there are no wrinkles or creases in the towel or velvaboard as this will show up on the fabric...as will the finished edges of these items. You can also wrap pressing hams, sleeve rolls, etc. in a towel for pressing special areas.

REPAIRING IRON MARKS & NEEDLE MARKS: Velvet pile that is almost totally flattened by an iron is not repairable. Moderate to minor marks can be minimized with a few steps and the help of a second person. Lay the damaged area over your velvaboard or towel, but this time with the velvet pile facing up. Release steam about one inch above the damaged area and have a friend on standby with a soft toothbrush to very quickly move in and brush the still damp/warm pile back and forth to raise the pile. This may have to be repeated several times. A hairbrush with soft bristles also will work. You may notice that brushing in the opposite direction of the flattened pile works best.
Final point, machine washing and drying the garment using directions above also will help lift some of flattened pile. Hopefully you can get it to the point that it will look like part of the vintage look.

INTERFACING: Always use non-fusible interfacing. Even interfacing that fuses at low temps have trouble sticking to the silk backing of the velvet without contact with the iron. It also can create a crinkled look on the pile, which you may not want. Pre-washed silk organza works best for me and you can use multiple layers for more support. Pre-washed cotton lawn or organdy also work well, with the latter providing the most body.

SEWING SEAMS: A microtex needle in 70/10 works best for me. If possible, use a walking foot or special velvet foot. I use a 2.5 mm long, .5 mm wide zigzag for all major seams. The vertical lengthwise seams are the trickiest because the pile makes it harder to keep the raw edges even. Betzina recommends using narrow double-sided adhesive tape in the seam allowance to hold the seams together when stitching. You can then remove the tape and steam open the seam. As another option, I have used long pins along the outer raw edges, but you need at least 1/2" seam allowances to do this. I make sure the pin goes in and out both layers in 2-3 places and that there are only tiny gaps between pins. I also place some pins as usual in the perpendicular position about 3/4" apart, but only piercing the seam allowance as pin holes are visible. If you see the fabric bunching up in front of the presser foot, stop sewing and lift up the presser foot every 1-2 inches or so to readjust the fabric or you will end up with tiny tucks in the seam.

EASING SLEEVE CAPS: If you must use a set-in sleeve with eased cap, shave off at least a little bit of the sleeve cap. Place the gathered/eased cap over a pressing ham covered by a hand towel (towel pile facing up). Again, use the steam about 1/2" above to shrink the eased area, using your fingers to spread the eased folds out over the ham. If you know that you do not need any of the seam allowance, you can use the tip of the iron inside the seam allowance only.

HEMS: I typically make sleeve hems at least 1" and main hem at least 1.25". I cut bias strips of washed silk organza 1/2" wider than my hem and serge its edge to the velvet hem edge. You also can use a machine zigzag or similar stitch to join them. I then press up the hem using the techniques above. I handstitch the hem, catching a few threads of the organza and just one or two threads of the velvet's silk backing. The organza provides soft shaping for the hem and also adds strength.

CLOSURES: Avoid buttonholes if you can, especially if you have trouble making nice buttonholes with easier fabrics. Button loops, frogs, zippers and similar options work best. If you must use buttonholes, put a piece of transparent stablizer that does NOT dissolve in water on top of and under the buttonhole area before stitching. (NOTE: Saran Wrap also can work but not quite as well). You can hold these in place with tape at the edges. Mark the buttonhole on the stablizer and stitch. Then pull away the stablizer from the buttonhole and cut the opening. The stablizer helps hold down the fuzzy pile so that the buttonhole looks more professional and also adds strength. I have used Super Solvy in the past but it washes away, leaving the buttonhole looking pretty ragged by the second washing and silk backing threads coming loose.

TOPSTITCHING: Most topstitching is completely lost in velvet, which may not matter if you need to do this for construction purposes only. If you want the topstitching to stand out more, use a triple straight stitch but remember that this will leave very large needle holes if you need to remove stitches.

EASY REMOVAL OF WRINKLES: Throw the wrinkled garment in the dryer with a damp t-shirt of similar color. Do not use towels because they tend to shed fibers onto velvet. Dry on low heat/fluff cycle.


<< Previous
Next >>
Comments
Login to Add a Comment
Online Class
Beginners Guide to Sewing Jackets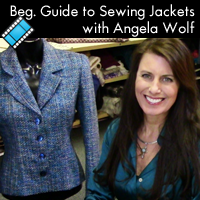 Online Class
Sew a Designer Unlined Jacket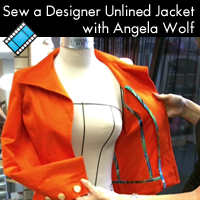 Christine Jonson Inset Jacket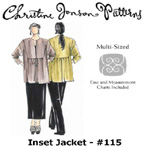 Pattern Details
Making Patterns from Existing Garments - A CD book by Kenneth King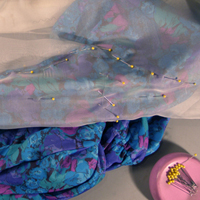 Pattern Details