Tips & Techniques > Tips for Creating a Warm-Weather Wardrobe

Viewed 5571 times
Posted by:
EnglishDaffodil





About EnglishDaffodil
TX USA
Member since: 12/17/07
Reviews: 3 (tips: 1)
Skill level:Beginner
more...

Posted on:
2/9/08 8:34 PM
Review Rating:
Helpful by 2 people Very Helpful by 13 people
I love clothes, and am forever reading lists suggesting ways to put together a simple wardrobe that can form the basis of your entire closet. But, those lists are usually written for people who live in four-season climates. (Here in central Texas, we joke that we, too, have four seasons: Summer, Almost Summer, It Was Just Summer, and Christmas).

Kidding aside, it was a challenge for me, as a native Midwesterner, to learn how to dress for a warm climate. While I think that the individual articles of clothing each woman needs are going to vary widely according to her job, her taste, and other lifestyle differences, I can at least offer a few tips I've learned in seven years of warm-weather dressing:

1) Know When to Shop. RTW stores have at least four distinct collections each year, which show up about two months before the season in which they're typically worn in four-season climates. So, stores get their fall sweaters in July, their winter coats in September, etc. That's great if you live in a four-season climate...and not very convenient if you live somewhere warm, because our stores still follow the same merchandising calendar as the rest of the country. For example, I wear sandals eleven months out of the year--try buying a good pair of sandals in November! Rather than shopping a little bit throughout the year, I save up and do my shopping for the entire year during February, March, and April, when spring and summer clothes and shoes are on the shelves. (By contrast, I shop for winter clothing at the very end of winter, when everything's on clearance. I only need a few pieces, and because others here do, too, there's usually a pretty good selection still left.)

2) Get a Good Swimsuit. I don't know how to swim. And I'm not fond of how I look in a swimsuit. But the fact is that swimming--and poolside activities like BBQs and ice cream socials--are common social events for young people here in the Deep South when the temperature climbs. If I refused to be seen in public in a swimsuit, I wouldn't see my friends for most of the summer months. So, a good swimsuit is a wardrobe staple. Doubly so because they can be so darned hard to find. Shop early for the best selection so that you can get one that's flattering and that you feel really confident in. If you are curvy like me, skip the department store and try your local underwear boutique first. And don't forget a nice coverup and flip-flops that won't slip on wet surfaces (I like Tevas).

3) Comfort First. Yes, I watch "What Not to Wear". Yes, I know that as an apple shape with a large tummy, I should be wearing jackets every day to flatter my figure. But in triple-digit heat? Uh-uh. Not happening. Comfort should be you first consideration when buying summer clothes. Breathable fabrics--linen, cotton, silk--are the most widely available. (Wrinkles are much more forgivable here than in places where polyester blends are an acceptable summer fabric.) Also try sport-performance fabrics, which are designed to keep moisture away from your skin and/or to keep air circulating around you. These are easiest to find at travel and sporting goods stores/catalogs, like TravelSmith, REI, Athleta, Title Nine, etc. All of these stores carry a great selection of styles, many of which are appropriate for work. And many are really easy-care (machine wash and dry, no iron.) Also, consider silhouettes that skim but don't cling: remember that you're going to be sweating a lot, and you want shapes that will glide right over an overheated body. And no layers at all when you know you're going to be outside for a while: one piece on top, one on bottom. Period.

4) Layer While Indoors. I know I just said "no layers," but that's for outdoors. Indoors it's often quite chilly here, as the AC will be cranked up much of the year. I love lightweight sweaters in cotton with just a touch of cashmere for softness and drape. Ann Taylor makes great ones every season with a 2% cashmere, which even I (who am allergic to wool) can wear itch-free. And because I know that my sweater's coming off the instant I go outside, I try to find very thin fabrics. For this reason, I don't wear pashminas here (though I love them in cooler areas)--too big to fit easily in my bag. Shrugs are excellent for keeping your arms warm with a minimum of bulk

4) Be Prepared. OK, this one isn't about clothing, but it IS about staying cool and comfortable. When northerners ask me about Texas weather, I say, "It's just like your weather. We also have a season where it can be dangerous to leave the house unprepared or dressed improperly. It's just that for us, that season is summer." From April through October, I don't leave the house without deodorant, a washcloth (for washing my face or for mopping up sweat), a bottle of water, and a compact of loose powder. I have also noticed that many Southern women are VERY well groomed, perhaps because they are less covered-up for much of the year. I'd never had a pedicure until I moved here; now, they're de rigueur. If you shave your legs and underarms, you have to do it every single day here--no slacking off, as I was prone to doing when I was bundled up all the time.

5) Capris are Really Great. It took me a while to figure out, but capris/gauchos/knickers have become a wardrobe staple for me here. In summer, those extra few inches of bare leg are a godsend. In winter, I wear the ones in nicer fabrics with sexy knee-high boots. Unlike shorts, they're work-appropriate. But, you can pair them with sneakers or flip-flops for instant casual.

6) You Need Some Winter Things. As a native Midwesterner, I know from cold. Cold is windchills dozens of degrees below zero. But, "cold" is also a relative term--in central Texas, 40 degrees can feel darn chilly. And it happens. Every year. Even though we act surprised about it every single time. So buy a nice coat in a classic style. I have a leather midweight coat that goes with everything and is warm enough for even our "coldest." You also need gloves, a hat, and a scarf. Get two or three heavy sweaters in neutral colors and a couple pairs of pants that come all the way to your instep. Buy quality stuff in styles that won't go out of fashion, wear them for a few weeks at a pop, and they'll last you for years.

7) There Are Sandals, and Then There Are Sandals. Like I said, I wear sandals most of the year. It's a great perk of living here. But, not all sandals are created equal. Flip-flops and sparkly little thongs should only be worn in very casual environments. My boss' rule of thumb is a good one: If you'd wear 'em to the beach, don't wear 'em to work. Also think about balancing the *heft* of your sandals with that of your outfit and also your body type. Many sandals are very flat and/or strappy, which really only looks good on very thin women wearing very lightweight outfits like sundresses or short-shorts. Get a city sandal, something leather, in a neutral color, with a solid heel--not necessarily HIGH heels--but a sole that has a bit of weight to it. I wear Danskos and love love love them. A good pair of sandals will go with pants, capris, skirts, AND shorts.

8) Know Your Environment. I live in a very casual town. You can go to just about any restaurant, even the four-star ones, in jeans. I haven't worn pantyhose in years; there might actually be a law against them here. Dallas, on the other hand, just three hours north, is much more conservative in terms of fashion. If I'm visiting friends there and know we're going out to dinner, I bring a skirt. I'm also at an age where I attend a lot of bridal and baby showers. Here, I usually wear khakis and a nice blouse and am quite dressed-up. However, I recently attended a friend's bridal shower in Louisville and was embarrassingly underdressed in this outfit--all the other women were in dresses, heels, and nice jewelry. You already know how folks dress in your area, but do ask around if you're traveling.

9) Makeup. I'm not a big makeup person, so these tips are really basic. One, most people get so much sun here that our skin tone changes a couple of times over the course of a normal year. Even I, with the world's fairest skin that burns fast and never tans, get a shade browner in the summer and need a different foundation. Two, SUNSCREEN. Every day. No exceptions. Get a moisturizer with built-in SPF and you won't have to worry about it. Three, loose powder is your friend. It absorbs oil on your face and stops the shinies. Three, keep it simple when it gets hot. Tammy Faye's face would probably melt off in about five minutes here. Neutral colors applied lightly look better on sun-kissed skin than heavy makeup does, anyway.

10) Enjoy Being a Fashion Plate. Admit it: we do have gorgeous weather most of the time. This frees you from ever needing a whole host of clothing that is simply a fact of life for many Americans north of the Mason-Dixon Line: puffy down coats, rainpants, balaclavas, etc. Please enjoy never buying jeans two sizes too big so you can wear long underwear underneath! Revel in the fact that your winter boots can have high heels if you want--a thoroughly impractical thing in icy areas! Raise children who have never once complained about having to cover up their Halloween costumes with giant winter parkas! We're lucky to live in a climate that rarely interferes with our fashion sense--enjoy it!

<< Previous
Next >>
Comments
Login to Add a Comment
Online Class
Put it on the Bias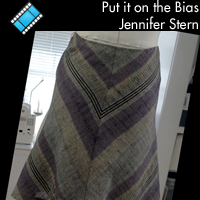 Online Class
Bust Adjustments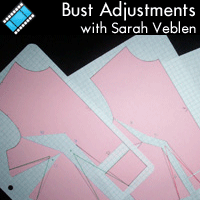 SewBaby Animal Mittens Pattern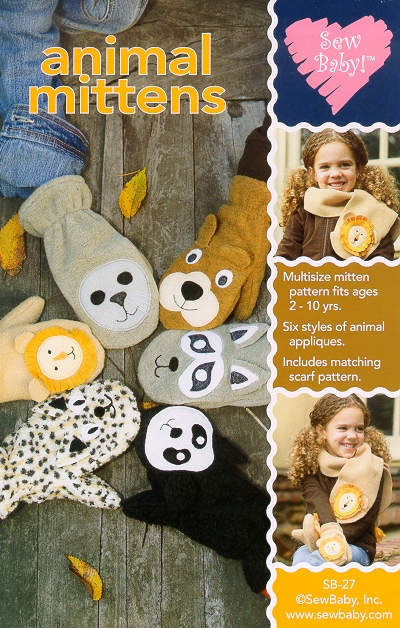 Pattern Details
Fit For Art Tabula Rasa Jacket Pattern
Pattern Details