Tips & Techniques > Vintage Patterns: Using and Storing

Viewed 6468 times
Posted by:
MagpieJen





About MagpieJen
CANADA
Member since: 2/22/05
Reviews: 17 (tips: 2)
Skill level:Advanced
Favored by: 22 people
more...

Posted on:
4/20/09 4:03 PM
Last Updated:
2/23/10 11:39 AM
Review Rating:
Helpful by 9 people Very Helpful by 41 people
Web site/URL:
As my collection of pre-1960 patterns grows, I've become more interested in caring for these patterns more thoughtfully. Old paper is very sensitive to light, dampness, acid and chemicals (especially from plastics).

I'm also a believer in using vintage patterns, even though I know every time I handle them I diminish their longevity, so I want to make sure that when I do remove them for use that I get the most out of it for the least amount of disruption to the pattern.

So I thought I'd share some of my thoughts on using and storing old patterns.

This is Hollywood 416 from 1940 (the movie it promotes "It All Came True" came out in that year) and it's in the poorest condition of all my patterns.

I carefully remove the pattern pieces and instruction sheet. Very often the tissue pieces are in much better condition than the instructions, which I found surprising when I first starting working with these patterns. The instruction sheet is often really brittle and will split along the folds. brocadegoddess reminds us to wash our hands and avoid moisturizer, or even wear cotton gloves, to avoid transferring oils, etc from our hands.

You can see how this pattern's instructions are falling apart. Since I try to make this the one and only time I handle the instructions, I scan or photocopy the instructions.

I find setting the copier to the lighter side helps with these age-darkened instructions.

Meanwhile, the tissue pieces are usually sturdy, but very wrinkled and need ironing out.

I iron at the lowest setting (and Karrol adds: Remember not to use steam!

Most, but not all, vintage pattern pieces are "unprinted" without any lines or words printed on them. There are markings, usually in the form of punched holes, on them instead. The legend for what these markings mean is usually found in the instructions, but there are websites that have a guide for the common ones as well.

Here's a guide from PR user twistedangel.

Another on Squidoo by Miss Helene's.

And another from Threads magazine.

Tracing these pattern pieces is the best way to go if you want to preserve them. I also like to trace because I can write information on the pieces to help me out when I go to use the pattern, like figuring out how many pieces to cut, changing the punches to markings I'm used to (like arrows for grainline, etc), and I can use the copy to do "tissue fitting" and alterations.

Tracing the pattern.

I use clear plastic sheeting that I buy in big rolls at the hardware store (sometimes it's called vapour barrier) and I tend to get heavier duty. Note if you use this - store these copies separately from your original patterns, since I'm not sure if it's archival-safe plastic. I bet it isn't.

The same holds true if you're using some kind of paper for tracing, such as - if it's not archival, acid-free paper, it's best not to keep the copy with your originals.

I never use pins on my original pattern pieces. I do all my tracing with the power of static (the plastic and paper get plenty static-y) and weights. If, for some reason, I'm cutting with original pieces, I also never pin but use weights instead.

I try to fold my original pattern pieces along factory lines. Once everything is folded I usually don't try to fit things back into the envelope, since I run the risk of tearing it.

Instead, I store my patterns in an archival plastic sleeves. I put the envelope in first, then the pieces and instructions in behind it. I've been meaning to get some more archival, acid-free cardstock paper to put in each one to use as a backing and to give the pattern support.

snoringcat describes that "the acid content of one type of paper CAN be transferred to another if they are in close contact, so if possible, you should separate the three parts to prevent this acid migration."

Hollywood 416 being put away.

Sandwich "Baggies" might not be safe, so I don't use them.

I bought my sleeves from my local comic book store and they are made of clear polypropylene. I think the comic guys are very useful to talk to and get ideas for safe storage - we're both interested in saving and storing the very same kinds of old paper, and they have fortunes tied up in theirs so they want to do it right! :-)

The sleeves I bought are big (it would be ideal to have sleeves that fit snugly, but I have some bigger patterns, so I got a size that would fit everything) so I fold the sleeve around the pattern before storing.

I write (with archival markers) information on the front of the sleeve. For instance, Ill write that I've made a copy so I know I don't need to disturb that pattern again.

At the moment my patterns are stored in a box. But be careful - if you're going to use a rubber-maid/tupper-ware sort of box, don't waste all your effort by using archival materials if the container isn't safe!

My goal is to start putting these patterns into archival binders, since that would make for easy viewing as well as nice, tight storage. And, as I alluded to in the first paragraph, remember to protect your patterns by storing them away from light, heat and humidity.

I find the information about what kinds of plastic are "safe" or not a bit confusing. In general, it appears that polypropylene, polyethylene and polyester (Mylar D) are ok, with Mylar being the safest, while PVC/vinyl is the plastic to avoid. Polypropylene is (according to snoringcat) a distant third in safety after Mylar and polyethylene.

"Acid-free" plastic doesn't mean it's safe - you need to see "PVC-free" - since, as snoringcat stresses, the issue with plastic is not acid, but off-gassing their chemical components over time.

For paper, the safe keywords are acid-free or alkaline-buffered.

snoringcat recommends University Products (www.universityproducts.com) or Gaylord archival supplies (www.gaylord.com) as examples of suppliers of archival products.

Once done with your patterns, ejvc suggests you consider donating them to commercial pattern libraries, such as the Rhode Island School of Design or National Museum of Art in the UK.

Edited on Feb 23 to include all your lovely suggestions! Thank you!
<< Previous
Next >>
Comments
Login to Add a Comment
Online Class
Expert Sewing Techniques for Jackets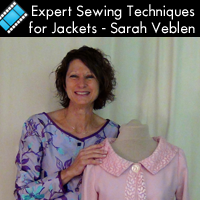 Online Class
Fun with Fitting - BODICE w Darts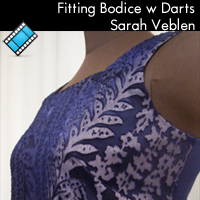 Pants Fitting DVD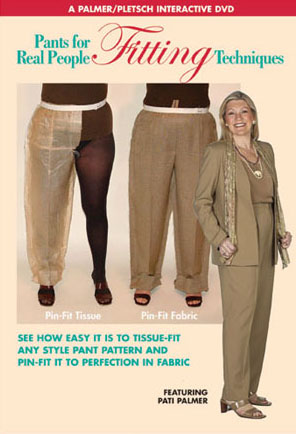 Pattern Details