Kat326


Member since 4/16/09
Posts: 1
Skill: Intermediate



Date: 7/2/09 10:58 PM

Hi there,

I'm an avid sewer, and I leave for college in a month and a half. My sewing machine at home is HUGE and I am looking to find a small or mini machine I could take and store in my dorm room. Does anyone know of a good brand/model I could find without spending a ton of money? Thanks. =]

Tishie


USA
Member since 4/7/08
Posts: 428



In reply to Kat326

Date: 7/3/09 0:53 AM

How about the

janome sew mini?

it is affordable, has good reviews and performs much like a full size sewing machine. Good luck in college

tourist


British Columbia CANADA
Member since 7/23/07
Posts: 6793
Skill: Intermediate



Date: 7/3/09 1:15 AM

I have a little Kenmore that would be perfect - 158.1041. VEry compact!

------
http://bgballroom.wordpress.com to follow the progress on my next ballgown.

CM_Sews

USA
Member since 9/18/04
Posts: 2059
Skill: Intermediate



Date: 7/3/09 2:06 AM

The Janome Sew Mini is a cute 1/2-size machine that weighs about 4 or 5 pounds. It's very basic, has one sewing speed (slow). This discussion thread will give you more practical info about the Sew Mini. Read to the end, because the original poster reports back about how the machine worked for her:

Sewing Out of Town

. Depending on how much and what type of sewing you want to do, this could work for you. They cost about $50-$60 dollars, depending on whether or not they are on sale.

The next step up are the 3/4-size machines that weigh about 12 pounds. The price ranges for these machines run from about $100 to $300, so there's some pricing flexibility. These are small, light, machines that often have a robust selection of features much like their larger and heavier sisters. If the actual weight isn't listed, sometimes you'll see the machine described as "lightweight". The Janome Jem Gold 2 and the Janome Magnolia 7312 are lightweight machines, but by no means the only ones available, nor is Janome the only manufacturer. A 3/4-size machine will have a somewhat smaller harp, which probably won't be a problem unless you plan on doing a lot of machine quilting.

About 16-pounds seems to be the next step up in the weight continuum for sewing machines, and it goes up from there - larger and heavier.

If you plan on doing any serious sewing, I'd look for one of the lightweight 3/4-size machines.

CMC

sewfrequent


Texas USA
Member since 6/27/03
Posts: 3561
Skill: Intermediate



Date: 7/3/09 8:14 AM

And Janome has a higher-priced tier of the 3/4 sized machines that are computerized with more features and stitches, drop-in bobbin, drop-feed, needle up/down, good buttonholes. Platinum Gems 720/760 are very good machines too but cost more around $300-$400-ish. I also agree on the vintage Kenmore 1020, 1030,1040, 1050 but they're kind of hard to find.

Susannah


Ohio USA
Member since 10/29/06
Posts: 500
Skill: Intermediate



Date: 7/3/09 2:38 PM

This is the mom coming out in me: (Sorry, I can't help it; I've taken 3 of my kids to college so far):

1. Until you get there you cannot conceive how very cramped a dorm room can be; esp when they squeeze 3 students in a room designed for two.
2. You also (prob) don't know your roommate(s) or their friends and, without disparaging people who may be wonderful, there are some real looneys out there who think nothing of stealing or damaging other people's property. Unfortunately, one of my daughters experienced this in a college dorm.
3. You prob. won't have as much free time as you think you will. That first semester in college is packed time-wise.

With this in mind I would recommend something inexpensive and replaceable. The Janome Sew Mini is very small, and can be hidden in a dresser drawer. Sewing on it feels like a real machine. Then if you hit the jackpot and get a wonderful roommate in a spacious room you can go get a bigger 3/4 machine you won't have to hide away. You will also have a better idea of how much sewing you will be doing and how much you want to invest.
Good luck!

Doris W. in TN


Tennessee USA
Member since 2/9/04
Posts: 9792
Skill: Intermediate



In reply to Susannah

Date: 7/3/09 2:58 PM

You bring up some good points, esp. re: dorm living, roommates, etc.

The Sew Mini or even the Hello Kitty are probably perfect. I just Googled the Sew Mini and

Hancocks has it for $40.

------
iPad's auto-correct is my enema.

maespinoza28


Member since 6/14/08
Posts: 246
Skill: Intermediate



In reply to Kat326

Date: 7/3/09 3:21 PM

I got a Brother HE 240 from HSN because I wanted something portable for classes. I really like this tiny machine. It doesn't take up much space. It has the ability to do 4x4 embroidery as well. I've been using it to sew 2 blouses for my mom, a skirt and top for myself, and a quilted tablerunner. Oh, also make valances for my classroom. This little machine is a work horse considering it's so small. And it's quiet to boot!

Susee

California USA
Member since 10/23/08
Posts: 427
Skill: Intermediate



Date: 7/3/09 3:59 PM

The Janome Sew Mini at Hancock's for $40 is a great deal. I bought one during their last sale and love it. It's remarkably sturdy for a 5 pound machine. Plus, it has a drop-in bobbin, which I like. However, it doesn't have a buttonhole stitch, and it's not recommended for heavy fabrics. If you don't mind the limitations, it would be a great size for a dorm room. Plus, you can't beat the price. For something a bit larger (and definitely cuter), how about the Janome Hello Kitty?

Janome Hello Kitty Sewing Machine

------
Susie
Lady Kenmore 89, Janome 300E, Juki MO-735, Janome 1000CP, Kenmore 19606, Juki F600

KitnRose


Member since 6/18/03
Posts: 2143
Skill: Intermediate



Date: 7/3/09 4:51 PM

I didn't take my machine to college (my machine at that point was a barely functioning hunk of plastic that probably would have died in transit) but I did a bit of hand sewing and embroidery and, senior year, would have loved a machine had I had a working one.

A few questions to help with the advice:

- What kind of sewing do you prefer? Clothing, costume, home dec?

- Do you know how large your dorm room will be? Freshmen definitely get the "character building" rooms. I had a single drawer, an upper bunk, and the three drawers in my desk to call my own. There's always those small pockets like the shelf in the closet (I'm short so it was always a pain getting anything down from there) and the hall storage closet but that was really it. Of course some of it's what you and your roommate make of it - my brother, who went to my alma mater and got the same size room, somehow managed to fit a drum set, electric keyboard, five other instruments, a huge sound board, and all the rest of the equipment for a professional-level recording studio in that space. I really don't know how. But anyway, knowing what space you'll have will help.

- Do you have to have it first semester? If not, Christmas sales will be your best friends. And by that point some of the variables will be worked out. Like if you have a roommate who's attempting to bring all her worldly possessions and then some with her. Or one who's world ends if you cross over into "her" inches or make any sort of a mess - both difficult if you want to cut out yardage and sew. That would have been my junior year roommate, by the way.

Those are my initial thoughts. If you can take a machine it can be a great creative outlet and you'll learn soooo much about dividing up a task, keeping things organized, and getting by with the minimum of accessories, skills that are really helpful in the long run. And if you're any good at alterations you can make a little extra there - money's always tight and that can help.

Whatever you decide, welcome to PR and hope your college experience is absolutely wonderful!

------
Kit
"Never underestimate the power of the right dress!" - drsue
"Hyu gots to know how to sveet tok de costumers, dollink" - Girl Genius, 11-24-08
Printable Version
* Advertising and soliciting is strictly prohibited on PatternReview.com. If you find a post which is not in agreement with our Terms and Conditions, please click on the Report Post button to report it.
Online Class
The Contemporary Couture Jacket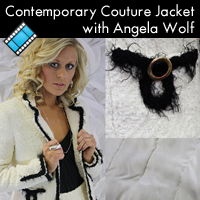 Online Class
Serging Ahead with your 5 Thread Serger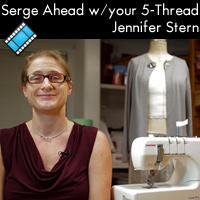 Simplicity 2217

by: Iamaccur8
Review
You Sew Girl Laptop Bag Pattern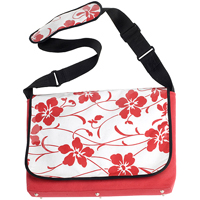 Pattern Details
Sewing Workshop Eureka Top & Skirt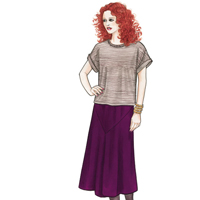 Pattern Details
Contest Sewing Bee Round 1

by: thestitche...
Review