Melissabr

New York USA
Member since 9/18/02
Posts: 18
Skill: Intermediate



Date: 10/27/02 8:08 PM

I have a Viking 1+ and love it. Am considering getting a serger, mostly for the professional finish on the raw edges, but am wondering if the money and the hassle are worth it. What does everybody think about making the investment in a serger -- is it worth it to you?

Thanks for your time. I mostly do garment sewing, some home dec, doll clothes.

DonnaMarie


Florida USA
Member since 10/22/02
Posts: 16
Skill: Intermediate



Date: 10/27/02 9:37 PM

Melissa,

I love my serger. You can do a lot with one. They are great for a finished look. They keep the seems clean. They also simplify heming. I make napkins and placemats, bathing suits, sleepware, shorts, and shirts. Just tonight I serged the edge of a top that was suppose to have a lining (which is way to hot for Florida) so I could just roll down the edge and sew. If you get one get a cover hem. It makes those great hems on the bottom of most knit shirts. It does it in one step.

I my self just bought a eclipse Ble1LX (which doesn't have a cover hem). It is the easiest thing to thread ( it has jet air threading system) and serges like a dream. It has a computer advisory panel, but also lets you override the settings if you want to achieve a different look.

Take your time and try them out. If you don't use it you will never know what you are buying. Have fun and good luck.

DonnaMarie

Gigi Louis


Member since 4/4/02
Posts: 7876
Skill: Advanced



Date: 10/27/02 9:57 PM

Melissa, I couldn't live without my sergers!  Even just to speed up tedious raw-edge finishing they are worth owning.  If I never have to zigzag a raw edge again it'll be too soon for me.  Do you own a microwave? It helps you defrost, heat food, pop corn, and just generally speeds things along in the kitchen, right? Well then you need a serger! You owe it to yourself - join us for the serger chat next Sunday 11/3 at 9 p.m.

DonnaMarie, where i Florida are you?  I'm in the Ft. Laud area.

DonnaMarie


Florida USA
Member since 10/22/02
Posts: 16
Skill: Intermediate



Date: 10/28/02 6:23 AM

Gigi,

How does the forum work? Is it and interactive forum? If so please explain the proceedure. Is it in the chat room? I would be very interested myself in joining in.

West coast, Florida. Port Charlotte/Sarasota area.

Guest

Member since 3/16/04
Posts: 2235



Date: 10/28/02 8:13 AM

Donna,

The chats are interactive, yes.  They are scheduled, and Gigi's serger chat was last night, though it is widely rumored that she will be doing a repeat on that topic very soon.

To attend the chat, one simply clicks on "Chat Room" from the selections in the left column on the site here.  It will prompt you to enter a screen name to use; most of us use the names with which we post here.  Easy to do!

If you'd like to read the transcript of last night's chat, you simply click on "chat transcripts", again from the selections in the left column on the site here.  There were some actual serger questions asked and answered before our actual purpose was accomplished.

Guest

Member since 3/16/04
Posts: 2235

4 members like this.




Date: 10/28/02 3:45 PM

Shirley, I have a different point of view about sergers. I am sort of a serger heretic, in fact. I had to use a serger a lot before I realized I didn't need it at all:).

I have been using sergers for about 18 years now, but I also learned sewing back in the 50's when much sewing was still done by hand. I have made lots of clothing the older slower way, using what are now considered couture methods. I also have made lots of things using sergers. My approach to sewing has gone in a sort of circle back to where I started.

My serger history went through several stages:

1. Mystification- In the early 80's I started reading and hearing about "sergers'. I wasn't sure what they were, but the magazines and sewing machine dealers were all pushing this as the greatest thing ever for home sewers. I bought one without knowing exactly what it did or how I would use it. The advertising hype had convinced me that this machine would make my sewing "more professional" - never mind that I had already been a professional seamstress without it. (Actually, a better term would have been "more industrial", as home sergers were an adaptation of the industrial seam finish machine. ) The early home sergers were very difficult to use, and there was a long learning curve before I got the hang of it.

2. Infatuation-This was stage 2. After months of irritation, I finally got that @#!&!!! Singer 4-thread to produce some actual seams. What a hoot! It sewed faster than I ever thought possible. I could make miles of overcast seam edges in minutes. It made a chain stitch too, and that looked so cool. I decided to just serge everything, even things that supposedly couldn't be serged. I used it for zippers, collars, cuffs, hems, belt loops, decorative seams, etc etc. I made mountains of stuff while this stage lasted. Then I began to notice something funny. The clothes I made on my serger looked so much like ready to wear, which I thought was good. But then they started to behave like ready to wear.-not so good. I mean the clothes began to deteriorate after after just season of wash and wear. The expensive linen blouses and jackets that I made with my serger had popping, fraying seams, but clothing I had made with similar fabrics using slower methods such as felled seams or the Hong Kong finish had held up for years. I liked the speed of serger construction, but it wasn't giving me the quality I wanted. This led to stage 3...

3. Detoxification- I had to admit that speed sewing wasn't everything. I sew because I love fine quality clothing, the kind of quality I can't afford in ready made fashion. The serger was giving me a wardrobe that looked like ready to wear. But it was mediocre ready to wear. The same stuff I was trying to escape by sewing. I slowly and reluctantly moved back to using other methods. I took more time to do quality seam finishes. I relearned the art of fine hand-sewing for attaching linings, and hand basting collars and sleeves. Handling fine fabrics is a pleasure in its own right, and sewing with a regular machine gave me time to slow down and appreciate this. Another thing that made the serger less desirable was the great improvement in regular sewing machines in recent years. They do so many more things, including beautiful overedge and improved stretch stitches that formerly weren't available. While they are not as fast as a serger,the stitch quality is wonderful.

I began to use my serger less ands less. If I was pressed for time, I would use it knowing that there would be a trade off in quality. It was useful for very casual or trendy items that I didn't intend to keep long. For investment grade fabrics, a combination of hand and machine stitching gave me results that were more satifying. This all happened gradually. I am now at a point where I hardly ever take the serger out unless I am doing a home dec or costume project with lots of long seams to finish. If the serger broke, I don't think I would bother getting a new one. I would rather put the money into a sewing machine upgrade-or luxury fabric!

I don't mean to say that the serger fans are wrong, just that for the type of sewing I really enjoy other tools work better. If I had a business sewing multiples of the same item, or was making utility clothing for kids, I probably would feel differently.

Guest

Member since 3/16/04
Posts: 2235



Date: 10/28/02 4:38 PM

Sorry, I meant MELISSA, not Shirley. Is there a way to edit these posts? My typing is so bad!!!! I never see the mistakes until they are already posted.

LittleShell

Pennsylvania USA
Member since 8/24/02
Posts: 185
Skill: Beginner



Date: 10/28/02 4:57 PM

Mini, on posts that you've written, you should see an

Edit

button next to the

Quote

button (top right corner of post). It will bring you back in to the editing window, then you can make your changes. Click on the

Submit Modified Post

button.

I usually have to edit 1 out of every 3 or 4 of my posts.

LittleShell

Pennsylvania USA
Member since 8/24/02
Posts: 185
Skill: Beginner



Date: 10/28/02 5:30 PM

BTW, Mini, I appreciate your honest reviews, especial ones like your post here. I like hearing both sides of an issue, not just the rave reviews, but only if there's careful thought behind what's said. (So much of what you see on the internet today is tossed off quickly, just emotional reactions. PR.com excepted, of course!

) I remember my mom's dismay when everything RTW had the serged seams--something only done for mass production. Her first machine was initially a treadle machine with one stitch! It was converted to electric, then they traded it in for a Singer with zigzag and reverse

when I was little.

I don't have a serger and the speed plus knives scares me a little. But I wonder if I have the patience to do things the slower way? I'm so used to RTW seams that I can't quite picture what else is done, except on jeans! I'll have to check some more books, since I don't think most patterns even mention seam finishes.

Guest

Member since 3/16/04
Posts: 2235

1 member likes this.




Date: 10/28/02 6:15 PM

Little Shell, you might like Claire Schaeffer's Complete Book of Sewing Shortcuts for ideas about seam finishes and other techniques you won't see in pattern instructions. (I reviewed it for PR.)  I am also writing a newsletter article on "Things the Pattern Doesn't Tell You", to help new sewers find out where to look when they need more information.

Re the Edit button: I see the Quote button, but it is the only one there. Maybe the other button fell off....:)?
Printable Version
* Advertising and soliciting is strictly prohibited on PatternReview.com. If you find a post which is not in agreement with our Terms and Conditions, please click on the Report Post button to report it.
Online Class
Serging Ahead with your 5 Thread Serger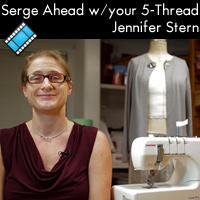 Online Class
Put it on the Bias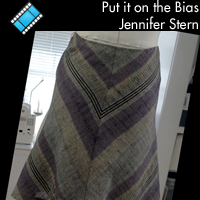 Skinny Bitch Curvy Chick SB328

by: cathydavis...
Review
Butterick 6042

by: sewallthet...
Review
Fit For Art Sleeve & Cuff Variations for Tabula Rasa Jacket Pattern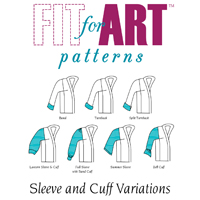 Pattern Details
Victoria Jones Collection Pattern 205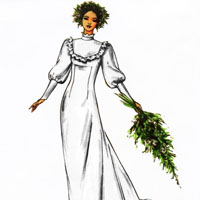 Pattern Details