1975Jumby


California USA
Member since 8/19/08
Posts: 627
Skill: Intermediate



Date: 5/15/12 1:49 PM

Hi gang.....have a decision to make here an really need your help. I recently bought a Singer Quantum Stylist and Brother PE 770 and have loved the embroidery so much, that I started looking into the combo machines because I really don't want two machines lying around. After some research, I settled on Babylock and was eyeing the Ellure Plus.

Anyway, initially I was quoted $1695 on the Ellure Plus and $3995 on the Ellegante 3. I really didn't want to spend that much so naturally I didn't even consider the Elllegante. I ended up getting the Ellure Plus this past Saturday for $1500 out the door and was able to get the Babylock financing of 0% interest for 2 years, something I wasn't even planning on. They ordered the machine and I was supposed to pick up this week.

Over the weekend, I started thinking that with the financing, I could probably afford more machine and rather upgrade now with the financing than later down the road. So today when I talked to the shop, they said that I was misquoted on the Ellegante and the Ellageo Plus sells for $4000, but if I wanted the Esante, that would be $2600. Only thing is, it doesn't have the USB stick capabilities and I'd rather have that.

Basically, my question is what is a fair price for the Ellageo Plus these days? I really would love that machine and since I have the Babylock financing, I could go to other dealers since I don't think the card is dealer specific.

thanks!

------
Babylock Ellisimo Gold
Babylock Enlighten
Kenmore 1914
Kenmore 1814

Harriet P.

Tennessee USA
Member since 6/30/05
Posts: 321
Skill: Intermediate



Date: 5/15/12 2:36 PM

HI,
If you have a Brother dealer nearby, you might want to check their prices out. I have the Brother 2500D with an upgrade which makes it almost identical to the Brother 2800D which is the same as the Ellageo Plus that you are interested in buying. Usually, but not always, the Brother prices are better than the Babylock counterparts. If you want the Ellageo Plus, I would get that over the Esante. Besides the usb port for a thumb drive, the screen is in gray scale (some people don't mind that). I also like the fact that there is a resume button on the embroidery combo machines above the Esante. If the electricity goes out often around where you live, or you just need to turn off your machine in order to do something else, when you turn the machine back on , you can just take out the hoop and click ok to recall your design. Then you put the hoop back onto the machine and begin embroidering.
Harriet


PattiAnnJ


Ohio USA
Member since 12/3/06
Posts: 9155
Skill: Advanced



Date: 5/15/12 3:54 PM

Forget the sewing machines, where did you find the gold mine/oil well???????

------
OLD CHINESE PROVERB: I HEAR & I FORGET; I SEE & I REMEMBER; I DO & I UNDERSTAND.


1975Jumby


California USA
Member since 8/19/08
Posts: 627
Skill: Intermediate



Date: 5/15/12 4:36 PM

LOL! I didn't know I landed on a gold mine.....but like I said, they misquoted on the Ellegante. Actually, I think the guy showed me the Ellageo Plus, quoted me on it, and then gave me an Ellegante brochure. So that is where my confusion came in....and in all honesty, they do look like the same machine.

I'm pretty sure I'll be going with the Esante if they can get me the deal I'm looking for. I just can't justify spending another $1600 more for the Ellageo Plus to get a color lcd screen and a USB stick capability. I've been on the Babylock website and checked the manual on both and they are pretty much the same, save a few stitches and patterns.

I really didn't get the whole USB thing until the lady at the store explained it's just for transferring patterns (or updates) and I don't need to keep the computer (or USB stick) connected while sewing. My sewing room is also my office and my computer is in there. I can just get a 20 foot USB cord and won't even have to move the computer. So the USB stick capability isn't even an issue with me anymore.

------
Babylock Ellisimo Gold
Babylock Enlighten
Kenmore 1914
Kenmore 1814

deesews


California USA
Member since 9/24/08
Posts: 133
Skill: Intermediate

1 member likes this.




Date: 5/16/12 0:24 AM

You can read the machine reviews on the PR site, where people have listed what they paid for their machine. I printed them out and took them to my dealer and got a much better price on my machine that way.
My dealer had a three-month trade in program. I bought the Brother 1500D, loving the 6x10 hoop. But when I went to my first class, I could see how much more diffficult it was to use than the Ellegantes all around me. Here are some of the features I coveted in the Ellegante:
It embroiders faster
It loads designs faster
It's smarter overall
The hoop is bigger
The screen is color and larger
The USB capability meant I didn't have to bring my computer to class, and took up less space in class, too.
In short, buy as much machine as you can afford and then just learn to use its features and enjoy it! No matter what you get, there is always something else you'll want. And many of the bells and whistles can be worked around or bought. You will probably want a software. It makes all the difference!

PattiAnnJ


Ohio USA
Member since 12/3/06
Posts: 9155
Skill: Advanced



Date: 5/16/12 12:35 PM

One more point regarding the Ellegante. I have the original (newer models may have this built in or can do as I did) and downloaded the free upgrade at BL for creating designs on the LCD screen with the stylist. Simple designs and nothing elaborated, but an interesting feature - create and digitize at the embroidery machine. Brother has EM with pen pads that do basically the same thing as the BL upgrade.

------
OLD CHINESE PROVERB: I HEAR & I FORGET; I SEE & I REMEMBER; I DO & I UNDERSTAND.


labbiegirls

Member since 4/17/12
Posts: 6



In reply to 1975Jumby

Date: 5/23/12 6:36 PM

I have a similar dilemma so I'm thrilled to see this. I'm trying to decide between the Esante and the Elegante 2. I was quoted $2500 for the Esante and $4000 for the Elegante 2. I know that the Elegante 3 is out so I wonder what a reasonable price is since the Elegante 2 is now an "older" machine. My dealer doesn't have the Ellageo Plus in stock so I didn't see it. Is there a guideline for what the discount should be off the marked price? I had no idea when I started looking at new machines that I would have to haggle. That is not my style.

Can you explain the financing and the card you're referencing? I havn't started talking about that kind of thing and I don't know how this works.

1975Jumby


California USA
Member since 8/19/08
Posts: 627
Skill: Intermediate



In reply to labbiegirls

Date: 5/23/12 7:40 PM

The financing is through GE Capital/GE Home Design and if your dealer participates, then you should be able to apply there. Babylock has finance promotions from time to time and I believe they may have another one starting up again this weekend. My offer is 2 years with no interest, but you do have to make monthly payments. I think it's a pretty good deal.

I didn't have the option of going with the Ellegante 2, at least I never asked. But the $4000 seems like a pretty good deal considering I was quoted $3800 for the Ellageo Plus and the Ellegante is a step up from that model. $2500 for the Esante is a pretty good deal as my research and shopping had quotes for that ranging from $2300 to $3000, so it really depends.

For me, and this is just me, I decided to go with the Esante only because I just couldn't justify spending another $1500 for a color LCD screen and a few extra stitches, embroidery patterns and a USB type B. Plus, I wanted some money left over for supplies and software. But I was comparing the Esante and Ellageo Plus, since I knew the Ellegante was totally out of my price range. The Ellegante does add quite a bit more, like cutting the jump stitches, easier threading, larger LCD screen, bigger hoop size, etc. You might want to find out the difference between the Ellegante 2 and 3. If you feel some of those extra features are really worth paying more for, maybe you could see if they will knock off another $200 for the Ellegante 2. That might be a fabulous deal...especially if it is brand new.

I'm really not sure what the guideline is for discounting off MSRP, maybe 10 or 20 percent? This is the first time I've ever bought a machine from a dealer, so I haven't had much experience in that dept. I think it really depends on the dealer and where you live. There are quite a few Babylock dealers in a 35 mile radius from me, so it was easy to shop around and they were all willing to match or beat other quotes and I think I got a great deal. I just really liked the dealer I went to and stuck with them since they were so great.

------
Babylock Ellisimo Gold
Babylock Enlighten
Kenmore 1914
Kenmore 1814

deesews


California USA
Member since 9/24/08
Posts: 133
Skill: Intermediate



Date: 5/24/12 8:49 AM

Print out the reviews on the Ellegante and take them with you for pricing discussions.

The Ellegante 3 is an upgrade, which gives you the continuous hoop. It really doesn't cost your dealer that much, but the hoop is only 5x7. I use a different method so I can use my 7x12 hoop: I trace around the complete hoop onto sticky back stabilizer, then cut it out and stick it to the BACK of the hoop. Then I stick the fabric on top. I use a disappearing pencil to mark the center lines (long lines) and fold the fabric in half so I can see the line and align it with the markings on the hoop vertically, then line up the horizontal line, too.

Buy all the machine you can. Ask if you can trade up and negotiate the price ahead of time. My dealer let me trade up for three months at no penalty. I kept evrerything in pristine condition. Of course, they need the box back. IF YOU ARE THINKING OF TRADING IN, DON'T REGISTER WITH BROTHER.

I find the Ellegante so much easier and quicker to use than the 1250D I started with. I think that's like an Ellageo (I have forgotten already!) I love its power, speed and features and I'm having a blast!

Look on YouTube to see the machines demonstrated. Look on the Brother site to see their features. They have a chart, which Babylock doesn't have.

Good luck!

labbiegirls

Member since 4/17/12
Posts: 6



Date: 5/24/12 11:32 AM

This is fabulous advice and help. You have no idea how much I appreciate this information.

I have been using my 35-year-old Kenmore and literally wore the machine out - even the repair place was surprised. Eventually the feed dogs just quit working and couldn't be repaired. I took a hiatus for quite a few years and I'm eager to get back into sewing. I inherited my mother's Singer that I'm not enamored of at all, but I was able to make a few things with it and I now have the sewing bug...again.

The situation I'm in is probably not unique, but this is my first posting on this site - I tend do research things before I jump in. I have not had a computerized machine before, nor have I done any embroidery like these machines are capable of doing. I do want to get all the machine I can and that is why I'm looking at this Elegante 2. I don't want to get into these new projects and find out that the next machine up would do something that I can't. On the other hand, if there is a huge learning curve and cost outlay for additional things that I'm not anticipating, then maybe I should reconsider.

I have several BabyLock dealers in the greater Houston area, all about equidistant from me. I plan to check out another dealer in the morning to see if I get a different feel for the dealership and for the pricing. Knowing about the financing option and the possibility of trading up might influence my decision.

Any additional insight that anyone has about things to ask, look for, whether my entire approach is right, wrong, skewed...please feel free to tell me. This is a great site and I'm really eager to get back into sewing. I've been going through my mother's sewing notions as well as my grandmother's (I have her Featherweight that I sewed on for years) and it really makes me remember the wonderful feelings I associate with sewing. Can't wait to get started and invovled with this wonderful group of women. Thank you again for all of your help already. I'll keep checking back for any guidance you can offer.
Printable Version
* Advertising and soliciting is strictly prohibited on PatternReview.com. If you find a post which is not in agreement with our Terms and Conditions, please click on the Report Post button to report it.
Online Class
Beginners Guide to Sewing Jackets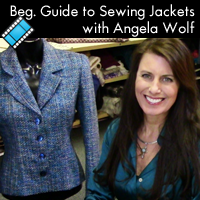 Online Class
The Technique of Underlining Garments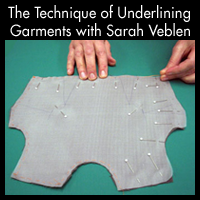 Ottobre Woman Magazine 05-2013-01

by: JNE4SL
Review
Pamela's Patterns The Versatile Twin Set Pattern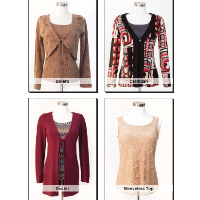 Pattern Details
Sewing Workshop Deja Vu Wrap Pattern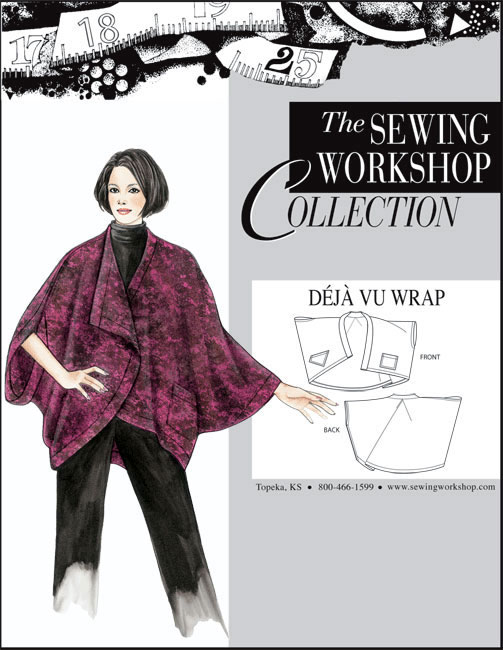 Pattern Details
Patrones Magazine 271-52

by: petro
Review