Vintage Joan


Ontario Canada
Member since 7/16/07
Posts: 11229
Skill: Intermediate

14 members like this.




Date: 9/17/12 10:52 AM

What do you think of this idea? I've now joined two sew alongs, and virtually everyone seems to be whipping along, making at least one item per week, sometimes five or six items per week. This is not my reality! I'm a full-time grad student, and even when I had more time to sew, I was never fast at cranking out finished projects. But I'm determined to plod along and finish some items that I really need.

If you think of "slow" as one item every week or so, this sew along is probably not for you. It's more for us tortoises who want to edge ourselves forward and ENCOURAGE each other's little victories.

I don't have any time line in mind, or any rules. We can sketch some out together, if that would help anyone. Here's one goal I'm starting out with, for myself: I'm trying to do one or two more little sewing tasks each week than I might normally do. But of course you can set your own limits and goals.

Does anyone want to join me in this?

-- Edited on 9/17/12 10:53 AM --

------
my shield and my very great reward ~ Gen. 15:1
~ ~ ~ ~ ~ ~ ~ ~ ~ ~ ~ ~ ~ ~
"'Talk to my meaning, not to my words.' Don't be a debating logician and make a man mean what you mean; try to get at his mind behind the thing; and when you hear a man talk in agony, remember he is hurt. Be patient and reverent with what you don't understand." ~ Oswald Chambers (1874-1917)


Clareew


UNITED KINGDOM
Member since 5/10/06
Posts: 1249
Skill: Intermediate

4 members like this.




Date: 9/17/12 11:07 AM

I'm in, I went fabric shopping a week or so ago with some friends. One has already made 4 garments (over last weekend) I am not sure about the other.

I have been making an unlined jacket for a couple of weeks from fabric I bought with same friends last autumn.

No wonder my daughter is always complaining my stash takes up too much of her bedroom - I never seem to get through it.

Occasionally when I have a TNT, I can get a garment out quickly, but I seem to spend lots of time fitting.

Must go, my student late for his lesson has just arrived.

------
Clare

Machines: Juki F600, Juki 654 serger, Bernina 550 for art work, Janome Coverpro 1000cp barely used
A Singer Featherweight Centennial and an old Necci in the loft waiting for TLC

http://art-by-clare.blogspot.co.uk/

JJane


Canada
Member since 10/30/10
Posts: 2576
Skill: Advanced Beginner

8 members like this.




Date: 9/17/12 12:12 PM

I want to be in but you may not want me as a member. I am jinxed.

Not only do I physically sew slowly, every obstacle in the world seems to fall from the sky when ever I want to start to sew. I have had a few projects in mind for a few months now - 2 wine totes, a casserole cover, and two little halloween bags for my grand neice and nephew.

It is like the sewing gods are telling me "YOU must pick a different hobby - or ELSE those around you will SUFFER!"

Next up on the obstacle list: Fall yard work and house clean up... sigh!! I need "people" to handle that!


-- Edited on 9/17/12 12:16 PM --

------
Canadian Jane, now Jjane, much shorter and easier to use.

Vintage Joan


Ontario Canada
Member since 7/16/07
Posts: 11229
Skill: Intermediate





2 members like this.



Date: 9/17/12 12:32 PM

Quote:
I want to be in but you may not want me as a member. I am jinxed.

Not only do I physically sew slowly, every obstacle in the world seems to fall from the sky when ever I want to start to sew.


Sounds like you're a perfect fit. And I don't believe in jinxing, so there.

How great this is -- three of us so far. Hi to Clare, too!! And I love that you had to stop to do something related to your life. This is going to be a wonderful group .


-- Edited on 9/17/12 12:34 PM --

------
my shield and my very great reward ~ Gen. 15:1
~ ~ ~ ~ ~ ~ ~ ~ ~ ~ ~ ~ ~ ~
"'Talk to my meaning, not to my words.' Don't be a debating logician and make a man mean what you mean; try to get at his mind behind the thing; and when you hear a man talk in agony, remember he is hurt. Be patient and reverent with what you don't understand." ~ Oswald Chambers (1874-1917)


Vintage Joan


Ontario Canada
Member since 7/16/07
Posts: 11229
Skill: Intermediate

2 members like this.




Date: 9/17/12 12:37 PM

P.S. The ongoing victories don't have to be little. I just worded it that way in the subtitle so it wouldn't scare anyone.

-- Edited on 9/17/12 12:37 PM --

------
my shield and my very great reward ~ Gen. 15:1
~ ~ ~ ~ ~ ~ ~ ~ ~ ~ ~ ~ ~ ~
"'Talk to my meaning, not to my words.' Don't be a debating logician and make a man mean what you mean; try to get at his mind behind the thing; and when you hear a man talk in agony, remember he is hurt. Be patient and reverent with what you don't understand." ~ Oswald Chambers (1874-1917)


SheBear0320


Manitoba Canada
Member since 4/8/08
Posts: 4526
Skill: Advanced

2 members like this.




Date: 9/17/12 1:15 PM

I should join in on this -- while I do lots of sewing and finish many projects a week, they are almost exclusively business projects.

I really need to make myself some clothes -- I started to weed the "too big" clothes out of my closet and dresser and then had to put some back or I literally wouldn't have anything to wear. Things are getting desperate -- I have tons of patterns and mounds of fabric and pretty much every kind of notion I could possibly ever need .... now I have to find that 30 minutes a day to make progress on my projects.

#1 on the list is a jacket bodice mock-up I need to fit and complete before the Minneapolis Sewing Expo in November -- it's for a Cynthia Guffey all-day class on armholes and sleeves.



------
Sheila
"sewing very slowly to fill an empty closet"
2014 Stash Tally: 106.625 yds out/145.125 yds in (net +38.5 yds)

2015 Stash Busting:
34.75 yds sewn (as of 05/22/15)
20.0 yds purchased (as of 05/22/15)




Marie367

Ohio USA
Member since 5/28/11
Posts: 3481
Skill: Intermediate

3 members like this.




Date: 9/17/12 1:21 PM

This is too funny. I think this should be the sew along for me. I joined the make all my clothes sew along but I am slower than most of those folks are. I didn't accomplish anything over the weekend. If I get one thing a week completed I am doing great. My problem is not that I am so slow but I am easily distracted. I feel jinxed sometimes too. The littlest things can go wrong and you know how that is with sewing-a little thing can mean a huge error.
Well should I join or not? Slow is more my speed now.


a7yrstitch


Texas USA
Member since 4/1/08
Posts: 6554
Skill: Intermediate





In reply to Vintage Joan <<

2 members like this.



Date: 9/17/12 1:31 PM

Hi, I'm in the sew your own clothes for a year which is really no big deal as I haven't bought any rtw clothes in two years I have no patience with poor fit and/or quality, or the patience to waste my time shopping for those things that do not exist.

I've finished some clothing for special events but am now moving as slowly as possible in fitting the absolutely most perfect shell.

You ladies can be a big help to me right now. I have been admonished to take the path of the turtle, rather than the hare, in repairing my shoulders. And, I need to have the shoulders heal to have a TKR.

I need group therapy to slow down!! Although I am not pure in mind, I'm with you in body, please let me join.

I am working on that perfect shell. Piecing together patterns that also have the options of sleeves. Blame it all on V1312. I intended to make a fun variation of the dress just for something different to wear. And then, I was going to work on the perfect shell. I've reported elsewhere that regardless of size, the fit for the bodice of 1312 is designed for a piece of lumber, identical front and back. I'd either have to have enormous shoulder blades or virtually no bust to achieve balance within the design. So, back in the circle to the perfect shell so I can rework the bodice of V1312.

Just to prove that my spirit is in the endeavor, I decided to trace out patterns for this project. I don't trace patterns, what was I thinking! Oh well, it's done now, but I can tell you it won't happen again. My altered patterns hold up for years and years and years..... Once is enough, I've learned my lesson on pattern tracing, it is not for me. For one time only though it was good for the camaraderie of the group.

I'd like to join, I can promise at least a year of total commitment to a slowed down process. Generally, I'm more into creating than producing anyway so I suspect that I could easily become a lifetime member. If I slip, I'll do so modestly.

------
I have no idea what Apple thought I was saying so be a Peach and credit anything bizarre to auto correct.

minggiddylooloo


Member since 5/17/05
Posts: 2515
Skill: Intermediate
Body Type:


2 members like this.




Date: 9/17/12 1:57 PM

I love this idea, I'm not really a slow sewer but my projects from start to finish take forever to do because something always trumps working on them. I'm working on a dress to wear to a friend's wedding in mid-October. I'd like to sew a mini wardrobe for the trip too but one dress in a month should be do-able for me. I'm also making a silk slip as a gift in lieu of a bridal shower, I need to get that done and sent by the 24th. There's nothing like a deadline to hasten my sewing, especially if it's for someone else!

------
I'm finally a blogger!
sewming.blogspot.com

NottaWadder


Member since 6/17/12
Posts: 394
Skill: Advanced Beginner

1 member likes this.




Date: 9/17/12 2:07 PM

I would LOVE to join this group!!

I have lots of other things I do, like trying to keep up my little ebay store plus I am ill a lot so some days as much as I would love to sew and might even have the time, I just do not feel good enough to do it. For me, sewing has to be done in chunks of time, not just a half hour because I literally take up the whole bedroom with my machines and cutting board etc. So when I am done, I have to put everything away. A half hour would barely give me time to set up and then put it all away again!

Fortunately I have a husband who does not mind all of that!

I sometimes also just cannot decide which project to do next. Right now I have lots of patterns waiting and lots of fabric, a lot of which would work together, so I cannot decide if I want to use this fabric with that pattern or that other pattern!

This last piece I did, I spent way too much time undoing stupid mistakes because, amongst other things, I was just trying to go too fast. I would have finished much faster if I had just slowed down. Ironic, yes?

Anyway, let me know if I qualify to be a part of this thread, thanks!

------
My machines (down to 2 now, from 5):
Sewing Machine - Quantum 9960
Serger - Baby Lock Ovation
Printable Version
* Advertising and soliciting is strictly prohibited on PatternReview.com. If you find a post which is not in agreement with our Terms and Conditions, please click on the Report Post button to report it.
Online Class
Beginners Guide to Sewing Jackets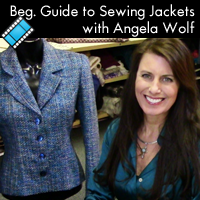 Online Class
10 Clever Techniques To Help You Sew Like a Pro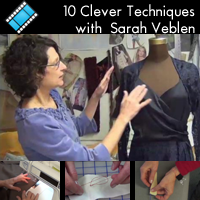 Vogue Patterns 2481

by: Jonni Ange...
Review
J Stern Designs Khaki Pants Pattern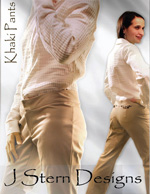 Pattern Details
Victory Anouk Paper Pattern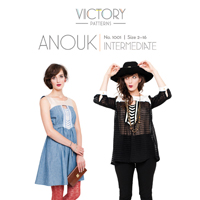 Pattern Details
Other Bronte Knit Top

by: RainyDayPe...
Review