bookwormbethie

Member since 6/6/10
Posts: 134
Skill: Intermediate



Date: 12/12/11 10:50 AM

Hi y'all. I'd like to think I'm an intermediate level sewer, I've drafted my own pattern for an a-line elastic waistband skirt, and I've made my share of sleep boxers and pants, a couple of Hawaiian shirts, a couple of quilts, and some misc items.

However, I've only sewed with 100% cotton fabrics. I saw some "suiting" material in the apparel section at JoAnns over the weekend and liked it. I know JoAnns doesn't always sell the best quality cotton/flannel fabrics, but their apparel fabrics seem pretty good. The suiting fabric I liked was 100% polyester (is this normal??) and I would like to buy some to make a pair of pants.

I was wondering if anyone has any tips of how I can sew with polyester fabric as it seemed a little "slippery." Polyester thread? Needle type? Stitch length? I do have a nice sewing machine, but I am not able to adjust the pressure setting for my presser foot. Also, I do not have a serger, but was wondering if, where appropriate, I could make french seams with the polyester fabric. Thanks in advance!

-- Edited on

12/12/11 10:51 AM

--

------
www.bookwormbethie.wordpress.com
www.flickr.com/photos/bookwormbethie

Miss Fairchild


USA
Member since 8/24/02
Posts: 7936
Skill: Advanced



In reply to bookwormbethie

Date: 12/12/11 12:19 PM

Hi there. Congratulations on moving on to something new! Polyester is great to sew with, provided it isn't overly drapey, such as with some cotton knits. Pants are a great start with this fabric because, depending on the polyester, they will wear a long time. I have several pair of polyester pants. If the fabric says "suiting", it should be suited enough for pants and a jacket.

Polyester thread--yes. But sometimes I cheat and use my cotton. Cotton was in existence long before the polyester thread we have today, and I learned to sew with it.

Needle type--ballpoint or a needle specifically for knits. I'd say a size 12 or 14.

Stitch length--well, now this depends on your machine. If you have an older model that doesn't have stitches specifically for knits, I'd suggest a small narrow zigzag; almost to the point of being straight. This allows the fabric to give without tearing out the threads. If you have just a straight stitch machine, I'd use a little longer stitch than what you would normally use and loosen your tension one number (going lower)

Now for finishing the edges without a serger. Yes, you can make french seams with the polyester fabric, but depending on how thick the fabric is, the seams might be bulky and pull. I'd suggest you purchase an overedge foot, and use the widest zigzag stitch on your machine. The overedge foot allows you to stitch very close to the edge of your fabric without it curling or jamming your machine. These feet are very inexpensive and usually have a blade running down next to a toe on the presser foot, or a small brush (you didn't say what brand machine you have so I can't tell you which foot you need to buy--with a blade or the brush). I've used an overedge foot for well over 30 years, and only just this year purchased a serger. So yes, it can be done!

Have fun!

Edited to add: Here's a video on the overedge foot used on a Janome (brush type):

click here

-- Edited on

12/12/11 12:21 PM

--

------
"Play the cards you are dealt, but choose who is sitting at the table"..AARP magazine

SEE MY ETSY SHOP HERE: http://www.etsy.com/shop/AuntMaymesAttic
My blog: http://auntmaymesattic.wordpress.com/

bookwormbethie

Member since 6/6/10
Posts: 134
Skill: Intermediate



In reply to Miss Fairchild

Date: 12/12/11 1:50 PM

Yes, I think the poly would make some nice pants. The material didn't feel overly drapey, it had a decent weight to it yet it wasn't overly heavy. I think it would make some nice wrinkle-free pants!

I do have a pack of "stretch" needles? Would those work like ballpoint or knit needles? Not sure if they are a size 12 or 14, would need to check....

I have a Janome DC2010, I've had her for a little over a year. She's wonderful! I assume that I should sew the seams with a straight stitch though right??? I'm pretty sure my machine (I named her Mary Jo!) came with an overedge foot, and yes, I think it has a bristle bit to it as well. However, usually when I finish seams that I don't french seam, I use a really narrow zig zag stitch. I'm surprised that you mention a wide zig zag to finish the poly seams, why is this??

------
www.bookwormbethie.wordpress.com
www.flickr.com/photos/bookwormbethie

solosmocker


Member since 1/23/06
Posts: 2338
Skill: Advanced



Date: 12/12/11 8:55 PM

I like to use a Microtex needle for my polys. You probably need a ten or twelve unless it is really heavy.

------
http://lasewist.blogspot.com/

Miss Fairchild


USA
Member since 8/24/02
Posts: 7936
Skill: Advanced



In reply to bookwormbethie

Date: 12/13/11 8:10 PM

Stretch needles will work fine. That's a nice machine you have! I suggested the wide zigzag for finishing the edges because you want the needle to clear the brush portion of the overedge foot; if it isn't wide enough, you will break your needle when it hits the middle of the foot. Remember, this foot allows you to stitch on the

edge

of the fabric, without it jamming in the machine. The result is a stitch similar to that of a serger. I believe on your machine it is stitch number 12 because you have to use your C foot, which is the overedge foot.

From what I can see in the Janome video for your machine, you have a few stretch stitches (now that I know what model it is). Number 5 is a stretch stitch, used for knits (and I'm using this term for poly as well) when you are sewing seams. The narrow zigzag of this stitch allows the thread to stretch and not break. Your question is should you assume that you sew the seams with a straight stitch--No. That's what the stretch stitches (Number 5 and a few others) are for. You want that poly to give at the seams; not have the threads cut through the fabric like a knife.

My 6500P is similar to your machine, although it has a few more features. The feet are the same, as well as the needle up/down, lock stitch, motor speed adjustment and needle threading. My machine has an automatic thread cutter, and a few more stitches than yours. But then, I paid more for it too. And I'll bet your machine is lighter and you can take it to classes; something mine isn't--it weighs a ton--24 pounds.

Edited to add: The fabric sounds like the perfect one for pants! I have some pants out of some double knit poly and they are comfy, as well as easy to wear because if they get dirty, it's literally "wash and wear"--no pressing.

-- Edited on

12/13/11 8:12 PM

--

------
"Play the cards you are dealt, but choose who is sitting at the table"..AARP magazine

SEE MY ETSY SHOP HERE: http://www.etsy.com/shop/AuntMaymesAttic
My blog: http://auntmaymesattic.wordpress.com/

QuiltSewSewSue


Queensland Australia
Member since 4/28/08
Posts: 4567
Skill: Intermediate
Body Type:




Date: 12/13/11 8:44 PM

Little confused here - is it stretch fabric? If it is suiting I assume it is not a stretch neccesarily so I wouldn't use a stretch needle, I would use a universal or microtex. My two cents worth...

------
Sue (Toowoomba Qld)
Love to sew....

http://quiltsewsewsue.blogspot.com/

bookwormbethie

Member since 6/6/10
Posts: 134
Skill: Intermediate



In reply to QuiltSewSewSue

Date: 12/14/11 10:51 AM

Sue,

Actually I have no idea if it is "stretch" poly fabric. I only looked at it for a minute and then moved on. It was in the "suiting" section and I'm pretty sure the bolt was labeled suiting as well, definitely recall seeing 100% poly on the bolt. Sadly, I didn't give the fabric a tug to see if it was stretchy, but it was a little thick, but seemed to have a nice drape.

What I ended up purchasing was some cotton-like fabric, it was khaki in color. I *think* it was "stretch" cotton in that it had like 3% of something else in it in besides the 97% cotton. The fabric I bought feel and drapes just like regular cotton fabric, but it feels ever so slightly thicker and I actually thought that it wouldn't wrinkle as much as say just buying khaki colored Kona Cotton fabric. I plan on using a regular size 12 needle and poly thread for my seams and top stitching.

-- Edited on

12/14/11 10:51 AM

--

------
www.bookwormbethie.wordpress.com
www.flickr.com/photos/bookwormbethie

bookwormbethie

Member since 6/6/10
Posts: 134
Skill: Intermediate



In reply to Miss Fairchild

Date: 12/14/11 10:56 AM

Yes I do heart my Janome DC 2010 although I haven't done any sewing in a long while. I do have stretch stitch functions...

Even though I didn't buy the poly suiting fabric, does one always assume poly is a "knit" and therefore one would use knit sewing techniques with the poly suiting?? I'm also a bit confused like Sue who wrote below.

------
www.bookwormbethie.wordpress.com
www.flickr.com/photos/bookwormbethie
Printable Version
* Advertising and soliciting is strictly prohibited on PatternReview.com. If you find a post which is not in agreement with our Terms and Conditions, please click on the Report Post button to report it.
Online Class
Beyond the BoatNeck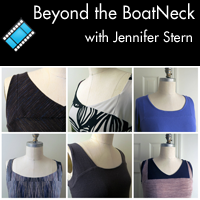 Online Class
Restyling with Exposed Zippers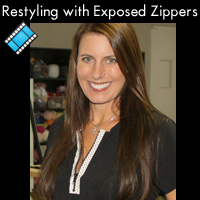 Vogue Patterns 2900

by: lamstu
Review
Sewing Workshop Mimosa Top & Pants Pattern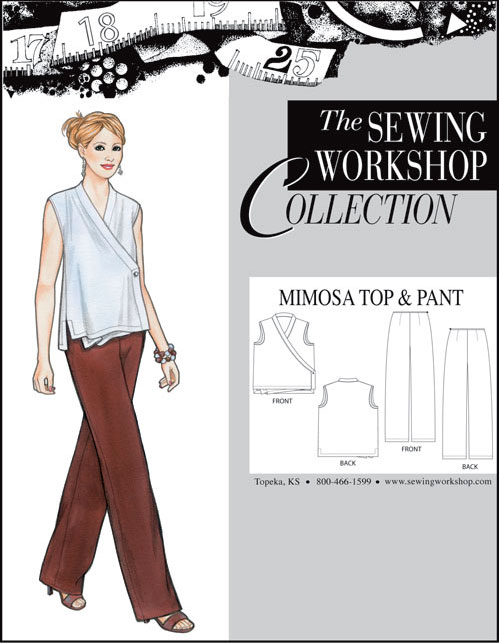 Pattern Details
Sew Chic London Coat Dress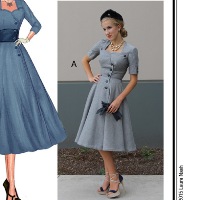 Pattern Details
Butterick B5882

by: Debbie Tit...
Review