popoagiesmiles

Texas USA
Member since 2/25/06
Posts: 1950
Skill: Intermediate



Date: 3/5/06 9:21 PM

I landed my dream job a few months ago and have been working hard ever since. Everyone on the project is really wonderful, except for one person. She has left corpses in her path in previous positions. The last folks she worked for will have nothing to do with her and terminated her contract.

She is basically a serial bully who sucks up to upper management and peripheral people she thinks she can use, subjugates everyone else and says whatever it takes to discredit anyone who is not fooled or who can hold her accountable. This sounds harsh, but after several months of this, I'm emotionally exhausted because I'm her main target. I was the unwitting favorite in the office because of my easy going nature and willingness to do whatever it took to support the effort and the team. She was from the beginning seen as a self-promoter.

For months I've had to hold her off as she tried to make me her secretary (I'm level with her on the org chart), intimidate me by claiming I know nothing about what I'm doing, get her friends to claim I was improperly hired, and even slander me with wildly false allegations to the public, our clients and my boss.

Now, I find she's been lunching with our boss's boss and carefully molding a perception of me that is the opposite of the truth. This has spread to others who know the boss's boss well.

For a while, my boss resisted her strategies. Then, he took the approach of saying we were having a catfight. How sexist, but he stopped that when I objected. He insisted that the ideas I promoted were selfish in nature after she began claiming that, but logically I have nothing to gain from my encouragement of the group to take the high road on some issues; the issues don't affect me or my family at this time; I am simply aware of them due to my life experiences. But, this woman is very bigoted and wants to block this.

Then, when she got really extreme and started going into his office and ranting and raving that I'd done this or that shocking thing, he would browbeat me and scold me, regardless of the truth. He wanted me to explain to him why she would say this or that and I just told him he needed to go to the source and that if I guessed then I would become an accuser. Finally, he stated that she wanted to be in control and we had a heart to heart about the reality of the woman's pattern.

Now, he's onto her and has apologized quite sincerely to me. But, she's doing it to him now that she feels invincible. She is criticizing him to his boss and, unfortunately, she's worked his boss so much that he has lost his powerbase.

I forgot to mention that she has ridiculed me for my ethnicity; I told her I was half one race and half another but didn't have one of the cultures in my background. So, several times when others are not in the office, she has brought this up and berated me for "claiming" I am the race where I don't have the culture. Why does she think this is her business, and who is she to say?

So, we have slander, harrassment, etc. on this woman and a documented history of doing it elsewhere, but our boss's boss is convinced she's a sweetheart. I think it will harm me to just reveal all, but the people who thought I was wonderful before or giving me funny looks now. I just go to work, work hard, work sincerely, treat people well and this is what I get. She of course was very jealous of the positive attention I was getting, even though it kind of embarrassed me.

I need this job and want this job, but I don't want to be endlessly harrassed and have my name drug through the mud by this sickie. I know it's not personal because she's done it to so many before.

Any advice? I can't really go get another job right now and I kind of feel angry at being in the position to think I need to. Even my boss has considered leaving this pet project of his to escape her drama and divisiveness.

This abuse has affected my health and ruined my job for the moment, no matter how much I try to rise above her actions. Her actions have the potential to destroy the team and the project, but she seems driven to gain power and promote herself, even claiming to the public that she has a much more powerful title than she has. Work has become a battleground unfortunately.
-- Edited on 3/5/06 9:33 PM --

------
"puhPOjhu"--a river that sinks into a mountain with fury and winds around underground for miles before emerging in calm down the road...

Kristen


Member since 4/27/02
Posts: 467
Skill: Advanced



Date: 3/5/06 9:50 PM

I would go to human resources and if nothing else, get it on the record. She has no right to comment on your ethnicity, etc. It is likely that others have complained also. Cover your back. The last thing HR wants is for you to file a complaint with the feds ; all you want is to be left alone to do your job...Good luck. These people can suck up a lot of energy.

sailonsilvergirl


Illinois USA
Member since 6/20/03
Posts: 554
Skill: Advanced Beginner



Date: 3/5/06 10:18 PM

Yes document, document, document and talk with HR if that would be beneficial. I think you can also never lose from having a number of people be your "fans" -- people who know how good your work is, people who know they can rely on you. I'd say put your energy toward cultivating your fans in a positive way. I've run into people like this and they can drag you down into some stinking swirling cesspool. I don't know how they live with themselves. I also find it extremely difficult to think like they do, but sometimes you must to anticipate what you'll have to head off.

You know, on schoolgrounds bullies tend to continue being bullies because bystanders stand silent, and obviously the "victim" doesn't feel they're in a position to strike back at the bully. Once bystanders stop being silent, and once the "victim" (I put it in quote because I hate that word) stands up to the bully, the bully tends to back down, a bit or a lot. I wonder if the same happens in adult workplaces. She can get away with her behavior because no superior is telling her to knock it off, and peers likely stand by silently afraid they'll be the next target. You want to take a higher road and not degenerate into a fight, and I really don't have suggestions on what to do regarding possibly "striking back." Perhaps only you can know, as you know the personality and the situation.

------
Deb

Your time has come to shine.
All your dreams are on their way.

http://visualobsessions.blogspot.com/

popoagiesmiles

Texas USA
Member since 2/25/06
Posts: 1950
Skill: Intermediate



Date: 3/5/06 10:21 PM

My boss has documented many of the things she does, but it doesn't seem to matter now that she's buddied up with the top person. That person is actually a lovely, wonderful person. I don't know if she could hear me if I talked to her though. Her perception has been tainted.

As for talking to HR, I wonder if it would be considered trouble making. I think it's appropriate though. I probably should. I think it was motivated by her desire to harrass me rather than a specific bigotry against my ethnicity. She brought me a bunch of her old clothes once, totally unsolicited. I was too polite to refuse them, but they were old lady clothes. She's quite a bit older than me and extremely vain. They were all really dirty around the inside collar and needed to be dry cleaned, so I didn't feel I could just donate them. She made the comment, "my daughter wore these when she was pregnant and they were huge on me...they'll be just right for you."

Even though she is quite petite, she has a paunch. I know these clothes are not too big for her. They are just out of style, and they are not too small for me either. I'm just several inches taller than her, and much younger. Others have suggested that she is envious. While I tend to wear the same old thing all the time, she spends huge amounts of money on new clothes. I wouldn't dream of wearing her old clothes at my age though. Obviously this was meant to intimidate me by digging at my appearance. I wear about two percent of the makeup, hairspray and so on that she wears. But, I am considered attractive and I think that bothers her.

------
"puhPOjhu"--a river that sinks into a mountain with fury and winds around underground for miles before emerging in calm down the road...

Jennifer shaw


Member since 8/24/02
Posts: 2368
Skill: Intermediate
Body Type:




Date: 3/6/06 0:02 AM

As if you really need to deal with this- jeez! Document, talk with HR, and bless this nitwit with love. Yes it sounds corny but I find it can really work. When I get into a situation with a coworker or an overzealous parent, I try to focus on not feeling or radiating out anything but positive energy towards the person. Usually, it works!
Good Luck to you- I hope that the situation resolves itself with a whimper and she just leaves the job.

popoagiesmiles

Texas USA
Member since 2/25/06
Posts: 1950
Skill: Intermediate



In reply to Jennifer shaw

Date: 3/6/06 2:17 AM

That would be nice.

She's very hard to love because she's so callous and in your face. I do try to forgive her, but I am not sure that ignoring her behavior really will help it stop.

I think that no one at our level really likes her. The nicest thing I've heard said in private about her is that she's "hyper." She has a habit of walking into my office during a meeting, placing her back to me and talking to my meeting attendees, trying to get at least one to walk out with her. Amazing.

She is in a church, but I have a hard time understanding what she gets out of it. I don't know if she is evil or insane. I have read that people like this are desperately trying to cover up their inadequacies. I think she's trying to prove that she can rise again from being dumped by her former employer. But, she's ruining the project from the inside out and apparently going after my boss's job. I know that no one wants to work for her and that she does not have the skill to lead the project.
-- Edited on 3/6/06 2:27 AM --
-- Edited on 3/6/06 2:50 AM --

------
"puhPOjhu"--a river that sinks into a mountain with fury and winds around underground for miles before emerging in calm down the road...

Muria


Michigan USA
Member since 2/13/05
Posts: 1340
Skill: Advanced Beginner



Date: 3/6/06 7:28 AM

How did this woman get hired if her former employers have absolutely nothing good to say about her? Didn't that produce a big red flag right off the bat to whoever hired her?

It's not causing trouble to let HR know that there's a problem with someone they hired (especially considering her former employer's opinion). You should not have to put up with someone who's out to get you only because they have to make someone else look bad to make themselves look better.

Unfortunately, being in a church doesn't make you a good person. There are people who go to church for the show of looking like a good person, rather than to get spiritual guidance (and frankly, a lot of churches out there cater to the people who go to church to look like a good person). Probably her reasons for going to church are similar to her reasons for playing up to your boss, and your boss's boss.

If I may ask, was she in this job before you, or were you hired first? If you were there first, it might be worthwhile to point out the changes in office attitude since she started working there.

Also, I wouldn't get into any more personal conversations with her. If every time you share personal information with her, she uses it to shoot you down, keep the conversation completely work oriented.

I'm sorry that you're having trouble. Hopefully, the higher-ups eventually figure out what this woman is. In the mean time, hang in there.
-- Edited on 3/6/06 7:28 AM --

------
Muria

Where did all this fabric come from? I CAN'T have bought THAT much!

Janie Viers


Ohio USA
Member since 4/8/02
Posts: 2470
Skill: Advanced



Date: 3/6/06 9:09 AM

Just smile at her and say "I must get back to work now" and walk away. If she comes into a meeting univited and unannounced, just stand up, go to her and, as you usher her out of your cubicle say, "We cannot talk with you now, we must finish our meeting".

Don't hesitate to go to your HR. Don't be emotional. Just list your concerns and warn that her attitude is harrassment and her harrassment is escallating and spilling over into areas that could be construed as ethnic!

Racial/ethnic harassment. (per my university handbook)

(a) Racial and ethnic harassment is defined as any verbal or physical behavior or conduct that has the purpose or effect of:

(I) Creating an intimidating, hostile, or offensive employment, educational or university-based living environment;

(II) Interfering with an individualís or groupís educational, employment, university-based living environment, personal safety or participation in university sponsored activity; or

(III) Threatening an individualís or groupís employment or academic opportunities.

(b) According to the department of education and/or office for civil rights, a racially-hostile environment may be created by oral, written, graphic or physical conduct related to an individualís race, color, or national origin that is sufficiently severe, persistent, or pervasive so as to interfere with or limit the ability of an individual to participate in or benefit from the universityís programs or activities.

(c) Unlawful verbal or physical conduct may include, but is not limited to comments focused on physical features, racial taunts, epithets/slurs, defacing property and items which connote animosity to a personís background or heritage.

And speaking of prayer.... continually pray that she be happy, cause most ill will and cancerous attitudes begin with unhappiness. (I used to pray that for my MIL and it worked!)




------
JanieV

Marie_P.


USA
Member since 10/7/05
Posts: 365
Skill: Advanced Beginner



Date: 3/6/06 9:15 AM

I agree that documenting the harassment is key. I think you should document it and then talk to HER. Oftentimes HR will say, "Well have you discussed this with so-and-so (the attacker)?"


I would suggest documenting the evidence and talking to her by doing the following:

Walk into her office casually, sit down, hand the ducumentation to her and then start talking. Make sure you are in control of the conversation. If she tries to interrupt, say, "Please don't interrupt, however I'd like to hear your opinion when I'm done".


Then walk out when you are done.


This serves two objectives:

1. You're taking charge of the situation and

2. You aren't putting up with her crap anymore.



One of the reasons "Management" may not be doing anything is that she may be a productive employee. If that is the case, all the more reason for you to take charge.



I've been there and its not fun. Management knew what was going on but did nothing because she got the job done. I didn't want to leave and after every conversation with her I would regret not speaking my mind. It felt great when I finally got the guts to take control! I lived through it, gained my self respect, and SHE ended up looking for another job.


Because it probably isn't your nature to act this way, you'll need to plan and REHEARSE but you're smart and strong and fed up! Use your logic and intellect to set things right.

I'm cheering you on!!!



casken


Alberta CANADA
Member since 12/6/04
Posts: 700
Skill: Intermediate



Date: 3/6/06 9:36 AM

She is one evil woman!

I would have your bosses, you and the she-devil sit down in a meeting. I would confront her and tell her you are not going to put up with her garbage. I suggest doing this in front of the big boss because doing it without him/her is a waste of time. I have had this happen to me to and I confronted the woman with my supervisor and she made a fool of herself. But on the otherhand, if this is not an option I would still confront her. Be very firm with her and don't let her squash you. Let her have it. You cannot work in this kind of environment. You cannot let one psycho ruin your well being.

A co-worker once told me NEVER be afraid of anyone. We are all the same.











------
My Blog: www.iocchelli.com/just-sew-it/
Printable Version
* Advertising and soliciting is strictly prohibited on PatternReview.com. If you find a post which is not in agreement with our Terms and Conditions, please click on the Report Post button to report it.
Online Class
Break your Serger Out of the Box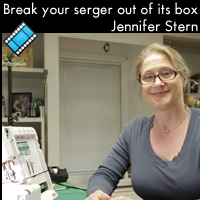 Online Class
Fun with Fitting - BODICE w Darts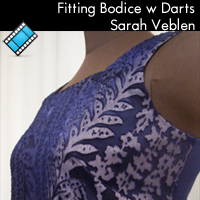 Simplicity 2851

by: BADBamaBun...
Review
Islander Sewing Systems Cape D Elegance Paper Pattern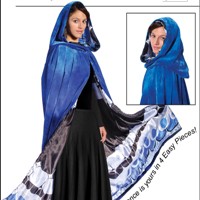 Pattern Details
Sew Chic Starter Skirt Pattern (ln1000)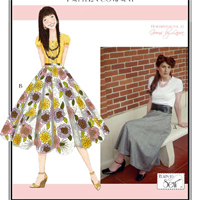 Pattern Details
Kwik Sew 3169

by: sunnysewin...
Review