Pyrose


Board Moderator
Member since 2/12/06
Posts: 2153
Skill: Intermediate



Date: 3/18/06 10:35 PM

Just last Halloween I made a spectacular pirate outfit for myself (Simplicity 4914 ). I measured myself, chose the size, sewed it, it fit perfect!!! It wasn't the easiest pattern I could have chosen, but I hit the ball out of the park. I was very happy with myself.

So now I'm making a shirt for a birthday present for my sister-in-law (McCall M4381) It's a simple....freaking....shirt. The finished size is not right. It's supposed to be a 10 (36 inch finished bust), but it's too small. (I know this because I'm a 10 also and I tried it on me to make sure everything was ok. Everything was NOT ok and I got really bummed out. So I'm thinking that I did something silly like make the seams too large, cut it wrong...etc, etc. So I checked. The seams are fine. The fabric pieces matched the pattern pieces.

I don't know if I did something dumb (highly likely), or if there's an error on the pattern. My question is, do the pattern companies mess up? Are 10s sometimes not really 10s depending on the company? Are there certain companies I should stay away from? Thanks for any info you can provide. I feel like I'm nuts because I don't know what I did wrong.

------
Jennifer

Debbie Cook


Member since 4/11/02
Posts: 9857



Date: 3/18/06 10:55 PM

Are you thinking ready-to-wear sizes equal pattern sizes? If so, no, they don't. A McCall's 10 is for a 32-1/2" bust.

Are you looking at the finished garment measurements? If so, you are not taking into account any extra room (ease) for wearing and for design.

Costumes are usually designed with a lot of extra ease so that may be why the costume you made last year fits.

------
--
"I base my fashion sense on what doesn't itch." — Gilda Radner
http://stitchesandseams.blogspot.com

Pyrose


Board Moderator
Member since 2/12/06
Posts: 2153
Skill: Intermediate



In reply to Debbie Cook

1 member likes this.



Date: 3/19/06 0:35 AM

Ah, so that's why the costume fit! Yes, Debbie, I'm looking at the finished measurements on the back of the pattern envelope. It stated 36". It actually seems closer to the 32 1/2" that you stated (judging by the fact I can't get in the bloody thing). Why in the world do they claim 36" then???? How do I go about finding the right size for patterns? What would be a good guideline to follow each time (for example: always add 2 sizes?)? Thanks for your help!

------
Jennifer

Debbie Cook


Member since 4/11/02
Posts: 9857



Date: 3/19/06 1:28 AM

On the pattern envelope there should be two sizes ... first the body measurements a particular pattern size is designed to fit. The other is the finished garment measurements.

You do NOT want to pick your size by the finished garment measurements if you're not allowing any wearing/design room over and above your actual body measurements. If you do, you will get something that fits like your skin.

Get a decent fitting blouse (woven, not knit) from your closet. Put it on. Now, is it skin tight or is there some extra fabric around you that you can pinch? I'm guessing there's a bit of extra. That extra is called "ease." Every garment will have a minimum of wearing ease. This is the ease needed to make it comfortable to wear and just move in. Then, added to wearing ease, there is "design ease." This is the extra space in the garment added to give it a particular shape. For example, a boxy jacket will have much more design ease than a more fitted jacket.

So, you need to pick your pattern size by the measurement/sizing chart, not the finished garment dimensions. The measurement chart is usually at the top area of the envelope or on the flap, and it's also in the back of the pattern catalog. If a size indicates it's for X bust, X hips, X waist, those measurements will already take into account the minimum wearing ease you need.

However, saying all that, if you'd rather pick by finished measurements, you can but you'll need to know how much ease you prefer. You can get a good idea by measuring a favorite blouse at the B/W/H landmarks and then picking the pattern size which has the finished measurements closest to your ready-to-wear blouse.

Now, unfortunately, for most of us, picking a size by either measurement chart is just the starting point. Not too many of us have measurements and shapes that exactly mimic the size model the pattern companies use. I don't know your body shape, but if you have a large or small bust, or are pear shaped, or have sloping or square or narrow shoulders, or any of those variations (and more), you may need to make adjustments to the pattern to make it fit *you* and not some ideal model. That is something you'll begin to notice the more you sew, because the more we sew the pickier we usually get about fit.

For now, though, start with a simple blouse and choose your size by one of the methods above. If after you finish it and you find you want to tweak the fit for the next one, come on back here and ask for help. On the other hand, you just might be the ideal shape and you'll never need to alter once you choose the correct size.

------
--
"I base my fashion sense on what doesn't itch." — Gilda Radner
http://stitchesandseams.blogspot.com

Nata


USA
Member since 8/20/02
Posts: 1253
Skill: Intermediate



Date: 3/19/06 8:08 AM

I agree with Debbie's post. I find that the most full-proof method is measuring the garment that fits you well, and then measuring flat pattern pieces to compare the two.

With that said, I also had same problem happen to me. I bought the maternity Vogue pattern in my usual pre-pregnancy size (as was instructed), did not measure it and sewn the pants together. They were large, huge actually. I don't know what was wrong there, but they were not right. So you see you are not alone.

------
Fabric bought in 2009: 30 yds
Fabrc sewn in 2009: 19 yds
Fabric stash: 145 yds

3 Garments IN and 6 Garments OUT


Debbie Cook


Member since 4/11/02
Posts: 9857



In reply to Pyrose

Date: 3/19/06 10:29 AM

Quote:
Are 10s sometimes not really 10s depending on the company?

I forgot to answer this.

The Big 3/4 pattern companies (Butterick, McCall's, Vogue, Simplicity) draft all of their patterns based on a particular set of *standard* measurements they agreed upon and which have been in use since the 1970s. There is no vanity or other individual sizing in these patterns. The sizing is standard. And pattern size numbers have *nothing* to do with the sizes used in ready-to-wear (RTW). The Big 3/4 each have their "ideal" human model which they use a starting point when designing styles and grading sizes up/down, but the differences among the Big 3/4 for this basic fit are so small that it almost isn't there.

This is good news, once you get past the size numbers. In RTW, there are no agreed-upon standards and each manufacturer is free to size as they want. Which is why a size 10 in one brand fits and a size 10 in another is two sizes to big or small. In patterns, once you find your correct size, the fit will be consistent ... allowing for different amounts of design ease for particular styles. IOW, you can't expect a boxy style size 10 to fit like a fitted size 10 and your preferences for design ease/style will have to be worked out on an individual basis. But that will come too and then you'll know whether to pick styles based on descriptive keywords such as "casual," "fitted," "loose," etc.

Now some people think that one company over another fits them better, but that's because one company may lean toward one general type of style over another. For example, maybe Butterick has more loose-fit, boxy styles and maybe Vogue designers do more fitted styles (just examples, not necessarily true). But apples to apples, the Big 3/4 will all fit consistently. Apples to oranges, no ... you'll see some differences in design ease.

And just when you thought you had it

the other wrench to throw in the works is that other pattern companies (Burda, Kwik Sew, the independents) do not use the same standardized measurements as the Big 3/4 and you'll have to experiment to see what size you are in their lines. Burda fits according to their measurement charts. KS tends to run big. Independents are on a case-by-case basis and checking reviews here will be your best information.

Hope this helps and doesn't add to your confusion.

------
--
"I base my fashion sense on what doesn't itch." — Gilda Radner
http://stitchesandseams.blogspot.com

Pyrose


Board Moderator
Member since 2/12/06
Posts: 2153
Skill: Intermediate



In reply to Debbie Cook

Date: 3/19/06 10:43 PM

Thank you so much, Debbie!! You didn't confuse me at all. You actually explained everything beautifully and now I understand fully what's going on for the first time. It's very reassuring to know that I didn't sew something wrong. Although I feel kinda silly for not noticing the pattern sizing on the top of the envelope. I think I'll have more fun sewing now that the things I make will actually fit.

------
Jennifer

Delbert

California USA
Member since 9/5/06
Posts: 4
Skill: Beginner



Date: 9/14/06 10:02 PM

Great information. It makes me think of fitted dress shirts for suits,etc.

bmarc

Florida USA
Member since 6/28/04
Posts: 13
Skill: Intermediate



Date: 9/16/06 10:44 AM

One thing I have been meaning to ask...... I know with the big 3/4 pattern companies that for anything being made for above the waist (tops, jackets, dresses) you should use your high bust measurement and alter pattern from there. But what about Burda, Kwik Sew and Jalie. Do you apply the same principle?



Kira R


Member since 11/9/02
Posts: 171



In reply to bmarc

Date: 9/16/06 12:00 PM

bmarc,

This is where the dreaded (to me anyway) muslin comes in. Since each of these companies use a different sloper, you really need to figure out how each company's draft needs to be adjusted for you.

For the most part, you choose size by full or high bust depending on bust size (large bust choose full, small bust go with high).

Once you know what size to start out with, for the most part, you can start with that size for any upper body pattern within the company. This does not apply to "Sewing Workshop" patterns.

For instance, Kwik Sew is drafted for a fuller upper body, and I am small up top. I stopped using KS because the amount of adjustment required to fit was unreasonable, IMO. (One less catalog I need to pour over!)

With Burda, I usually go by full bust because most European pattern companies have a closer fit ... which includes Marfy, Neue Mode, Hotpatterns, and KnipMode.

With Jalie, its a bit more of a toss up. Depending on the stretch of the fabric, the fit of the pattern, the alignment of the stars, the way I'm holding my tongue, the ... I may go up a size or I may go down a size from my full bust (which generally coincides with my high bust measurement) ... Jalie patterns seem to have a closer European type fit than the typical American pattern.

Choosing your patterns, that's just the tip of the iceberg,
Kira

Printable Version
* Advertising and soliciting is strictly prohibited on PatternReview.com. If you find a post which is not in agreement with our Terms and Conditions, please click on the Report Post button to report it.
Online Class
Put it on the Bias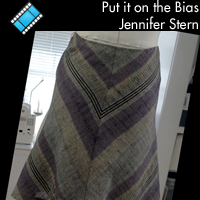 Online Class
Sewing Basics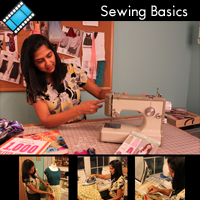 Butterick B4526

by: lpoblenz
Review
Sewing Workshop Oasis Skirt Pattern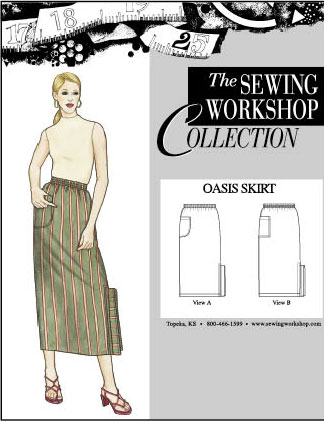 Pattern Details
Learn to Sew a Shirt or Blouse DVD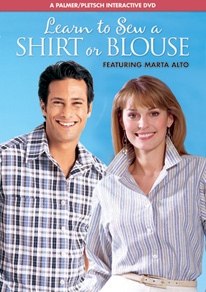 Pattern Details
Ottobre Woman Magazine 05-2013-4

by: Speech gir...
Review