tlmck3


Illinois USA
Member since 7/11/05
Posts: 3783
Skill: Advanced Beginner



Date: 5/13/06 2:36 AM

There is no bigger news/public affairs progamming junkie on the planet than I am but I am seriously unhappy about the recently announced plan by Chicago Public Radio to eliminate all music programming in early 2007 and become a 24 hour "news/talk" station. They have already let go their music director. Seriously, I NEED for them to stop talking and play some music now and then, especially at night. They announced this change the DAY after pledge drive ended.

Detroit's public radio station --which had FABULOUS music programming did the same thing a few months ago - with the programming change occurring abruptly the DAY after pledge drive. It seems to be a trend.

Anyway, if you are out there and will miss the World Music, Jazz, Blues and special music programming (like the Sam Cooke. Patti Smith, Bob Marley, Gospel history and local music specials of late) there IS a coordinated effort to get WBEZ to reconsider this announced change. There is also an on-line petition that has been started by members/musicians/music biz folks from the listening area. PM me if you are interested in signing or know someone who might be and I will forward the petition to you.

Terry

------
I am going for a level of perfection that is only mine... Most of the pleasure is in getting that last little piece perfect...Inspiration is for amateurs. The rest of us just keep showing up and doing the work.

Chuck Close, painter, printmaker, photographer

Hope has two lovely daughters: Anger and Courage

St. Augustine


Shubha

UNITED KINGDOM
Member since 12/19/05
Posts: 87
Skill: Intermediate



Date: 5/13/06 6:17 AM

I am a WBEZ listener...but not the music. I guess that's because I'm not from Chicago though! I listen to This American Life, but online. Judging by the quality of that show, I bet the music is good too. I don't think WBEZ has a live stream online though. Anyway I hope the petition goes well and that public radio keeps the music as well as the talk! They are both so important.

PattiA


Member since 4/8/02
Posts: 70



Date: 5/13/06 9:51 AM

Last night we attended a jazz concert at Chicago Symphony Center; the program was introduced by Dan Binder, one of the music hosts at WBEZ--he was roundly booed and hissed (this was a VERY partisan crowd). I am aware of the online petition, and if one of your musical passions is jazz, you can contact the Jazz Institute as well; they were trying to set up a forum with disgruntled and disgusted listeners and WBEZ programming people.

One of our friends (and fellow concert attendee) called the station and withdrew his rather substantial pledge. Dollars count.

patti



tlmck3


Illinois USA
Member since 7/11/05
Posts: 3783
Skill: Advanced Beginner



In reply to PattiA

Date: 5/13/06 12:49 PM

Geez...why did they "boo" Dan Binder? He's one of the people who is probably going to lose his job in this switch, poor guy. And he's so inoffensive.

The symphony losing Barenboim (at the end of this season, isn't it?) is another sad thing for Chicago's music scene.

Terry

------
I am going for a level of perfection that is only mine... Most of the pleasure is in getting that last little piece perfect...Inspiration is for amateurs. The rest of us just keep showing up and doing the work.

Chuck Close, painter, printmaker, photographer

Hope has two lovely daughters: Anger and Courage

St. Augustine


tlmck3


Illinois USA
Member since 7/11/05
Posts: 3783
Skill: Advanced Beginner



In reply to Shubha

Date: 5/13/06 1:00 PM

We're losing This American Life, too: they're moving the show to New York because HBO offered Ira a contract that includes television programming.

believe me, that has not gone uncommented upon, either. We have a serious "2nd City" complex, being here in "flyover country." Our whole cultural scene is very vibrant but a lot of our musicians, performers and visual artists feel like they have to move to NYC or L. A. to get the attention (and the paid work) they need to keep their careers moving forward. I have friends who have worked on or contributed pieces to that show who are most unhappy about it, but it's probably a good career move for Ira Glass.

------
I am going for a level of perfection that is only mine... Most of the pleasure is in getting that last little piece perfect...Inspiration is for amateurs. The rest of us just keep showing up and doing the work.

Chuck Close, painter, printmaker, photographer

Hope has two lovely daughters: Anger and Courage

St. Augustine


PattiA


Member since 4/8/02
Posts: 70



In reply to tlmck3

Date: 5/13/06 1:15 PM

Actually, they applauded Dan Binder, but booed when he said, "from WBEZ"--he responded with a wan smile and a knowing nod. Yes, he will likely lose his job--as will the inimitable Richard Buckley (no, he isn't known as Richard, but the automatic censoring program won't let me list his nickname!).

BTW--do you ever get to Jazz Showcase in Chicago? A great spot for live jazz--the owner just celebrated his 80th birthday, and Symphony Center honored him with a music bash. We attend the CSO Jazz series, but really love the Showcase--a more intimate space, and he gets top-notch performers there.

patti
-- Edited on 5/13/06 1:15 PM --
-- Edited on 5/13/06 1:17 PM --

MaryLynn in Long Beach


California USA
Member since 7/2/04
Posts: 1725



Date: 5/13/06 1:39 PM

This is a trend for many NPR affiliates across the country. KWMU in St. Louis went all news/talk several years ago.

KPCC in LA left music for talk in 1997.

It's the trend. It costs less per station and ups the cums, which figure into the funding formulas from CPB.

Much of the production is being centralized in NYC, DC and LA. NPR opened a big production facility in LA a couple of years ago, calling it NPR West.

We have satelite TV and it now offers XM radio. I'm doing my music listening there.

------
Mary Lynn (Who's finally sitting up and taking nourishment)

Design Degree??? I prefer my artistic license

"A woman who works with her hands is a laborer; a woman who works with her hands and her mind is a craftsman; but a woman who works with her hands and her brain and her heart is an artist." (St. Thomas Aquinas, modified)



Elona


USA
Member since 8/24/02
Posts: 9461
Skill: Advanced
Body Type:






Date: 5/13/06 3:16 PM

We have, glory be, one independent music station in our town. It plays only classical music, was family-owned for decades, and now operates as a charity/slightly commercial venture (probably mostly in the red). But gee, it's nice for us Borodin freaks (do I hear a rousing cheer for Borodin out there?).

I think this has been touted as one of the very, very few (single-digits) such stations still extant in the US, probably due to the large number of extremely wealthy folk who live here, and who are somewhat susceptible to charitable causes.

------
Elona

utz


Illinois USA
Member since 12/9/04
Posts: 415
Skill: Intermediate



Date: 5/13/06 3:58 PM

Thanks for the heads up on WBEZ petition. Not only am I a Chicagoan WBEZ sewist, I actually sew to the music at night. So with it gone, well, bad, very bad. Don't care to sew to a re-hash of BBC, or other U.S. canned news which re-hash the NY Times you can read in the morning.

WBEZ is dumbing down, going boring, repetitive and....

I'm starting to rant, which I started to do when they got rid of Gretchen Helfridge. (Interviewed all variety of persons, intellectual, writerly, poets, thinkers, iconoclasts, anyone who could put together a decent sounding paragraph)

Apparentally nothing will be produced in Chicago from what I see. What I can't understand is why they think that 'all talk' is what people want, don't newspapers, all good ones, have great variety (news, commentary, cartoons, fashion, etc etc.) Isn't any great meal a variety of tastes? I guess WBEZ wants to buck human nature's need for variety.

WBEZ has its nice new digs at Navy Pier and apparentally wants to have a skeleton crew who can push buttons and play pre-made tapes, leaving time for others to drum up contributions.

Boo to BEZ management who are taking a great station and destroying it.

------
'Be yourself; everyone else is already taken.' Oscar Wilde

tlmck3


Illinois USA
Member since 7/11/05
Posts: 3783
Skill: Advanced Beginner



In reply to PattiA

Date: 5/13/06 5:49 PM

I ADORE Jazz Showcase--it's my favorite Jazz room in town & possibly my favorite Jazz room anywhere. It's so small and intimate and so totally about the music--it's almost like church! I especially like the Sunday matinees, when people bring their kids and grandkids to begin the inculcation of the next generations. When I first moved to Chicago and didn't know many people, I used to go down there alone on Sundays and never had to worry about having to fend off obnoxious "pick-up" attempts--everyone was concentrating on the stage. I haven't been there in ages...pinching pennies. I also live very near the Green Mill- though I don't go as often as I used to.

Terry

------
I am going for a level of perfection that is only mine... Most of the pleasure is in getting that last little piece perfect...Inspiration is for amateurs. The rest of us just keep showing up and doing the work.

Chuck Close, painter, printmaker, photographer

Hope has two lovely daughters: Anger and Courage

St. Augustine

Printable Version
* Advertising and soliciting is strictly prohibited on PatternReview.com. If you find a post which is not in agreement with our Terms and Conditions, please click on the Report Post button to report it.
Online Class
Put it on the Bias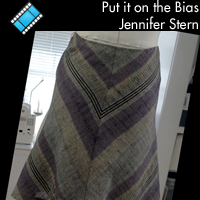 Online Class
The Contemporary Couture Jacket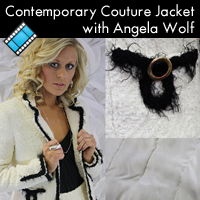 New Look 6569

by: Sheila457
Review
By Hand London Georgia Dress

by: lauramae
Review
Sewing Workshop Plaza Jacket & Pants Pattern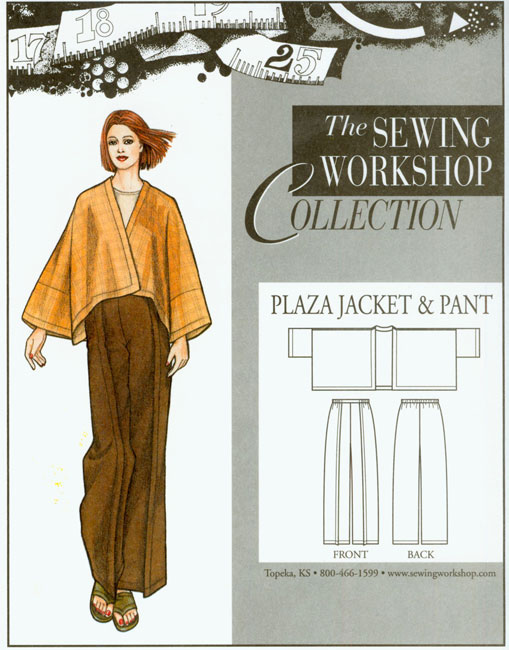 Pattern Details
DVD - Will this fabric work for you?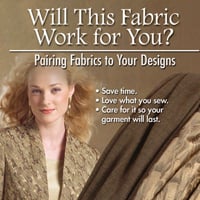 Pattern Details