JuliaS


Utah USA
Member since 3/29/04
Posts: 154
Skill: Intermediate



Date: 7/13/06 11:01 AM

I've realized that SO many of the reviews and discussions talk about doing FBAs on patterns. Why is that? Are the patterns that are out there just that mismatched to the way practically all women are built? Or are we just a particularly busty group? I have yet to do one; I was a C-cup before pregnancy and nursing and now (still nursing) am a D-cup. I may have to test these waters, I suppose. Are there pattern lines out there that are drafted for larger busts? I am thinking about HotPatterns Glamor Girl and the like.

redhead


Member since 10/18/03
Posts: 1098
Skill: Advanced



In reply to JuliaS

Date: 7/13/06 11:06 AM

I don't think it's because PR members are all busty. It's because it's a major fitting issue for those who are, so it is always a hot topic. The fact is that one is generally easier to fit if one is less curvaceous. There are a few pattern lines that try to address this, and even Simplicity offers an increasing number of patterns with cutting lines for different cup sizes.

I think that the other really perplexing fit issues are too much fabric in the back legs of pants and fitting for a person's posture.

Linda F


Member since 8/7/05
Posts: 481
Skill: Intermediate



In reply to JuliaS

Date: 7/13/06 11:32 AM

Julia,
This is a good question, but I think you partly answered it. Some of us, most of us, increase in size with childbearing. I say most of us because my sister actually got smaller. How I envy that now.

I used to be able to make a pattern straight out of the envelope. Three children later and breastfeeding my last has changed that. I strongly believe that breastfeeding contributes to increasing the bust even after one stops. But I am not an expert and I am only going by personal experience.

The other reason why there are so many FBA is that B cup is the standard in patterns and RTW. Again I don't think that this standard targets the majority of us. So we need to grade up or down according to our figure.

About HP patterns. I just bought 3 HP top patterns. I would take a couple of measurements before you order. The most important one being your across shoulders measurement. I know that mine is 14" across, very very narrow. Yet I blossom to a DD chest size. I sent an email to HP asking for their opinion and she suggested a slinky girl and that I do a FBA. It is much easier to do an FBA than all the other alterations needed to redraft the shoulder, neck and back. And doing a narrow shoulder adjustment is not always the best adjustment. Yes, the armhole will now fall where it needs on the shoulder. But the neck and other things will be drafted wider and then you get other fit issues, like a gaping neck in the back, etc. Then it is a downhill slide from there.

In the big4 I am definitely a size 14. When I use that size it fits well in the neck, back and shoulders. I then need to do a FBA to get it to fit elsewhere. The dream will be someday to get a size 14 with a DD sized dart.

Hope this helps,
Linda

slanden99


Member since 9/14/05
Posts: 2035
Skill: Intermediate
Body Type:




Date: 7/13/06 11:47 AM

I noticed a lot of FBA's too. I thought I was the odd one out--my A cup actually got smaller after 2 pregnancies and nursing 2 babies--I have the body of a 13 year old. I started a SBA support group thread and found that I was in good company.
I've noticed that Kwiksew may work well for larger cup sizes (It sure doesn't even come close to fitting me). The Jalie t-shirt seemed drafted for someone with a larger cup size too. But then, I'm just guessing based on how baggy the chest was when I tried those patterns.
Perhaps it is the larger busted women that have more motivation to sew based on how poorly RTW clothes fit them

popoagiesmiles

Texas USA
Member since 2/25/06
Posts: 1950
Skill: Intermediate



Date: 7/13/06 12:02 PM

I don't think of myself as busty, but because my frame is small (not short, but small otherwise), my bust is large in comparison. In RTW, I usually have items that are either too baggy everywhere but the bust or too tight across the bust. So, I do an FBA to have nicely fitted clothing.

In a year, I'm going to have one side reduced to match the side that I had a lumpectomy on last fall. Even though I know my bust balances my hips well "as designed," I'm still looking forward to having a small overall bosom so that I can wear styles that don't work for me now, such as a halter dress with a built in lightweight bra or just to sew things without doing an FBA all the time.

It's going to be a little strange for me, but you know over time things start to very slowly go south, so this will be a reversal of that too.

I think also that when people gain weight, their bust gets larger. I don't know if that means they might need an FBA when they didn't before, but I can tell you that when I was tiny (size 4), I didn't have as much problem finding tops to fit in RTW. So, maybe weight is an issue too.

------
"puhPOjhu"--a river that sinks into a mountain with fury and winds around underground for miles before emerging in calm down the road...

popoagiesmiles

Texas USA
Member since 2/25/06
Posts: 1950
Skill: Intermediate



Date: 7/13/06 12:02 PM

I don't think of myself as busty, but because my frame is small (not short, but small otherwise), my bust is large in comparison. In RTW, I usually have items that are either too baggy everywhere but the bust or too tight across the bust. So, I do an FBA to have nicely fitted clothing.

In a year, I'm going to have one side reduced to match the side that I had a lumpectomy on last fall. Even though I know my bust balances my hips well "as designed," I'm still looking forward to having a small overall bosom so that I can wear styles that don't work for me now, such as a halter dress with a built in lightweight bra or just to sew things without doing an FBA all the time.

It's going to be a little strange for me, but you know over time things start to very slowly go south, so this will be a reversal of that too.

I think also that when people gain weight, their bust gets larger. I don't know if that means they might need an FBA when they didn't before, but I can tell you that when I was tiny (size 4), I didn't have as much problem finding tops to fit in RTW. So, maybe weight is an issue too.

------
"puhPOjhu"--a river that sinks into a mountain with fury and winds around underground for miles before emerging in calm down the road...

popoagiesmiles

Texas USA
Member since 2/25/06
Posts: 1950
Skill: Intermediate



Date: 7/13/06 12:02 PM

I don't think of myself as busty, but because my frame is small (not short, but small otherwise), my bust is large in comparison. In RTW, I usually have items that are either too baggy everywhere but the bust or too tight across the bust. So, I do an FBA to have nicely fitted clothing.

In a year, I'm going to have one side reduced to match the side that I had a lumpectomy on last fall. Even though I know my bust balances my hips well "as designed," I'm still looking forward to having a small overall bosom so that I can wear styles that don't work for me now, such as a halter dress with a built in lightweight bra or just to sew things without doing an FBA all the time.

It's going to be a little strange for me, but you know over time things start to very slowly go south, so this will be a reversal of that too.

I think also that when people gain weight, their bust gets larger. I don't know if that means they might need an FBA when they didn't before, but I can tell you that when I was tiny (size 4), I didn't have as much problem finding tops to fit in RTW. So, maybe weight is an issue too.

------
"puhPOjhu"--a river that sinks into a mountain with fury and winds around underground for miles before emerging in calm down the road...

Em's Summer


USA
Member since 2/16/06
Posts: 3174
Skill: Intermediate



Date: 7/13/06 12:18 PM

I've noticed that, too, but was thinking that perhaps those who need the FBA are a group that generally writes more reviews than others. I don't have a SB, but also don't need a FBA, and I review only a very small fraction of what I sew.

Em


------
From what others have said, the nasty message came from Fitting Woes, NOT Misc Hot Topics or the Civility thread.



Elona


USA
Member since 8/24/02
Posts: 9272
Skill: Advanced
Body Type:




Date: 7/13/06 12:33 PM

Quote:
I've realized that SO many of the reviews and discussions talk about doing FBAs on patterns. Why is that?



I think it's a combination of factors. According to Sandra Betzina and other sources, the pattern industry standards are based on measurements taken of fit young servicewomen during World War II. These standards were revised somewhat in the 1970s, but basically, we are dealing with a pattern shape that is simply not current.

Due to an abundance of food (and too much of that, some say), young girls are putting on fat early enough to hit puberty earlier than ever, and they are not growing into sylphs. The average woman today is, I believe, a size 14 RTW. You know that NO pattern is going to fit her without major alterations. Certainly, she is going to need a FBA!

I don't have statistics on this, but I bet that the majority of sewists have either borne children, or are old enough to have done so. Although a fortunate few may not get bigger bosoms or gain weight as a result of this (and the passage of time), I think most of us are larger than we were before marriage, when we could slide into B-cup patterns without alterations. Sigh.

Sandra Betzina has measured lots of bodies in the course of her career, and, based on her experiences, has tried to draft patterns that are more in line with what she has seen of the current American body. Some would say that she has had only limited success, but still, it's a noble effort.

One curiosity is that although the average American women is taller than her forebears, she is still only 5' 4" tall. Patterns are now drafted for a "standard" women's height of 5' 5" to 5' 6". This is realistic for Germany and Holland (currently the tallest people in the world, on average), but it means that Americans can just count on making height alterations.

------
Elona

Michelle T


British Columbia CANADA
Member since 8/24/02
Posts: 4694
Skill: Intermediate



Date: 7/13/06 12:43 PM

Interesting question.

I have been busty since I was 12. Weight and breast feeding have lead to an increase in cup size. My bust size also increases with my period each month. I have two sets of bras to deal with that.

When I was a size 8 rtw I had a large C/D cup. It was impossible to find tops that fit.

I am still working on getting FBA's just right. My sewing time is limited and I reallly need a full weekend and a fitting assistant to get it right.

------
Proud parent of a Dwight International School Honour Roll Student
Printable Version
* Advertising and soliciting is strictly prohibited on PatternReview.com. If you find a post which is not in agreement with our Terms and Conditions, please click on the Report Post button to report it.
Online Class
Clone Your Favorite Garment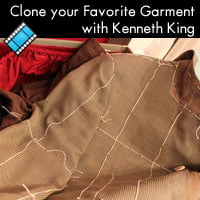 Online Class
Bust Adjustments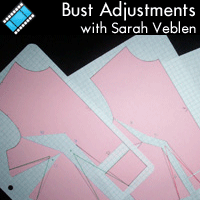 McCall's 6204

by: janelouise
Review
Sew Chic Fifth Avenue Dress Pattern (ln1311)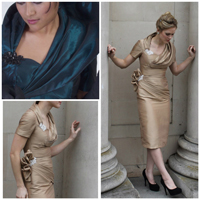 Pattern Details
PerfectFuseTailorUltra Black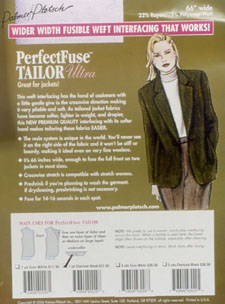 Pattern Details
Vogue Patterns 8742

by: LauraHarka...
Review