jeanbluecat


Illinois USA
Member since 10/4/05
Posts: 338
Skill: Intermediate



Date: 7/17/06 2:57 PM

Okay, I want to tap in to the collective minds of all you stichers out there. Here is the problem; I go to a fabric store and want to buy fabric for a pattern I know I have at home, but I don't remember the pattern number or company that makes it. And I don't know the amount or type of fabric or notions needed.

I know I could buy the amount of fabric I think I need and I would probably be okay there, but what about the notions, buttons, zippers, etc? I live out in the cornfields and cannot travel often to my nearest fabric store that is about 40 miles away one way. I want to be able to have whatever I need for a project on hand.

Does anyone have a fabric shopping notebook that has the fabric amounts notions etc in it? I am thinking of making a copy of the front and back of the pattern envelope and putting it into a notebook. That way I would have all the information I need at my finger tips.

Does anyone do this? Am I crazy? (probably! LOL) If there is anyone who currently does this, are there any refinements that you could share with us? I wonder if the store employees would think I was trying to walk off with patterns in my notebook.

Shoot, I have so many patterns anyway. I go through the pattern books at the store and say to myself, got that one, hmmm have that one, oh yeah, that one too!

Thanks for your input!

Deb

------
I sew, therefore I am.



NancyDaQ


New Mexico USA
Member since 1/12/02
Posts: 3838
Skill: Advanced



Date: 7/17/06 3:12 PM

This is why we stash.

But seriously, it's a good idea. I keep copies of the envelopes in 3 ring binders. The problem is, I have so many patterns that there are too many binders to conveniently schlepp them to the store. Back to square one. It sounds like you are making special, planned trips to the store to purchase sewing supplies. In that case, either bring the pattern envelope with you to the store or make a copy and bring that. I've also gotten pretty good at guesstimating yardage needs from similar patterns that are in the current pattern books.

In general, and if your budget allows, buy more rather than less in the case of yardage. Or longer vs. shorter in the case of zippers (you can always cut them down). Buttons, the more vs. less rule again, or adjust the button placement to allow for less. But then there's that pesky size issue, in which case, I'd probably make a list and keep in in my wallet.

------
Now blogging at http://sewwest.blogspot.com

Sophiecat


Oregon USA
Member since 1/27/06
Posts: 827
Skill: Intermediate



In reply to jeanbluecat

Date: 7/17/06 4:16 PM

Hi jeanbluecat, (love your picture!

)

I do have a notebook that I take with me whenever I go near a fabric store.

Included are several sections:

fabric needed, with swatches to match and/or coordinate, with amounts noted, plus linings, buttons, etc.

pattern list - all the patterns I have, listed by company & number; (to prevent buying duplicates)

books - the ones I'm looking for and the ones I have; (also to prevent duplicating)

ideas and sketches, for noting designs I think interesting; (includes pictures torn out of magazines/catalogs or downloaded)

fabric samples - sorted by type of fabric, (glued on paper and inserted into a sheet protector) and a sample card of Ambiance lining colors

AND a list, compiled by Frances Tankersley of the Online Quilters Guild, of 71 Reasons to Buy Fabric!

(As if I needed an excuse.)

All of this now fits into a 1" three-ring binder, but it is almost at capacity.

When I go to fabric stores, inevitably someone will comment on how organized I am. I usually respond by saying it's the only way for me to keep sane.

Not everyone needs to be this organized, and some may not be capable of it, but it works for me!

Regards,

Sophiecat

------
Well-behaved women rarely make history.
Laurel Ulrich

tlmck3


Illinois USA
Member since 7/11/05
Posts: 3783
Skill: Advanced Beginner



Date: 7/18/06 5:06 AM

I'm totally incapable of buying fabrics/notions FOR particular patterns. In fact, I almost never do that.

Mostly, I rely largely on neutral colors for clothes. And, I'm pretty set in my ways when it comes to fabrics--anything at all trendy usually doesn't get bought. If I do succumb, it is on sale, dirt cheap and I never buy more than 2 yards for a quick top.

I never get tired of sewing (or wearing) linen, or nice wool, or silk or some rayons & cottons, even if they are often in the same families of colors I've sewn/worn 100 times before. You can really "stretch" your notion of what is a "neutral" if the fabrics are of good quality and you are careful about prints. This fall's Pantone color forcast is a good illustration of this.

I actively look for bargains on necessities and stock up. That's the only reason I get the Joann and Hancock fliers (other than pattern sales.)

I buy notions in bulk when they are on sale--interfacing, threads, etc. Or at thrift stores for some things--like buttons, zippers when I find them, etc. I generally ignore interfacing suggestions in patterns anyway, since the only fusible ones I can stand are the tricots and the wefts. I use bias bindings or self fabric a lot. Or muslin or some other lightweight fabric and sew it in, if necessary. I keep a good selection of threads (all purchased at 50% off!) on hand. Something in my box usually is "close enough" if the stitches are going to be well-pressed into place as I sew.

Vogue fabrics often has great deals (online, too) for things like a bag of 50 zippers in assorted sizes for $7.00 or 7 inch invisible zippers for $1.00 apiece. So I buy a bunch in Black, Navy, Khaki, Off- White, etc. I mean...the day I NEED a pink zipper is not likely to ever arrive, but if it does, I probably have one from that bag of 50 or a thrift store haul, and that pink zipper might have cost me 15 or 20 cents, tops. I also have a good stash of basic (and some fancy) trims from sales or thrift store hauls on hand. I find it a lot more fun to improvise from these "found" trims than to tediously match buttons or braid at the store.

I also have a general idea that a jacket or a pair of pants or a full skirt is probably going to need 2 1/2 to 3 yards of fabric. A tee-shirt or shell, a yard to 1.5 yards. A blouse 2 or 2-1/2, a dress 3.5 to 5, depending on how full the skirt of it is. And most fabrics suggest to me before I put them in my basket just what it is they were meant to be. I wouldn't be buying a cotton print twill or oxford cloth shirting in "flowing dress" quantities, however much I liked it. But well-priced undyed, black or navy lightweight linen COULD be pants, skirt, dress, jacket, blouse etc. I Would buy 10 yards of it if the price was right. Nice knits in neutral colors are my latest stash weakness. I'm embarrassed to tell you how many yards I bought of a black cotton/lycra rib knit off of a Vogue sale table when it was $3.99 a yard. I'm even more embarrassed to tell you I might go get more now that it's marked down to $1.99 a yard. It'll always be wearable and might well never be cheaper.

I bought 5 yards of a gorgeous, coppery-rust, dress weight slubby silk off of a Vogue Fabrics Sale table the other day, thinking it could be a lovely, flowing dress. or a matching skirt and blouse (more my speed). Or pants and a shell. Left-overs will make great bias binding, or bands on a jacket or dress, etc. There was a bolt end of an irresistable-to-the touch silk suiting in a soft, grey- green (with a hint of turquoise in it--like the verdigris on copper) and copper Glen plaid on the same table. There were only 3 yards of that left. Had it been 6 yards or 8, I'd have bought it ALL without batting an eyelash. Jacket? Pants?...dunno yet, but they were each $3.99 yard and they'll be smashing together for the next 20 years, no matter what I make out of them. And, they'll both go with nearly everything else in my closet.

------
I am going for a level of perfection that is only mine... Most of the pleasure is in getting that last little piece perfect...Inspiration is for amateurs. The rest of us just keep showing up and doing the work.

Chuck Close, painter, printmaker, photographer

Hope has two lovely daughters: Anger and Courage

St. Augustine


.x.Helen.x.


UNITED KINGDOM
Member since 7/19/05
Posts: 17
Skill: Intermediate



Date: 7/18/06 5:13 AM

On the Simplicity website you can download and print off the design pictures and the envelope back. I have those collected in a notebook for when I go fabric shopping. For those patterns which I can't download info (vintage ones etc), I have photographed them front and back.

You can also do something similar for fabric. I tend to buy fabric first and then go looking for a pattern and/or the notions to match.

This website

suggests making a fabric swatch by sticking samples of fabric to pieces of cardboard (size of a business card) which you can then attach to a small keyring. You can also write the fabric details (length, care etc) on the back so you know exactly what is in your stash when you go shopping.

Link to

Fabric swatch

------
I have a sewing blog! http://sewstylish.blogspot.com/

Mary Stiefer


Colorado USA
Member since 2/17/03
Posts: 1709
Skill: Intermediate



Date: 7/18/06 9:15 AM

I guess I'm not as organized as many of the people of this site. I do have a small notebook that I carry with me always.

The front of the notebook is for sewing. In that I include pattern numbers that I plan to sew, how much fabric needed for that pattern, buttons, zippers, etc. I may have a list of 3 or so patterns. As each is purchased I scratch it off. If I've forgotten what the pattern is - I have the pattern number to check the books.

The back of the notebook is for the public library. I have a list of authors that I enjoy reading and use this when I am in the library.

------
What is Maxine saying??
"I don't iron. If I'm not wrinkle-free why should my clothes be."

licarritc


USA
Member since 9/7/04
Posts: 884



In reply to tlmck3

Date: 7/18/06 10:15 AM

I work the same way as you! Surprise, Surprise! Fabric basics get bought in bulk especially if it is something from Kashi/Metro or Vogue that I know I may not get again. I buy alot of stuff on line now even though Joann's is right around the corner. Vogue's bulk sales are a favorite, I also order Pati Palmer's interfacing directly from her in 3 yard packs. It's 60" wide so it goes a long way. I don't stock up on buttons but I am notorious for ripping them off something I'm about to throw out. I also keep a laminated list of yardage lengths for various garments in my wallet. I find when I go to Joann's I scour the clearance section and stock up when the stuff is marked down even more. Just got some boucle that was originally 14.99 a yard for 1.60 a yard at that price I don't feel guilty about getting 6 yards. Most of my stash is in 6-10 yard pieces.

------



JenSews2


California USA
Member since 2/21/04
Posts: 1316
Skill: Intermediate
Body Type:




Date: 7/18/06 11:39 AM

I just took all the patterns out of the envelopes and slide just the envelope into a sheet protector to carry with me. The pattern I put in a hanging file cabinet sorted by Pattern number. I read about it somewhere on PR and just did it a few months ago. Now i can carry my notebook around to browse through my Pattern Stash. I was going to copy all of the pattern fronts, but then I realized that I would need the yardage and info on the back and it would take me too long anyway. LOL I made the notebook after buying several duplicate patterns accidentally.

I also recently (6 months) went through ALL of my fabric stash and cut little samples and stapled them to index cards cut in half. These fit perfectly in the 9 to a page baseball card holders. I wrote down the yardage/width, when and where I purchased it and the content (if I remembered). I always carry it to the fabric store now and it helps me match fabrics. It was my goal to not buy any more fabric unlesss it helped me complete an outfit out of my stash.

Jen

------
*Jen*
If I stitch fast enough, does it count as aerobic exercise?

slanden99


Member since 9/14/05
Posts: 2035
Skill: Intermediate
Body Type:




Date: 7/18/06 12:51 PM

If I lived in a secluded town I would do all of my fabric shopping online from home. You can access all your pattern envelopes this way, however unless you get a swatch, you might get surpised that the fabric might not work for the pattern you were thinking of.
A few months ago I started stashing zippers, thread, and buttons--huge timesaver. I bought zipper grab bags at vogue fabrics and fabricmart, thread at 50% off sales, and bulk buttons at fabricmart. I almost always have something that is exactly or close enough to what I need, so I can complete my projects easily.
If I buy for a particular pattern, I write down the info and bring it with me to the fabric store (or computer). No organized binder, but it works for me.

Portia Hirschman


Maine USA
Member since 5/22/04
Posts: 507
Skill: Advanced Beginner



Date: 7/18/06 1:03 PM

I carry a very small notebook (school assignment size) with a listing of my favorite patterns and what is needed for each (type of fabric, quanitity by width, button size/quantity, special ideas, fabric swatches if I'm trying to match something, etc.) I also carry a print-out of my patterns (from the pattern catalog here) so I hopefully don't get duplicates--I've also used it to cross reference patterns in the store if I haven't included the info in my notebook and I see something that might work. The notebook is so small I can keep it in my purse and READY for a bargain purchase on the fly! Otherwise, like others, if I see a fabric I love but have no definite pattern in mind, I purchase by what I think it might make: 2 1/2 yds for pants, 3 yds for a jacket or sleeveless dress, etc.
Printable Version
* Advertising and soliciting is strictly prohibited on PatternReview.com. If you find a post which is not in agreement with our Terms and Conditions, please click on the Report Post button to report it.
Online Class
Expert Sewing Techniques for Jackets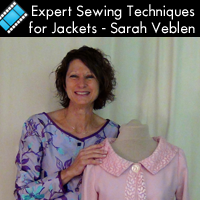 Online Class
Fun with Fitting - BODICE w Darts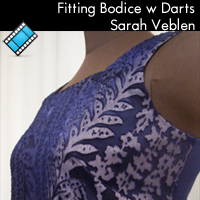 Vogue Patterns 8856

by: lao0264
Review
BurdaStyle Magazine 10-2014-103

by: olgarosita
Review
Petite Plus 102 Pattern
Pattern Details
SewBaby More Animal Wrappers Pattern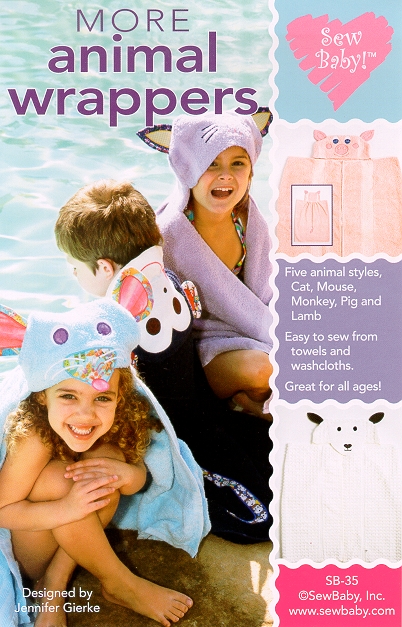 Pattern Details