USMCMom


New York USA
Member since 7/26/06
Posts: 505
Skill: Advanced Beginner



Date: 9/18/06 11:44 AM

I'm a relative rookie when it comes to pattern alteration and went out and bought the much recommended FFRP book this week-end and have been going through the chapters on pin fitting and making a sloper/muslin. I'm pretty intimidated by the whole process. Have you all done the whole thing---body map, sloper, pin fitting, muslin? If so, how long did it take you to get it right? Also, nearly all the techniques seem to call for another pair of hands, and I usually can't count on that. Can it be done accurately on your own? The book is very detailed and I'm learning a lot, but some of it is still over my head. Just wanted to know how people more experienced than I am apply the information in FFRP when they're fitting a pattern.

MariaDenmark


DENMARK
Member since 5/13/03
Posts: 593
Skill: Advanced



In reply to USMCMom

Date: 9/18/06 12:01 PM

I absolutely love FFRP and PFRP.

I have never done the bodymapping, but use the books to identify and (more or less) solve fitting problems.

I do tissuefit and pinfit, and sometimes also a muslin.

When I make pants and skirts, I'm able to do it without any extra hands, but I'm not there yet regarding tops.

I just did my first fitting (with the help of a friend)of a button down shirt. It took an entire day (ok, maybe 6 hours) including tissuefitting, and muslin fitting. Of course I haven't sewn the actual shirt, yet, so I don't know how it'll work.

I couldn't have managed the tissuefitting of my upper body alone.

However, I've learned how to identify if I need broad back and high round back alt by myself, but for the other alterations, I need help.

When fitting pants, I usually trace the pattern, tape curves etc thursday evening, then start tissuefitting friday morning after the rest of the family has gone (my home alone day). Then usually by noon I have the pattern fixed and am ready to cut the pants and start sewing and pinfitting.

------
Blogging at http://blog.mariadenmark.com

Sewing patterns at MariaDenmark | ShopONION.com: http://www.mariadenmark.com


Debbie Cook


Member since 4/11/02
Posts: 9817



In reply to USMCMom

Date: 9/18/06 12:05 PM

body map -- No

sloper -- not a pattern co sloper, but yes with PMB

pin fitting -- yes, usually always

muslin -- sometimes, depends on how lazy I am or if it's a completely new style.

Quote:
If so, how long did it take you to get it right?

I'll let you know.

Seriously, it's an on-going process. You're probably going to be really frustrated and overwhelmed at first but it gets better. Hang in there. Once you become more familiar with your fitting issues and your body, it does get faster.

Quote:
Also, nearly all the techniques seem to call for another pair of hands, and I usually can't count on that. Can it be done accurately on your own?

Yes. Mirrors so you can see your back view, digital cameras on tripods, and muslins instead of tissue fitting are all helpful when you're doing it alone. But I've pinned or taped tissue to myself and done it. There's a lot more on/off, on/off with the muslin/tissue if you're on your own, but it can definitely be done.

------
--
"I base my fashion sense on what doesn't itch." — Gilda Radner
http://stitchesandseams.blogspot.com

frame


USA
Member since 2/19/04
Posts: 5913
Skill: Advanced



In reply to USMCMom

Date: 9/18/06 12:11 PM

I think I'm in the minority on this board, but I prefer Fitting Finesse by Nancy Zieman over the FFRP books. I have both books and have sticky notes bookmarking all over the Fitting Fitnesse book and while I have read the FFRP book cover to cover and I do think it can be a valuable resource, I don't prefer it. I guess what I'm saying is that if one resource doesn't work for you, try another. Good luck.

------
"I meant what I said, and I said what I meant." - Horton(Dr. Seuss)

***When all else fails, call Tiffany.***



AnneM


Contest Committee
Member since 7/30/02
Posts: 7438
Skill: Intermediate



Date: 9/18/06 12:17 PM

Personally, I like "Fitting Finese" or "The Sew-Fit Manual" better than FFRP for just the reason you mention: the FFRP book has so much detail it is hard to find what you want! (Also, the techniques differ slightly between the books, and for me some are easier in one version vs. the other.)

There is a Multi-method fitting book that I have heard good things about. I just haven't convinced myself to spend the $48 on it yet.

I'm going to be making a fitting double shortly (hopefully starting next weekend), which I think will help in the fitting department.


P.S. I'll second the digital camera comment - should be a standard part of sewing equipment.

-- Edited on 9/18/06 12:19 PM --

------
With a great wardrobe that's still in the flat-fabric stage.

Sherril Miller


Member since 8/24/02
Posts: 7502
Skill: Advanced
Body Type:




Date: 9/18/06 12:27 PM

FFRP is my fitting Bible. I think the drawings and instructions are easy and clear to follow. I haven't done the body map and I don't really see a need for it if you can see in the mirror how badly your clothes fit. Once you see where they don't fit, you can use the alterations in FFRP to fix your specific problems. I also have a sloper, but I drafted it from the KK Moulage. It's not very helpful with commercial patterns unless I just steal the design details from the pattern and use them on my sloper.

------
Visit my blog at http://sewingsaga.blogspot.com

If it's worth sewing, it's worth sewing well;
and if it's worth sewing well, it's worth FITTING FIRST! - TSL

ryan's mom


Member since 11/30/04
Posts: 5335
Skill: Advanced



Date: 9/18/06 12:54 PM

Debbie is right in saying it's an ongoing process. I bought my book over two years ago and reread it a lot. Fitting is continuing saga for me that gets better and easier over time.

It was brain overload at first with all that fitting information. But now, it just seems to make so much sense.

Add some PR fitting classes to the mix, too, and everything just comes together. I also invested time in making a Saran Wrap block, which turned into my sloper, and a Duct Tape Dummy. Keep an open mind and don't get discouraged. IMO, understanding FFRP takes longer than a day, week, or month though.

------
Big 4 Pattern size 12, RTW bottom: 6, RTW jacket 8, RTW top (no size fits me well!)
Measurements: 34 HB/36 FB (34C bra)/27.5/36 (and working hard to keep it that way.)
Machines: Sewing: Elna 760, vintage Kenmore Model 33 (1967), Janome Gem Gold 3, Singer Model 99, Singer 221/Featherweight. Sergers: Babylock Imagine and Babylock Ovation. Embroidery Only: Janome 300E. Embroidery/Sewing Combo: Brother Dream machine. Coverstitch: Babylock BLCS. Straight Stitch: Janome 1600P.

If you think your sewing is better than everyone else's around here, get out of my way b****. I hate sewing snobs.

My blog: www.phatchickdesigns.blogspot.com

wood turtle


Minnesota USA
Member since 9/18/02
Posts: 102
Skill: Intermediate



Date: 9/18/06 12:55 PM

I like the FFRP book because it has a method to it. You start with the back and then work your way around to the front. It is kind of difficult to do the back, but get one of those large mirrors that they recommend.

The trick is to get the right size, which a lot of times is smaller than you might think. You can have broad back or rounded torso and get a higher size measurement than you should, according to upper bust. I think Nancy does an arm crease to arm crease measurement to try and get the proper size according to upper chest, but I found that to be difficult to get accurately, it keeps changing depending on how good your posture is.

I'm not familiar with Fitting Finesse bust alteration, but the FFRP one works well for me.

Like others said, you may have clues from the ready to wear you have. For example, do your shoulder seams land behind your shoulders, then you probably have forward shoulders. Some alterations seem to go together, like forward shoulders and rounded back.

SewLimited


Washington USA
Member since 2/29/04
Posts: 47
Skill: Intermediate



Date: 9/18/06 2:12 PM

I love the Fitting and Pattern Alteration book AnneM mentioned (altho didn't have to pay that much a few years ago). I went to a sewing expo and at Judith Rasband's booth (one of the book authors) - she would look you over and mark in the book the fitting changes you would need. It all seemed to click then. I'm one of the few with forward shoulders but a very straight broad back and once I made the adjustments for that blouses were great.

I later paid for someone to do a fitting muslin for me for bust and pants. She made the same changes Judith had recommended but once I saw it on the sloper, I knew basically how to change each pattern before trying to do a pin fit or muslin. That was money well spent IMHO. I also have a sewing friend who taught fitting years ago that I can call for help - she gets very upset tho if I try to skip the muslin stage!

------




PegL


Missouri USA
Member since 2/18/04
Posts: 1346
Skill: Advanced



Date: 9/18/06 2:46 PM

I have all the books mentioned above so far (yes, I know -- hanging my head in embarrassment here) and I use FFRP almost exclusively.

I have done the body mapping/drawing that they show in the front of the book -- with my DH's help -- and it was very eye opening! I learned more about my shape and proportions than I ever could have with mirrors or photos. My DH is an engineer and a stickler for detail so I got a very accurate drawing. I learned about my differently sloping & narrow shoulders, my slightly high hip on one side and we discovered that I have one arm almost an inch longer than the other. I'm surprised my DH didn't want to return me since I'm obviously an irregular!

Learning to fit is the biggest challenge in sewing but the results are so worth it.

Peg

------
"I hate housework! You make the beds, you do the dishes--and six months later you have to start all over again!"

Pfaff 2170, Pfaff 7570, Pfaff 4852, Babylock Coverstitch, Bernina 1090, Bernina 1020, Gammill Quilting machine
Printable Version
* Advertising and soliciting is strictly prohibited on PatternReview.com. If you find a post which is not in agreement with our Terms and Conditions, please click on the Report Post button to report it.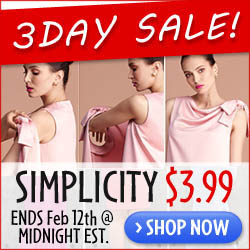 Online Class
Fun with Fitting - PANTS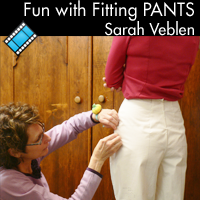 Online Class
Beginners Guide to Sewing Jackets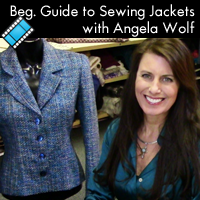 Simplicity 1652

by: Sixtiesgir...
Review
Victoria Jones Collection Misses' Pareau Style Wrap Dress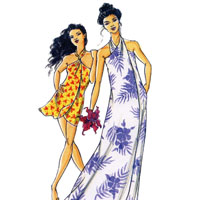 Pattern Details
SewBaby Animal Wrappers Pattern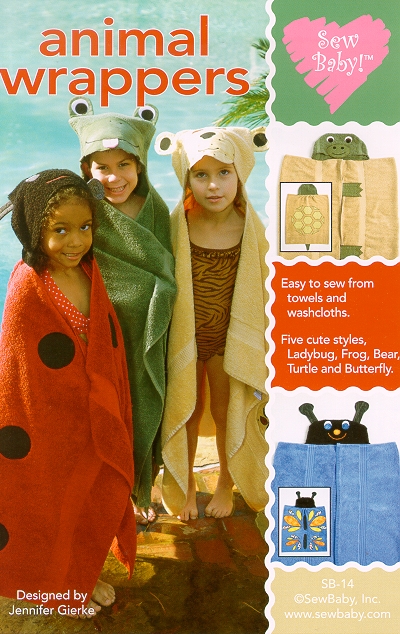 Pattern Details
Truly Victorian tv462

by: MellyMello...
Review