Lucyboots

Member since 1/6/07
Posts: 3
Skill: Intermediate



Date: 1/6/07 2:10 PM

I have finally decided to replace my sewing machine: a 1953 Whites (no, I'm not kidding). I'm looking for direction on a new machine. Predominantly I will be doing clothes and home decoration sewing (curtains, pillows, etc) but I would like to have the option to do some embroidery and some basic quilting. What's important to me? Reliability, one step buttonhole, easy bobbin filling & threading. I need to be able to do things like put hems in jeans as well.

As you see, I don't buy machines often, so your thoughts are greatly appreciated.

Thanks,
Cynthia



Member since 12/31/69



In reply to Lucyboots

Date: 1/6/07 3:10 PM

Cynthia,

On the left of your screen, you will see a reddish column. there are tools for comparing sewingmachines and tons of machine reviews that may help get you started in your search.

A trip to a couple of your local dealers might provide some good information to help you make a choice. You can try out some mahcines while you are there too!

How fun for you to get a new machine after all these years!

Lucyboots

Member since 1/6/07
Posts: 3
Skill: Intermediate



In reply to

Date: 1/7/07 1:14 PM

Jenny,

Thanks, I had noticed it. Unfortunately it doesn't seem particularly effective. First of all, it gave me a list of 50 machnes some of which appear to be embroidery-centric and others which seemed to be quilting-centric. In addition, specialty fabric (like very light or very heavy) isn't an option and I know that some machines do this better than others.

A lot has changed in the time since I bought a machine. You hope that when you come to a site where sewers congregate a few may have an opinion. I hope they're willing to share them.

Thanks,
Cynthia

Sherril Miller


Went to PR Weekend!

Member since 8/24/02
Posts: 7504
Skill: Expert/Couture
Body Type:




Date: 1/7/07 1:33 PM

There have been dozens of questions about people needing help buying a new machine. I did a search with the words "new machine." Here are my

search results.

I hope you don't feel slighted that your question wasn't answered but it has been addressed many, many times. I also hope one of these threads can be of use to you.

-- Edited on

1/7/07 1:54 PM

--

------
Visit my blog at http://sewingsaga.blogspot.com

If it's worth sewing, it's worth sewing well;
and if it's worth sewing well, it's worth FITTING FIRST! - TSL



Member since 12/31/69



Date: 1/7/07 1:34 PM

Hi Cynthia, sewing machine shopping can be very confusing. Embroidery/sewing combo machines can be very expensive so you may want find to purchase an embroidery only machine and a new sewing machine. I don't do any embroidery or quilting yet so I will just give you my opinion on my primary sewing machine. I have a Kenmore 19223. It has 167 stitches and is computerized. It has a drop in bobbin and it's very easy to thread. It is also very quiet and has several one step buttonholes. It is made by Janome and cost me $349 on sale at Sears. The fabric glides very nicely when I'm sewing and I really love this machine. If you are on a budget, Kenmore offers a number of reasonably priced machines. If you have extra money to spend, Bernina, Baby Lock, Viking , Janome and Pfaff make some great machines that their owners love. You may want to check out the different manufacturers websites and see which machines you interested in and then read some of the reviews here on PR.

Lucyboots

Member since 1/6/07
Posts: 3
Skill: Intermediate



In reply to Sherril Miller

Date: 1/7/07 2:05 PM

Thanks everyone. I didn't feel slighted, I felt overwhelmed. Honestly, I've been sewing for years but even the terminology has changed! For all I know the search feature does tell me that it will sew heavy fabric and I don't even know it says that.

Thanks again,
Cynthia



Member since 12/31/69



In reply to

Date: 1/7/07 2:09 PM

Is your Kenmore model number perhaps 19233? I know that model is well thought of and I have even been tempted by it myself on more than one occasion.

Cynthia, I have a Kenmore 19110 which is also a nice machine. In addition to that one I also have a much more expensive combo machine, the Baby Lock New Esante. If you don't need lessons and are willing to have your machine sent to a Sears Service Center for routine cleaning and maintenance and any necessary repairs, then Kenmore would be great machines to consider. Just be sure the model number starts with 385 because that number means that Janome manufactured the machine and those Kenmore machines are the best ones. You didn't say what your price range is but Janome makes some nice machines and reasonable prices. Bernina and Pfaff are on the expensive side although both have less expensive models as well. You really do need to do some personal research by visiting dealers and reading reviews and even read the specs that are given on the various manufacturer's websites. Brother makes good, reliable machines but I have never owned a Brother so don't speak from personal experience. Nobody can really tell you absolutely which machine you should buy because sewing machines are very personal and each person will have their own set of criteria for their machine and their sewing habits. Trying out machines before buying is an excellent idea as well. Good luck in your search for a new machine. I am sure you will find the one that is best suited to you.



Member since 12/31/69



In reply to

Date: 1/7/07 2:31 PM

Hand eye coordination is not very good today. I do have the

19233



Member since 12/31/69



In reply to Lucyboots

Date: 1/7/07 10:13 PM

Lucyboots:

What is your budget?

What dealers (brands) are available in your area? Going to the dealer will help you try specific fabric types on a machine & evaluate it personally.

When you say embroidery, do you mean decorative stitches or an actual embroidery machine/sewing machine combo?

BTW, most decent domestic sewing machnes can hem a pair of jeans with the correct needle and technique.

This will help you narrow your search and give you a opportunity to ask more specific questions. (i.e. "What is stitch recall?", etc..)

Other people can give you their opinion all day, and you will know what they like in a sewing machine. But in the end, you need to determine which machine suits your needs and personal style.

You first query was extremely broad and couldn't be properly addressed with "go buy (fill-in-the-blank) sewing machine" answer. (IMHO) I think that is a large part of why you got a response with which you were unsatisfied.

Personally, I wasn't try to "blow you off". I was trying to direct you towards a little research that may lead to some more specific questions. I am sorry if I offended or dissapointed you. That wasn't my intention.

You will find that there are lots of helpful, knowledgable people more than willing to help and answer questions. But keep in mind that they all do it out of a love of sewing and sharing, not some imposed obligation.
-- Edited on 1/7/07 10:18 PM --

GollyGolly


Georgia USA
Member since 12/27/06
Posts: 65
Skill: Advanced



Date: 1/9/07 12:08 PM

Cynthia, I am coming to this a bit late but if you are willing to accept another person's view; I'll step into the fray. I was in your position a couple of years ago. I wanted to do some embroidery ( now, I do a lot of it ) and I might have been happy with an embroidery only machine if I had not "test driven" a combination machine. I did not have a long list of wants either when I started my search. The longer I looked at machines the longer my simple little list grew. I currently own a Viking D1 and I absolutely love it . Although I never thought I would need to use all of its features , I do and more than that , I don't want to sew without them. In short , my machine has spoilded me. I would suggest you look at the best the manufacture offers and work your way back down. That might help you see all of the possibilities that today's machines offer. As Martha Pullen says, " I love my sewing machine - it can do everything but cook . " An additional thought and then I'll leave you alone , be prepared for sticker shock . I had to practice not looking surprised and remain composed when I was given the cost of the machines. I really wanted to say , oh my golly ! I hope you find exactly what you are looking for and please let us hear what you end up purchasing . Good luck with your search .
Gail
-- Edited on 1/9/07 12:13 PM --
Printable Version
* Advertising and soliciting is strictly prohibited on PatternReview.com. If you find a post which is not in agreement with our Terms and Conditions, please click on the Report Post button to report it.
Online Class
Altering Pants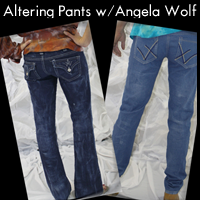 Online Class
Create a Jacket Muslin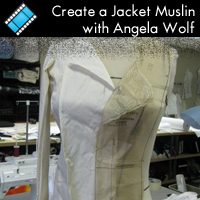 Laughing Moon Mercantile 109

by: usonian
Review
Pamela's Patterns Softly Pleated Dress Pattern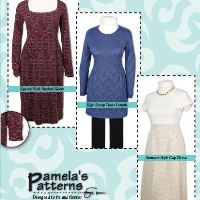 Pattern Details
SewBaby Patchwork Purse Pattern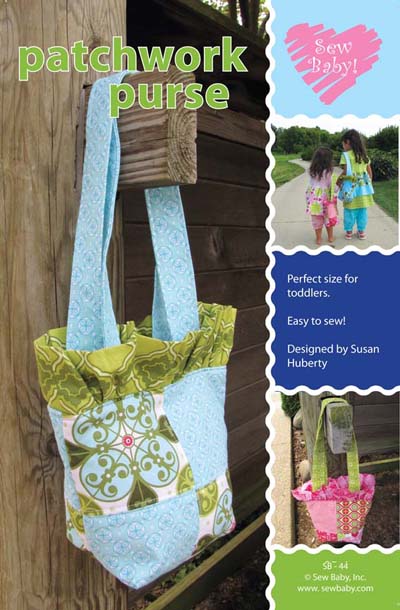 Pattern Details
Simplicity 5167

by: Pattycraft...
Review