RuthieSews


UNITED KINGDOM
Member since 1/1/06
Posts: 1294
Skill: Intermediate



Date: 1/18/07 7:55 AM

Hi, My name is Ruth and I live in Cheshire in England. In April my DH turns 40 and so as he's a keen photographer we have planned a trip in late April-early May around the Sedona Arizona, and Moab - Bryce Canyon, Utah areas to see the Grand Canyon, and other amazing scenery in the area.

So I need some advice as to the likely weather/temps/clothing needs. We are likely to be outdoors a lot, both at dawn and dusk but also during the day. So if you live in or have visited this area, could you advise what a travel wardrobe of two weeks would need to include in your opinion.

Many thanks for your help.

Regards RuthieK

-- Edited on

1/18/07 9:23 AM

--

------
Sewing in Derbyshire, England
http://ruthieksews1.blogspot.com/

Tonya


Colorado USA
Member since 8/24/02
Posts: 362
Skill: Intermediate



In reply to RuthieSews

Date: 1/22/07 12:00 PM

Hi Ruth -

Congratulations on being able to visit these areas of the country! I grew up in canyon country about 90 minutes from Moab - you're in for a real treat.

As for the weather in May, be prepared for anything. And I mean *anything*. Torrential rain, dry heat to 100 degrees farenheit (I think that's around 38-40 celsius), cold weather to below freezing (especially at night), snow, and of course, balmy 65 degree perfection. If I were you, I would pack some sort of raingear and dress in layers that you can take on or off as the weather dictates. The desert can be warm during the day but usually the temperature drops very quickly once the sun goes down. Sturdy hiking boots are a must, though you could get away with a good running shoe.

The air is extremely dry in Moab and near the Grand Canyon. Your poor English-weather-pampered skin is going to complain a lot. Make sure you have plenty of lip balm/chapstick and a good moisturising lotion. Preferably something with a lot of shea butter in it. Regular lotion with humectants doesn't work in canyon country because the air doesn't have enough moisture for the lotion to work with. (Humectants work by grabbing moisture from the air to put into your skin).

You will be at a higher elevation than you are used to - I think Moab is near 3000-5000 feet elevation (1000 meters) which shouldn't be high enough to give you altitude sickness but you will get out of breath more easily. That and breathing more quickly in the dry air makes it tougher. Take it easy and take breaks while hiking to enjoy the breathtaking views.

Mosquito repellent would probably be a good idea - springtime is the wettest time in the desert and the gnats/blackflies can be fierce.

Springtime is also when the desert blooms, and it's entrancing. A quick rainstorm wets the sandstone, makes it glow, and smells heavenly. You've never smelled rain until you've smelled it in the desert.

I'm so jealous! I live in South Carolina now, and it's wet and damp. Give me dry high desert any day... Have fun!

kkkkaty


Utah USA
Member since 12/7/05
Posts: 2842
Skill: Intermediate



In reply to RuthieSews

Date: 1/23/07 3:27 PM

Hi Ruthie.... I think you were already given quite good advice, but I thought I would add a little to it.

First, as it gets closer to your departure, visit www.weather.com, and look at a 10 day forecast for those areas. That might help you narrow down the possibilities and narrow down what clothes you might want to take. In general, you can probably count on it starting to be fairly warm by May.

Second, although it is true that the weather can be variable, it is quite a dry climate, and if there were storms, they are likely to be short, the kind of thing you could wait out in your car.

Third, the National Parks have good web sites (see for example: http://www.nps.gov/arch/planyourvisit/weather.htm), which may also help your planning.

Fourth, please be cautious about visiting narrow canyons in this area if there is even a remote chance of bad weather. very attractive places for photographers. Flash floods are not uncommon; it seems that every spring people are killed, and it's often visitors from far away, who don't know the danger or underestmate it. Depending on where you are visiting, a ranger can provide good information.

If I was the one doing the trip, I would bet on it being warm and dry, and carry a jacket with a hood that might double as rain protection. Maybe a light pair of gloves. I would bring mostly shorts and tees, lighter slacks and skirts.

Will you be driving? Hope you have a wonderful trip! I live in Utah; if you need more specific information, I'll try to be of help

------
Viking Lily 545
Viking Ruby
Bernina Activa 210
Brother 1034d


frame


USA
Member since 2/19/04
Posts: 6405
Skill: Advanced



In reply to RuthieSews

Date: 1/23/07 4:42 PM

I live in the southern desert of AZ and everyone has given you great advice. I just want to add don't forget Sunblock or sunscreen. The desert sun is fierce year round even in the snow.

Dress in layers. Drink plenty of water and take lots of pictures. You are traveling into some of the most beautiful landscape in the US. It truly needs to be seen to be appreciated. Have fun!

------
"I meant what I said, and I said what I meant." - Horton(Dr. Seuss)

***When all else fails, call Tiffany.***



debbie52000

Kansas USA
Member since 1/22/07
Posts: 2
Skill: Advanced



Date: 1/23/07 5:40 PM

Breath taking. I visited last year. We took a bus from Sedona to the Grand Canyon, which I highly recommend. The car lots were full at the canyon, so glad to have the bus driver let us off at scenic outlooks. We didn't even need to find a parking place. I'm from Kansas and my husband and I also recommend the pink jeep tour, very educational and fun. Debbie
Don't forget your camera!!

PixieCat


Ohio USA
Member since 5/5/04
Posts: 742
Skill: Intermediate



Date: 1/24/07 6:24 AM

If you're an animal lover I recommend visiting

Best Friends Animal Sanctuary.

DH and I are planning to go there on vacation sometime in the next few years. Looks like an amazing place. My parents were there last year and said it was quite special.

------
Lori



Reggies Mom

USA
Member since 9/12/05
Posts: 1707



In reply to PixieCat

Date: 1/24/07 6:53 AM

Best Friends, yes! I've never been there but have seen it mentioned on TV several times --- it seems to be an amazing place. Confirms my belief in the goodness of people.

Also, it you can manage to hop on over then go to Lake Powell. If you get on a boat there you will see such amazing rock formations that will be hidden if on foot. We spent almost two weeks on a house boat and I felt like I was on the moon. It's just incredible....it defies description.

ETA: Ruth, my brother has spent a lot of time in the Bryce Canyon region so I'll try to pick his brain. He's in the middle of a big life upheaval right now with retiring, moving, etc, but I'll try to get some info once things settle down. I have some photos of he and his wife, with their 2 month old daughter, hiking in Bryce Canyon. It looked pretty scary to me but I guess they knew what they were doing since she's mid-twenties and got married last summer. No, they didn't drop her off the cliff...as perilous as it seemed in the photos. You are going to love it!

-- Edited on

1/24/07 7:21 AM

--

-- Edited on

1/24/07 7:22 AM

--

-- Edited on

1/24/07 7:23 AM

--

------
"Some luck lies in not getting what you thought you wanted but getting what you have, which once you have got it you may be smart enough to see is what you would have wanted had you known."
~Garrison Keillor~

RuthieSews


UNITED KINGDOM
Member since 1/1/06
Posts: 1294
Skill: Intermediate



Date: 2/20/07 4:35 PM

Thanks for all the replies! For some parts of the trip we will be with a group of other photographers (some locals) but the sedona part we are on our own a bit more. I don't cope very well with heat so I had best bring a hat.

Thanks for all the feedback I will take it all on board.

------
Sewing in Derbyshire, England
http://ruthieksews1.blogspot.com/

MAB.AZ

Arizona USA
Member since 1/8/05
Posts: 165
Skill: Advanced Beginner



Date: 2/20/07 5:58 PM

Southern Arizona checking in......I've hiked to the bottom of the Grand Canyon 3 times and spent quite a bit of time in the areas you will be visiting. I agree with everything already posted. Once we left the bottom of the Grand Canyon in shorts and reached the top later the same day in a blizzard.

If you go to www.travelsmith.com and search for "anywhere pants" you will find slacks for men and women made of a 2 ply supplex fabric that are wonderful. Both DH and I have used these for worldwide travel. In the dry Arizona climate they will dry overnite. I would suggest tee shirts from coolmax fabric.....even long sleeves to protect your delicate skin from the sun. They will dry fast too. A hooded Gore-tex jacket is most wondeful....it repels water and wind. You can wad it up to put in your day pack. I'm sure there are UK sources for garments of these fabrics. We use www.llbean.com. I'm sure your husband will use a photographer's vest, you might like one too to stow all your "stuff".

I agree with the hiking boots, at least ankle ones, which you have well broken in before your trip. To save luggage space just tie them by the laces to your carry-on bag.

You can buy sunscreen and lotions here. Will you be flying into Phoenix? Widebrim hats are great....especially if they are mesh in the crown to breath.

You will be appropriately dressed absolutely anywhere in casual slacks and hiking boots. No need for dress up clothes. People don't use umbrellas. Jeans are most appropriate but heavy to transport and take longer to dry.

Drink lots and lots of water. Drink before you are thirsty.

I'll try to answer any questions you have.

Mary Ann
-- Edited on 2/20/07 6:00 PM --

ladykicks

Utah USA
Member since 2/15/06
Posts: 17
Skill: Intermediate



In reply to RuthieSews

Date: 3/14/07 11:24 AM

I used to live near Bryce Canyon, and I personally believe it is the most spectacular and photographic of all the canyons in that area.
One thing to bear in mind is that the elevation there is around 10,000 feet--that means it will still be cool-to-cold in the late spring and possibly there will still be snow. But is is well worth the trip.
If you have enough time, I also recommend Cedar Breaks and a little further down the road, there are overlooks where you can look down towards Zion's Canyon.
Zion's Canyon is always really crowded, but it is fun to drive the switchbacks.
If you want to do some hiking, Zion's is good, but as I said crowded. A short drive away--just outside of St George-- is Snow Canyon which is truly spectacular and my favorite place in the whole southern half of Utah. There are several short, fairly easy hikes there, biking and rock climbing--quite a bit at at 90 degree angle.
If time permits, there is also a great deal to see up here in the northern area of Utah and the weather is generally quite nice by then.
I hope you have a great time!
Printable Version
* Advertising and soliciting is strictly prohibited on PatternReview.com. If you find a post which is not in agreement with our Terms and Conditions, please click on the Report Post button to report it.
Online Class
Beginners Guide to Sewing Jackets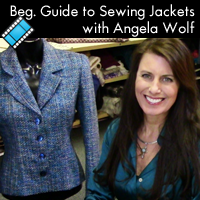 Online Class
Fun with Fitting - BODICE w Darts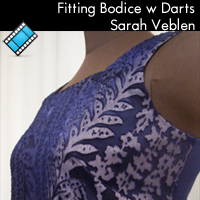 Other Zaaberry baby hat

by: sewsweet19...
Review
J Stern Designs Women's Tee Pattern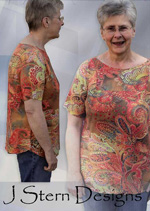 Pattern Details
Petite Plus V202 VHS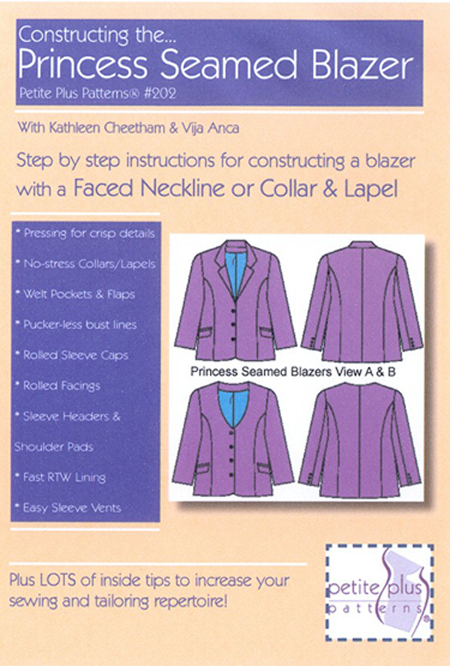 Pattern Details
Butterick 5925

by: SueV
Review