elka78k


Advanced
Illinois USA
Member since 8/24/02
Posts: 28



Date: 3/26/07 10:57 AM

Hello ladies
It has been a while since I frequented a board, but a challenge came my way, and I just couldn't pass it up. My daughter's rhythmic gymnastics teacher asked if I could make competition leotards for her students. These are level 3 girls, and most would be as young as 6 years old. I am sure I can handle the task, but I also realize that this will include many new techniques for me. For example: how to sew on mesh, finish appliqued edges and how to set rhinestones and other glitter.
If anyone has a favorite fabrics website, please post as well. From what I've seen there are a lot of websites that sell made to measure leotards. But our teacher is looking for someone local and she is not entirely happy with her current seamstress. I can make the pattern (although, if you know of good basic one, that would be a plus), but I lack in technique. Thanks!

Michelle T


Intermediate
British Columbia CANADA
Member since 8/24/02
Posts: 4536





In reply to elka78k



Date: 3/26/07 11:19 AM



I am not sure what a leotard for rhythmic gymnastics looks like but KS 3103/3104 may work for you.

I have not made this pattern, but I have made the KS sunsuits, which are basically a leotard, and had great results.

Just make sure you are paid well for the work you will be doing. Charge for each heatset crystal you apply, they are inexpensive by the gross, but take time to apply.

Also do not depend on measurements taken by others for the girls. Take them yourself and build that time into what you will be paid.

Lastly, ask why she is no longer satisfied with the current seamstress?

------
Proud parent of a Dwight International School Honour Roll Student

elka78k


Advanced
Illinois USA
Member since 8/24/02
Posts: 28



Date: 3/26/07 11:26 AM

thanks for the pattern. I don't think it will work as mostly leotard is panty-like at the crotch.
I have a KS swimsuit pattern that I plan to use, with some modifications. I have made swimsuits in the past (I think, even posted a review or two here), but never with elaborate applique and I am frankly not sure how to finish the edges there, if at all. Do you use zigzag stretch stitch, or some special thread?
The reason she is not happy with current seamstress is because that seamstress does not seem to have a good eye for design lines. Or so she says :)
Do you have a link to technique for crystal application?
What am I getting myself into? Oh boy.

Luckylibbet


California USA
Member since 7/28/03
Posts: 1405





In reply to elka78k



Date: 3/26/07 11:55 AM

Some quick links to other reviews/posts that might help

Try reading SewingSkater's reviews. Her reviews are very helpful in terms of getting competition level design ideas.

Thread discussing skating dresses, but the concepts sound similar.

Thread with some really detailed info on rhinestones.

Hope this all helps,


------
Suo ergo maledicto

Your time is limited, so don't waste it living someone else's life. Don't be trapped by dogma - which is living with the results of other people's thinking. Don't let the noise of others' opinions drown out your own inner voice. And most important, have the courage to follow your heart and intuition. They somehow already know what you truly want to become. Everything else is secondary. - Steve Jobs

elka78k


Advanced
Illinois USA
Member since 8/24/02
Posts: 28



Date: 3/26/07 12:43 PM

thanks for the links on PR! they are most helpful

CaraSkates


Intermediate
USA
Member since 8/25/05
Posts: 94



Date: 3/26/07 1:14 PM

I make skating dresses - similar but not the same. For a good base pattern I would invest in Kwik Sew 2178 and it's sister pattern, Kwik Sew 2177. The adult version of this is KS 2004. Keep in mind that if you see a neckline or other details you like on a skating dress pattern you can always just overlap the bodice and panty 1/4" at the seam allowance and trace it off as a leotard and just forget about the skirt. You can also draw your own necklines onto the Kwik Sew base designs.

I find that Adult XS fits most preteen girls better than a girls 12 or 14. I have also found KS to run about 1 size smaller than measurments in girls sizes (ie: my 8slim sister wears a 10 in KS). Take a look at my reviews to see some of the skating dresses I've made using Kwik Sew patterns.
My favorite place to buy all things stretchy from is Spandex House. For rhinestones, I use hotfix and get them from many places. Sometimes eBay, sometimes eJoyce.com depending on what I need. I use 1/4" natural swimwear elastic in all my legholes/armholes/necklines as I find anything else to rub and pinch too much. I hope that helped!

sport

Member since 8/29/05
Posts: 219



Date: 3/28/07 10:10 AM

Hi Elina. I sew gymnastics training leotards which are similar to rythmic suits and would like to share my ideas. I started with KS 2724/5 and modified it accordingly. I found the Kwik Sew patterns a little wide so trimmed them (I compared a GK Elite brand suit I owned to the measurements on the KS pattern and realized the pattern was much wider). Lycra stretches nicely widthwise, giving a nice slim fit to the leotard. For inspirational ideas, try the GK Elite website (just google GK Elite). There are oodles of beautiful bodysuits with applique, rhinestones, etc. To apply rhinestones, I use a Kandi Kane applicator wand (available at most fabric stores or on line) and apply hot fix rhinestuds or rhinestones (rhinestuds are less expensive and pretty also) which are cheaper on Ebay by the gross than from local fabric stores. When applying applique, I cut a simple shape from a nice coordinating lycra fabric (foil or hologram works well), stick it on the leo using a bit of Elmer's glue stick (quick dabs to the back of the applique), then go to my sewing machine and zigzag the applique using short, narrow stitches. I backstitch at the beginning and end to lock in the stitches, just to ensure they don't come out. I use regular polyester thread, don't bother with the nylon wooly thread and have never had a problem with stitches breaking or coming loose; use a 14/90 stretch needle in both my sewing machine and serger (smaller needles kept breaking in my sewing machine when I topstitched the elastic to the leo). As for applying mesh and glitter, I've never done that so can't offer any suggestions about that. I recently learned a great technique for making designs with rhinestones/rhinestuds. Make a stencil using thick paper (vellum, construction paper, etc.) by first drawing your design, let's say a simple heart, onto the paper. Using a 3/8 inch hole puncher, punch uniformly-spaced holes around the outline of the heart. Place the stencil on top of your leo and, using a fine point crayola washable marker, mark a small dot inside each hole in your stencil. Remove your stencil then apply each hot fix rhinestone to the marks. You'll find that the marker will show on the inside of the leo but once your rhinestones have cooled off simply take the leo to the sink and wash the marker off. I've never had difficulty removing the marks. Well I hope I have helped in some way. Just wanted to share all my tricks and experiences! Good luck!!

elka78k


Advanced
Illinois USA
Member since 8/24/02
Posts: 28



Date: 3/30/07 0:00 AM

thanks everyone for the information. this is all very helpful. The gymnastics teacher brought some competition costumes for me to see and I couldn't believe the crappy quality of sewing. But hey, it looks good on the floor, so who cares.
I have two questions, if someone could answer please:
1. any other lycra/spandex sources besides Spandex House? I am looking for something with abstract print, preferably in turquoise color (team colors are white black and turquoise, but we don't have to stick to them)
2. i have been advised to charge per rhinestones. How much? is a dollar ok? or too much? Is $60 a decent price for simple design (one design line, long sleeves, attached skirt, some rhinestones). It's hard for me to judge how long it will take me, but I don't want to shortchange myself...

thanks much!

sport

Member since 8/29/05
Posts: 219





In reply to elka78k



Date: 4/2/07 9:34 AM

I get a lot of my fabric on Ebay. The only other source I know of is here in Canada, in Hamilton, called Anne's Fabrics; they sell to dancewear companies all over the world. They have a website but it's not the best - you're better off calling them and asking them if they have what you're looking for (better yet, send them a pic by e-mail). As for the price, I think $60 is reasonable for a simple suit. I keep my prices as low as possible because I love to sew and want to keep the business coming. $1 per rhinestone sounds high to me, but it depends on what you are paying for your rhinestones and how many you are putting on the suit. Rhinestones are cheaper by the gross (144) and purchased on Ebay. Good luck, Elina.

LouisaP

Intermediate
Minnesota USA
Member since 2/27/07
Posts: 415



Date: 4/2/07 4:10 PM

Try Betty at www.lycralady.com

She's in Sioux Falls, SD, and she offers incredible service - she'll find you exactly what you're looking for. If you call her and tell her what you're looking for, she'll send you a free swatch packet. For $20, you can join her sample club, and she'll send a HUGE packet of samples, updated quarterly, and offer a 20% discount. Her fabrics aren't cheap, but she probably has the best selection of meshes around.

I sew skating dresses, which aren't too different from gymnastics leotards.

I like sewing my dress seams with a 4-thread overlock on my Viking serger, using wooly nylon in the two loopers. (Feels just a bit more secure than a 3-thread stitch, and it stretches well).

I use 1/4 inch elastic on necklines and armholes, but 3/8 inch on the panty leg holes. I serge the elastic on with a wide 3-thread stitch, wooly nylon in both loopers, turn the elastic, and use a 6mm twin needle to topstitch the elastic edge, using wooly nylon hand wound on the bobbin. (I hate unthreading my serger to do a true coverlock stitch.)

Hot fix rhinestones work fine for sizes up to 4mm, but I find the larger hotfix stones tend to pop off, so I glue those on individually using Gem-Tac or E-6000 epoxy.

For appliques, I either fuse a large piece of lycra onto some light-weight paper-back fusible, trace the applique shape onto the paper, mirror image, and then fuse the lycra shape onto the garment before top-stitching around the edge with a narrow zig-zap stitch. If the garment lycra is fairly stable, I use an aerosol Sulky temporary adhesive on the back of the applique shape and just pat it into place before top stitching it into place.

Don't know about gymnastics, but most girls older than 10 need to have the front of their skating leotards lined. I find it easier to flat line than couture line: cut the front piece out of lycra and pin the lycra shape wrong side down onto a piece of lining. Be careful to smooth out all the wrinkles of both pieces! Then I zig-zag around the entire piece, and cut away the excess lining fabric.

You can press the lycra seams with a cotton flannel pressing cloth and lots of steam - be sure to use a cloth so you don't melt the lycra or leave shiny marks.

Can you tell I love sewing dresses?

Louisa


Printable Version
* Advertising and soliciting is strictly prohibited on PatternReview.com. If you find a post which is not in agreement with our Terms and Conditions, please click on the Report Post button to report it.
Restyling with Exposed Zippers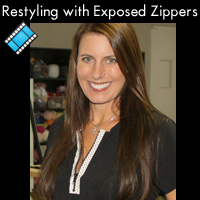 Leather 101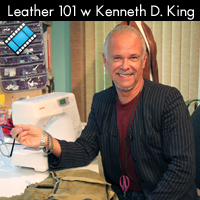 BurdaStyle Magazine 10-2012-118B

by: grays08
Review
Sewing Workshop Chicago Jacket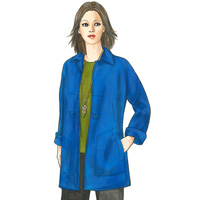 Buy Now
J Stern Designs Khaki Pants Pattern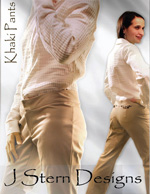 Buy Now
Simplicity 3505

by: valerie se...
Review