wifarmkid


Wisconsin USA
Member since 5/23/06
Posts: 10
Skill: Intermediate



Date: 7/8/07 11:34 AM

Hi all. I have been lurking here absorbing all of the great info - we had a confirmation in May and a graduation in June, so am just getting back into the sewing room! During the recent 99 cent sales at Hancock, I picked up B5053 and B5047. I used some $1 yard WalMart fabric for the B5053 blouse and this is what I ended up with.

For the record, I am 5' 10" tall and my measurements are:

high bust 46

bust 49 1/2

waist 48 - definitely got the apple thing going!

hip 52

I buy 2x tops and 22 long pants at CJ Banks - the one rtw store where I like the fit, except I find that the bust is always too big if the garment fits around my hips and tummy. I am more of a B cup than a C in patterns, does anyone know what cup size these patterns are drafted for?

This top was cut out using the size 22 lines - the only mod was to use the 3x line at the back armseye - as I have broad shoulders. I like the fit of the shoulders and the top to the sleeve cap - but the rest of it! It hangs like a sack from the bust down! As you can see, it is way long even on me - sleeves and overall length.

I have a feeling that just taking it in at the sides might not fix the fit. Do any of you have any suggestions?

-

unaltered Butterick 5053

Debbie Cook


Member since 4/11/02
Posts: 9857



In reply to wifarmkid

Date: 7/8/07 12:27 PM

Quote:
I like the fit of the shoulders and the top to the sleeve cap

I agree. Those areas seem to fit fine, although I think you might be able to go one size smaller on the front since there seems to be excess fabric where your arm meets your body. I also think the back fits well, but could use some waist shaping.

Quote:
- but the rest of it! It hangs like a sack from the bust down! As you can see, it is way long even on me - sleeves and overall length.

And I agree here too. I've looked at CC's patterns on her

website

for years and the fit on her pattern models looks very similar to what you ended up with. In other words, a sack and not flattering at all for plus size women. I know she says she designs for plus size women starting with a plus size block, but I don't like her proportions. All of her models look heavier than they really are because of those proportions.

As to what to do to fix this one ... Me, I'd probably move on.

But, if you want to experiment, my suggestions are:

1. Change the neckline to be a deeper and wider vee neck.

2. Shorten the sleeves at least 4-5", probably more.

3. Raise the armhole and add a bust dart. I see a fold in the side view that is a dart wanting to form. I think I'd *try* the next size down to get rid of some of that excess ease all through the front.

4. Take in the sideseams at waist so it's not so boxy. Maybe even add waist darts.

Please write up a review for this pattern since you already have photos taken. It will be helpful to women contemplating buying/making this pattern.

------
--
"I base my fashion sense on what doesn't itch." — Gilda Radner
http://stitchesandseams.blogspot.com

KathySews


Michigan USA
Member since 10/1/06
Posts: 4255
Skill: Intermediate
Body Type:




Date: 7/8/07 12:40 PM

I am glad you posted this. I have been looking at her patterns since Joann sale is coming. This is one I had my eye on. I am trying to get a basic set of patterns that I can just SEW without lots of hours spent fitting. A few adjustments are fine.

I think more fitting is slimming but too many plus size designers are not getting that. I am plus but still want stylish clothing.


Mini


Wisconsin USA
Member since 3/21/02
Posts: 97
Skill: Advanced



Date: 7/8/07 1:14 PM

I don't think the proportions look flattering either. The Butterick catalog doesn't tell you what height the Connie Crawford patterns are drafted for, so there is no way to tell if they are the same as the regular Buttericks or not. Her designs in the catalog look like they are scaled for tall women, but even so they look pretty oversized. Also she says they use "ready to wear sizing". But there is no standard sizing in ready to wear, so that doesn't tell you much.

I'll wait for more reviews of the Connie patterns. I bought one of the regular Butterick patterns for plus sizes to see what the fit was like. It's 4819, a wardrobe pattern with a fitted blouse and pants. I'm working on the blouse today. It's the first one of their plus size patterns I have tried, and it seems well-proportioned for a woman of average height with a C bust and rounded upper back. (The pants look they will be okay too, although I won't get around to them for a while). A nice surprise, as Butterick used to have patterns that were grossly oversized.

PKPudlin


North Carolina USA
Member since 7/19/05
Posts: 233
Skill: Intermediate



Date: 7/8/07 2:52 PM

I just finished making my second Connie Crawford dress (review in the works - I just moved so can't find the camera!) and was so impressed with the fit RIGHT OUT OF THE PACKAGE! I mean NO FBA, redraw the darts, shorter here, longer there, cut the pattern, trace the pattern, tape this down, hold-my-mouth-right-and-pray-a-lot alterations. None, zip, nada, zero, zilch. My first one was D7125 (Classic sleeveless dress) which has been discontinued. I LOVE THIS DRESS! The one I finished last week was

D7141

which is Butterick

B 5049

without the little jacket. This pattern has optional tucks that can be taken in at the waist to give it more shaping. I chose not to do the tucks on my dress, as I am not feeling too good about my shape right now,

and prefer to let my shape remain anonymous to protect the guilty.

It was so exciting to have something fit right out of the box like that - I have invested in a few more of her patterns and can't wait to dig in.

Personally, I think the blouse looks nice on you. If you want more shaping, perhaps a couple of tucks under the bust? Very pretty color. What is the chance that the fabric itself is the culprit? Just a thought.

Anyway, there's my 2-cents.

Reviews to follow - I promise....

------
Just a Yankee girl in a Southern world.

wifarmkid


Wisconsin USA
Member since 5/23/06
Posts: 10
Skill: Intermediate

1 member likes this.




Date: 7/8/07 11:19 PM

Thanks for all of the comments and suggestions! I spent the day finishing up Simp 4699 (the jacket - oop now), have had it cut out forever. I think that I will tinker with the CC top a bit more before I give up on it - I do like the fit of the shoulders and I really need nice looking classic tops for work, which is what drew me to this pattern.

A few more things about the pattern -
1. no where did it say what cup size it is drafted for,
2. there were no "finished ease" measurements written on the pattern pieces (I tend to use those measurements to decide on the size, sometimes more than the sizing on the envelope - but I could have measured it myself !) and
3. the instructions regarding the bias edging on the neck show that piece sewn into a circle before applying to the neckline, but the instructions said something totally different - which would be confusing to beginners. I just did my own thing.

PKPudlin, I'm glad you had such good luck with your dresses, can't wait to read your review. My local Hancocks had that dress done up as a sample, and it looked very nice.

I will be writing a review shortly - I guess the most frustrating thing would be that I did cut out my RTW size, and I still have fitting issues. I am more of an apple shape, and I believe these patterns are more for pears.
It will be interesting to see what experiences others have.


Aless


South Australia Australia
Member since 11/29/02
Posts: 2148
Skill: Advanced
Body Type:




In reply to wifarmkid

Date: 7/8/07 11:33 PM

I made up this pattern recently in the same size as you (I also have broad shoulders and am a D cup) and it is a wadder for me.Everything was out of proportion on me,and yes, no matter what I tried to do to fix it,it still looked like a sack.

As Debbie said,maybe you should move on.I did. I am hoping that her pants give me a better deal.

------

Aless(Adelaide,South Australia)

You will do foolish things, but do them with enthusiasm.- Colette

Sherril Miller


Went to PR Weekend!

Member since 8/24/02
Posts: 7504
Skill: Expert/Couture
Body Type:




Subject: Connie Crawfords new Butterick patterns Date: 7/9/07 0:49 AM

Your top really does fit you well except for the way it hangs off your breasts. The reason it does this is because she has taken the side seam darts and rotated them to the waist as underbust darts, then left them unsewn. Removing fabric at the side is how you would get rid of it. You cannot just make a larger side seam, however because all the fabric you need to remove is in the front only. I think before I made this pattern, I will try to rotate the darts back into side seam darts. I think this option would work well for you too.

-- Edited on

7/9/07 0:50 AM

--

------
Visit my blog at http://sewingsaga.blogspot.com

If it's worth sewing, it's worth sewing well;
and if it's worth sewing well, it's worth FITTING FIRST! - TSL

fiberfan


Utah USA
Member since 2/25/06
Posts: 991
Skill: Advanced



Date: 7/9/07 0:58 AM

I made a muslin from B5053 and raised the armhole 2 inches beause higher armholes fit me better. The armhole was still too low. Combined with the lack of dart it was a wadder.

Joanne

------
joy and gladness shall be found therein, thanksgiving, and the voice of melody. Isaiah 51:3

so many ideas, so much fiber, so little time
http://fiberfan.blogspot.com

PKPudlin


North Carolina USA
Member since 7/19/05
Posts: 233
Skill: Intermediate



In reply to wifarmkid

Date: 7/9/07 7:47 AM

Hi Wifarmkid; I just looked at the D7141 package and it specifically states:

" This pattern is especially fitted for the 'apple body'; a figure with slender arms and a full bust."

So maybe this one will work better for you?????

She also writes on the package:

"Our patterns are designed for full-figured woman's proportions, fitting the three common silhouettes - Rubenesque, Apple and Pear. Each pattern is specially fitted for rounded shoulders, fuller stomachs, thicker waistlines and various body stances. The armholes, shoulder width/angle, and necklines are specially designed to drape correctly on any of these figures. Note: In the hip area, our dresses, tops and vests are 10" larger than the finished bust measurement."

These comments are on the "Fashion Patterns by Coni" package; I don't have the Butterick packages, so can't tell you whether or not those comments are there also.

I did not see 'finished garment' measurements and so do not know what the ease is, either, or the cup size. I have a C-D cup and did not have to do an FBA. Perhaps that information is on the Butterick version? Also, this could be because of the rotated dart, like Sherril said.

The bias edging is a bit tricky - I didn't trim the seam enough the first time out and had some issues. That is something that might trip up a beginner, I agree.

Better get to work on my reviews, lest I leave them here on the message boards!

------
Just a Yankee girl in a Southern world.
Printable Version
* Advertising and soliciting is strictly prohibited on PatternReview.com. If you find a post which is not in agreement with our Terms and Conditions, please click on the Report Post button to report it.
Online Class
10 Clever Techniques To Help You Sew Like a Pro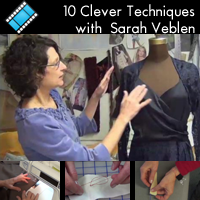 Online Class
Create a Jacket Muslin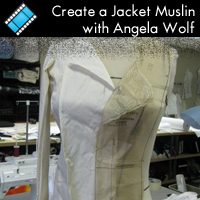 Simplicity 1666

by: creatarian
Review
Christine Jonson Swirl Skirt & Ruffle Top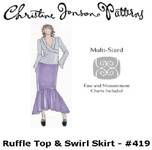 Pattern Details
Christine Jonson BaseWear One - Leggings, Top and Yoga Bodysuit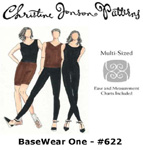 Pattern Details
Bluegingerdoll Mae

by: guineveres...
Review