CSM--Carla


Intermediate
Florida USA
Member since 1/21/06
Posts: 1230



Date: 9/3/07 8:45 PM

OK. Soon after joining PR, I read about and bought NINE yards of Triacetate fabric that as a bundle from Fabric-mart. I know for a fact that I am NOT the only PR member that something like this has happened to!!

Do you REALIZE how MUCH fabric NINE YARDS of BLACK fabric is? Plus, I have several yards of BLACK jersey and Sophia knit that I bought on line several months ago. At least I know that I no other member in good standing will ask me WHY I bought something as silly as this!

So anyway, I have seen pictures of myself in vacation pictures among other carefree travelers and I feel like I was the dementor in the crowd!!

Thank goodness I have STOPPED buying black fabric!


OK, SO, I have decided that this has presented a wonderful creative design opportunity with the abundance of black fabric I already own. I CANNOT go wrong here. What FREEDOM!

I have been browsing on line especially on Marcie Tilton's site. She seems to specialize in silk screening and I love some of her ideas. I would thrill me to use metallic copper, bronze and silver or gold paints for my new creations. (I have a red Chicos microsuede shirt with an oriental gold silkscreen design that looks fabulous and I get tons of compliments when I wear it.)

On the other hand, I have read that silk screening is labor intensive and you have to be pretty organized to do this. It seems overwhelming and that doesn't necessarily seem like fun to me.

I have done some primitive leaf stamping on T-shirts and think that stamping is the route I might want to go. I thought I could carve my own stamps with dragonflies or some geometric patterns. Maybe like this one:

Faux zebra

Has anyone here done this kind of embellishment? Do you have any advice for me about stamping--creating your own stamps, paint I should be using, preserving the design on my fabrics. Is simple silk screening something I want to explore?

Any advice you can give me is gratefully accepted! Thank you in advance!

Carla

Luckylibbet


California USA
Member since 7/28/03
Posts: 1405





In reply to CSM--Carla



Date: 9/3/07 9:59 PM

No, I've never done this type of thing before, but have contemplated it many many times -

But I encourage you to go for it - it will involve a learning curve for sure, and you **will** make mistakes, but as you said, you have yards of black fabric just waiting for stuff to happen to it...

I would start with stamping, as a simpler option, to see if you like the results. It certainly involves less set up and organization than silk screening. If the whole process appeals, then go for it! Discover your inner artist!

------
Suo ergo maledicto

Your time is limited, so don't waste it living someone else's life. Don't be trapped by dogma - which is living with the results of other people's thinking. Don't let the noise of others' opinions drown out your own inner voice. And most important, have the courage to follow your heart and intuition. They somehow already know what you truly want to become. Everything else is secondary. - Steve Jobs

mastdenman


Intermediate
California USA
Member since 1/12/04
Posts: 6129



Date: 9/4/07 0:08 AM

Several people have posted reviews of garments with embelishments on them.

------
Marilyn

January 2009 to January 2010 81 yards out and 71yards in January 2010 to the present 106.7 yards out and 146.5 yards in. January 2011 to the present: 47 yards out and 69 yards in.


SewTwin


Intermediate
Texas USA
Member since 1/13/04
Posts: 49



Date: 9/4/07 0:09 AM

I am so happy you started this thread!! I have Marcy Tilton's CD's: "Where Did You Get That T-Shirt", and "On the Surface". They both have many pics, details, best of all videos of her actually doing all. They are both $40.00 +$6.00 shipping.
The "On the Surface" really addresses more what you are referring to in discharging, stamping, foiling, stenclis, and silkscreens.
The Cd's are worth double the money in my opinon.
It is funny to see your mind evolving about all the ways you can see changing your fabrics. I am going to order some of her silkscreens. The prices are not bad, for where else I have seen them on the internet.
One of the reasons I like silkscreens than stamps or stencils is that you get a more "defined" print.
I tried to do some stamping on some slinky. I have found knits have to be stabilized with "Sew Stable"--best I found, or Starch. If on a knit, you have to have some tooth to put paint down on.
I am graduating from Quilted vests(bargello, chennille, quilted) so on.
I do have a Bernina 730E, so I could do Embroidery. But, the older I get, less patience I have.
Also, I could match prints to solids/stripes/polka-dots, and so on!
**I hope we get many other PR'ers to respond with other ideas...
--PS. If you can get Marcy's CD, it really helps to get a "visual picture" of what is involved. I like that her silkscreens are fast, and not a builky frame like the ones you will normally see.

------
SewTwin

tlmck3


Advanced Beginner
Illinois USA
Member since 7/11/05
Posts: 3773



Date: 9/4/07 0:45 AM

Carla,

I'd say play with LOTS of other things before attempting silk screening--it is NOT an inexpensive or easy process to start out with.

One caveat to everything I am about to say: I have never done any of this on man-made fabric, so I dunno from Triacetate. I am not sure how any surface treatment will actually bond to a synthetic. I've only used silk, rayon, cotton, linen to do this kind of surface design on. I would be more inclined to do something with thread or possibley try some kind of Shibori treatment--(wrapped/folded/crimped and heat-set texture) on a triacetate.

That said, Here ere are general thoughts on surface design materials/ideas:

The simplest way to start out would be to try a few rubber stamp pigment inks. You can use them to practice/play with stencils/ stamps you buy or cut yourself. Color Box is a good brand that comes in a lot of colors. I have found, though, that their metallics tend not to stay truely metallic, even on paper that has been stored in a drawer, away from heat/light/water.

If you have a good art supply store near you they should have a section of Jacquard brand fabric paints, dyes, etc. These are what I would suggest you start with.

(If you don't have a decent art supply store near you, di## Blick, Pearl Paint Co., and Dan Smith are all on-line/catalog sellers I've bought art supplies from by mail/internet and they all sell jacquard products. So does Silk Connection.)

I would use these rather than anything I've seen at fabric stores.

The nice thing about the Jacquard products is that stores/catalogers usually sell sampler packs of small bottles of the different product lines, so you can experiment with small quantities to see what works or what you like. They also usually have pretty good leaflets/brochures in stores that sell the products that can get you started. (I think they also do a full lenght book)

Textile Colors is their basic line of colors. You can add to it with the following or use the following products on their own:

Lumiere is the metallic/pearlescent line of fabric paints.

Dyna-Flow is good for things like silk painting--it acts more like a dye than a paint. I'm not sure how it would work with black.

Neopaque is their opaque fabric paint.

Pinata colors are super-saturated bright colors.

They also have metallic/Pearlescent powders called Pearlex that you can add to any of the other products to get a metal/pearl effect.

They also have a fabric marbling kit. I do marbling, but I confess, I haven't used their kit.


Check out their website:

http://www.jacquardproducts.com/

You can do any number of things with these--stenciling, stamping, spraying, dipping, resist dying, etc. You can cut your own stencils from sheets of Mylar or cut stamps from linoleum (cheapest but not easiest) or there are softer materials you can buy in the printmaking section of any art supply store. Speedball is the brand you will find most often.

Or, you can buy prepared stamps/stencils at art & craft supply stores. If you look for "Dover" books, there are several thematic ones that have laser cut stencils in an envelope in the book. My advice for stenciling or stamping: keep the designs elemental--tiny details get lost. You can also make a stamp out of just about anything that is incised, raised, textured.

Other options to consider are Shiva Paintsticks--Artist's Oil paints that you can draw with then heat set in your oven. Their metallics are lovely. Again, an art supply store might help you score a specially priced "pack" especially now, before the holidays. I think they are around $10.00 a stick, retail....usually. They are really soft to begin with...I'd wait for cooler, drier weather if I were you to play around with them at that price.

There are other, more solid oil-based crayons/pastels that can be used to draw or do rubbings with with that you can then heat-set in your oven. I believe even Cray pas work if you heat set them and they are inexpensive and come in good colors.

Ruth Issett is an author that has done several very good books on using paints, dyes, and non-traditional materials/tools to produce amazing designs on cloth and paper that are worth looking for/at. I have a couple of them and have found them very helpful/useful/inspiring. Color on Paper and Fabric or Color on Cloth are well worth a look.

Handpainting Fabric by Michelle Newman and Margaret Allyson is full of good "starter" ideas for trying out various techniques.

A book that has been on my wish list forever is called Paper, Metal and Stitch---lots of very cool ideas.

I also love looking at Fiber Arts and Surface Design magazines.

And, like old sewing books, I always look for old surface design books. Dover books also has a few relatively inexpensive books on how to create designs that teach you the basic principles of balance, repeats, abstraction, etc.

Have fun!



------
I am going for a level of perfection that is only mine... Most of the pleasure is in getting that last little piece perfect...Inspiration is for amateurs. The rest of us just keep showing up and doing the work.

Chuck Close, painter, printmaker, photographer

Hope has two lovely daughters: Anger and Courage

St. Augustine


fiberfan


Advanced
Utah USA
Member since 2/25/06
Posts: 991





In reply to CSM--Carla



Date: 9/4/07 1:40 AM

Quote:
Do you have any advice for me about stamping--creating your own stamps, paint I should be using, preserving the design on my fabrics. Is simple silk screening something I want to explore?



If you make your own screens from scratch, silk screening can be far from simple. PhotoEz and Stencil Pro are 2 products that make silk screening much easier. I have used PhotoEz and read comments from someone who has used Stencil Pro.

For man made fabrics except nylon, you will want to use fabric paints. Even for natural fabrics, I think they are easier than dyes for silk screening, stamping and/or stencelling. Art supply stores sometimes carry screen printing inks designed for fabric, don't get the ones designed for paper. Most fabric paints and screenprinting inks require heat setting when dry. Because you are painting black, you will need opaque paints.

Stamps and stencils can be fun also. I have more problems with stencils and fabric paints but that may be my technique. In addition to making your own, check out the stamps and stencils available in the craft section at Joann's, a craft store like Michaels or even the craft section at some Walmarts. When picking a stamp for fabric, pick ones with deep indentations and no fine detail. You can also free-hand paint and/or use masking tape to block out areas before applying paint.

Shiva paintstiks are another option. They are pigment in a wax/oil base and cannot be dry cleaned. They must dry and then be heat set. One of the cool things about paintstiks is the will do rubbings. This web site shows an example and has info about using paintstiks on fabric.

Another option, depending on the fiber content of the black fabric and what type and colors of dye were used, is discharing. Dharma Trading has information about discharing here.

My library has a nice selection of books on fabric paiting and dyeing. I would check what your library has, not just for information but also for ideas and inspiration.

Just one warning, changing the appearance of fabric can be lots of fun, require the purchase of different tools/materials, and take time away from sewing.

My ownly association with any of the companies named above is that I buy things from some of them.

Joanne

------
joy and gladness shall be found therein, thanksgiving, and the voice of melody. Isaiah 51:3

so many ideas, so much fiber, so little time
http://fiberfan.blogspot.com

SewTwin


Intermediate
Texas USA
Member since 1/13/04
Posts: 49



Date: 9/4/07 2:01 AM

Joanne, I am very interested in the silscreen methods for the PhotoEz and Stencil Pro.
Did they both give decently defined images?
Which did you like better?
There is also some methods on YouTube that are very interesting on making your own silkscreens.
On knits I found the PaintSticks very sticky, and stiff finished.
I finally found that the Fabric Mate markers were the least stiff.
Mucho Gracias for all the references, and choices.
I have spent hunks of time searching the net, and books to source.

------
SewTwin

mastdenman


Intermediate
California USA
Member since 1/12/04
Posts: 6129



Date: 9/4/07 10:30 AM

Check out the free tutorials on craftster.org

silkscreening

image reproduction section

These tutorials are made by board members using inexpensive materials. While they look like they can be time consuming they don't look that hard or undoable.

------
Marilyn

January 2009 to January 2010 81 yards out and 71yards in January 2010 to the present 106.7 yards out and 146.5 yards in. January 2011 to the present: 47 yards out and 69 yards in.


fiberfan


Advanced
Utah USA
Member since 2/25/06
Posts: 991





In reply to SewTwin



Date: 9/4/07 12:20 PM

Quote:
I am very interested in the silscreen methods for the PhotoEz and Stencil Pro. Did they both give decently defined images? Which did you like better?


I haven't used Stencil Pro so I can't tell you how it works. From the description it should work the same as PhotoEz. Both are a photo emulsion screen where the emulsion is on the screen ready to expose. I got very good definition of images whith the 2 PhotoEz screens I made.

I put several small images copyed from a Dover clip art book on each screen leaving 2 inches around each image. After the screen was complete, I cut the images apart and mounted them on quilter template plastic.

I did some test prints with Speedball fabric screenprint ink, Jacquard fabric paints and thickened Set a Color fabric paints. I also did some test prints with thickened procion mx dye and Color Hue silk dyes.



Quote:
On knits I found the PaintSticks very sticky, and stiff finished.


Did you wash the material after heat setting the Paintstiks? Someone on an email list I am on has used Paintstiks on several things and hasn't said anything about stiffness. My test piece is a little more stiff but I haven't washed it yet.



Quote:
I finally found that the Fabric Mate markers were the least stiff.


I had problem with the Fabric Mate markers partially washing out. Once there was some transfer of color that luckily came out with some pre-wash stain spray. Have you had any problems with color loss?

Another thing I have used is a local (Utah) product called Tumble Dye. It is a fabric paint, not a dye, and comes in a spray bottle. It has the least effect on the feel of the fabric of any fabric paints I have tried. It is about the same consistency as the tulip fabric paints in a spray bottle. The name may come from the fact that the paints are heat set in the dryer. I washed a t-shirt with Tumble Dye 20 or 30 times before getting a bad stain on the t-shirt. I saw no sign of color loss.

Joanne
with lots more ideas than time

------
joy and gladness shall be found therein, thanksgiving, and the voice of melody. Isaiah 51:3

so many ideas, so much fiber, so little time
http://fiberfan.blogspot.com

CSM--Carla


Intermediate
Florida USA
Member since 1/21/06
Posts: 1230



Date: 9/4/07 2:23 PM

OH MY goodness!

I am overwhelmed by all the wonderful info that you have sent my way so far--THANK YOU

Sew Twin--thanks for your opinion on the Tilton CD. This may be a good place to start because I am having a hard time visualizing some of these processes. Glad you are interested in all this too!

Terri, I continue to be AMAZED by your encyclopedic knowledge and memory on so many topics! Thank you for brand names, web sellers, authors and books to seek out for more information. I will do it! If I ever come to Chicago, I HAVE to meet you. Where is that bow-down worshipful emoticon!

Joanne, thanks for the info on the ideas on silk screen, paint sticks and the website.

Marilyn--great tutorials--thanks.

Heather--thank you for the encouragement. You're right!

I need to go and review some of these resources!

Thanks again to all.

Carla
Printable Version
* Advertising and soliciting is strictly prohibited on PatternReview.com. If you find a post which is not in agreement with our Terms and Conditions, please click on the Report Post button to report it.
Serging Ahead with your 5 Thread Serger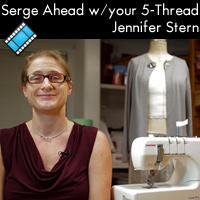 Break your Serger Out of the Box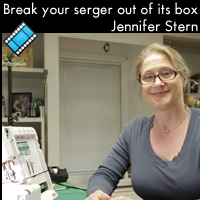 Self Drafted Pattern 177593-1003

by: montanachi...
Review
Petite Plus 651 Pattern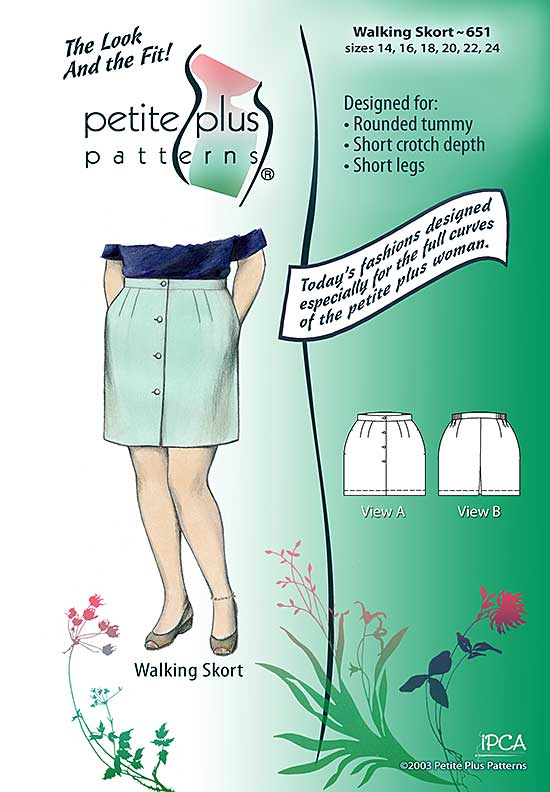 Buy Now
Shapes Four Good Measure Pattern (Size 1-3)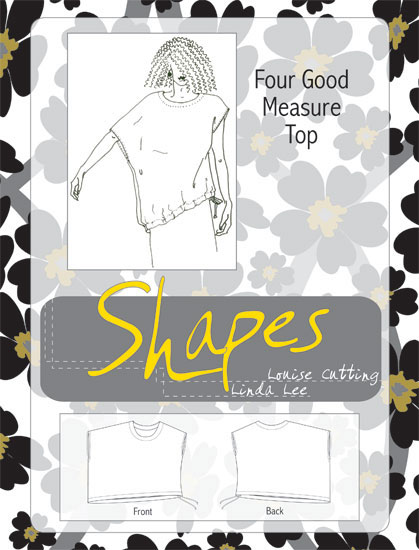 Buy Now
No Pattern Used Fleece Hat

by: Passion4Se...
Review