didda


Member since 3/17/07
Posts: 419
Skill: Intermediate



Date: 10/1/07 0:48 AM

LOL, while reading another topic concerning organization, my thinking got sidetracked. some people really do a lot to keep their sewing paraphenalia organized, which to me seems a little obsessive, as when it comes to my hobbies, i am incurably disorganized. but i got to thinking that i

am

obsessive in other areas.

so, i thought it would be interesting to find out what others see as their "obsessions". are you a compulsive cleaner? are your closets and dresser drawers always organized? do you never allow the gas tank to get below a quarter tank? do you arrange your currency bank-faced and in order of denomination?

so i'll start with mine . . . .

i must have my dishes washed by hand using only hot water, and the hot water heater has to be set at a minimum of 140 degrees. and the kitchen must be clean and organized. (if you can't stand the heat, don't wash my dishes)

the bathroom must be clean. the end of the toilet paper must hang down in

front

of the roll, not

between

the roll and the wall.

towels

must

be folded lengthwise twice then folded in thirds, then placed on the shelves with the folded side out. pillowcases must be folded the same way, pairs folded together as one, placed on the shelf with the matching sheet set.

dirty clothes must be put in a laundry basket or hamper. coats, hats, gloves, etc. must be put away immediately after use.

-- Edited on

10/1/07 0:53 AM

--

------
Fabric Fast 2008 - YTD Totals
Disallowed Yards Purchased: 12 1/2
Allowed Yards Purchased: 9 (to complete a garment)
3 (for having sewn 30 yards)
Yards Sewn: 43.500
Items Made: 21

bennink

Pennsylvania USA
Member since 6/5/04
Posts: 61
Skill: Advanced



In reply to didda

Date: 10/1/07 3:10 AM

We all have our little idiosyncracies that make us what we are.

For instance, I volunteered to assemble the PR quilt because my sewing room was hopeless. The only way it was going to get done was if I set a deadline. The quilt has been started, but has been put on hold due to health and plumbing issues.
BUT--all items belonging to each of my 16 machines are now with each one. I now have a basket with necessary sewing items when I go to stitch camp, quilt camp, ufo night, whatever. All of my fabric collection is sorted out by what it is being used for, adult bibs, crisis center quilts, quilts in progress, clothing, etc. All fabric has been pretreated so it is ready to go. All of my patterns are organized--I only had two duplicates!!!! Threads are now sorted by type and color.
I also have a notebook that lists projects or items in rubbermaid containers. Shelves of fabric are listed==bibs, crisis center quilts, babies, home dec, and the QUEEN.


NOW for the house--Since I live alone with 3 cats, I am usually just cooking for myself. This means that dishes are sometimes kept at a minimum. I invested in a portable dishwasher that gets used when it is full. On the toilet paper and towel issues, I am just grateful that there is toilet paper on the roll when I need it. My late husband always changed the toilet paper to your way whenever I put it in backwards. I just care that it is there. The same thing with towels.
I have 3 baskets in my closet for dirty clothes separating by color. When they all are full or one is full, that gets done. I sweep the rugs once a week, maybe twice if the stars are in the right position. Dusting gets done in 15 minute segments.
If anybody comes to see me, I trust they are coming to see me, not my house. If anybody would complain, I can easily hand them a mop or rag; but rest assured they would never come back into my house again!!!! Otherwise, I just try to hang in there . . . . .

Priscilla

BjP


Illinois USA
Member since 3/3/03
Posts: 1524
Skill: Intermediate



Date: 10/1/07 8:32 AM

The only OCD sewing-related thing I have is that I MUST put patterns in a 3x5 card notebook, sorted by company, pattern number, and type of item (apparel, children's, crafts, etc.). Several years ago I found I was purchasing duplicate patterns, so had to start doing this. All info is now in one small notebook that I can throw in my purse when pattern shopping.

About the only "home" thing I have is 1) putting all cutting knives away in the drawer before going to bed (??!!??), and 2) checking all doors and windows to make sure they are locked. Dunno, we live in a safe neighborhood and never have had any trouble, but I won't be able to go to sleep unless I know everything is locked up. Hubby doesn't ever check and it drives me nuts!

------
Bev

Reggies Mom

USA
Member since 9/12/05
Posts: 1707



In reply to didda

Date: 10/1/07 9:03 AM

Quote:
the end of the toilet paper must hang down in front of the roll, not between the roll and the wall.

That's me to a T (T.P.) I even feel compelled to correct the matter if I think it'll go unnoticed. (Don't try this at friends' homes as they may be from the "other" camp. )

Changing the world - one roll at a time!

------
"Some luck lies in not getting what you thought you wanted but getting what you have, which once you have got it you may be smart enough to see is what you would have wanted had you known."
~Garrison Keillor~

Reggies Mom

USA
Member since 9/12/05
Posts: 1707



In reply to BjP

Date: 10/1/07 9:12 AM

Bev, I'm like that too about locking up at night. It's a good habit to get into no matter where you live. I'm the same about locking my car, even if it's just sitting in my driveway.

I have this big, razor sharp Japanese knife that must be put away at all times, especially before bed. It's great but looks really scary. I think I've seen too many knife-wielding maniacs in the movies. All other knives are okay to stay out.

------
"Some luck lies in not getting what you thought you wanted but getting what you have, which once you have got it you may be smart enough to see is what you would have wanted had you known."
~Garrison Keillor~

Leora


Member since 2/7/04
Posts: 2187
Skill: Intermediate
Body Type:




Date: 10/1/07 10:38 AM

I'm not OCD but I picked up a few habits from my definitely OCD mother who washed each dish three times each and drove me crazy shopping (she would try each pair of jeans in her size three times each then inspect seams for hours ... I want to scream just thinking about it ... let's not talk about grocery shopping)

I fold my towels and stack them the way you do, Didda. I scrub my dishes with a dobie pad & dish soap then put them in the dishwasher. I must clean out the sink and wipe down counters before cooking anything. Everyone who lives here must remove shoes at the door. We all sleep with closed bedroom doors but haven't figured out how to close bathroom doors for some reason. I double check the car doors from the outside to make sure they are really locked. I charge the last person through the front door with the job of locking it. My boys automatically check locks now too LOL.

I overcook fish. I can't get past this one

------
Leah

Reggies Mom

USA
Member since 9/12/05
Posts: 1707



In reply to Leora

Date: 10/1/07 10:55 AM

Quote:
I overcook fish.

That wouldn't be tolerated around here

....I'm an "undercooker".

DH always asks why the salmon is almost raw.

Maybe I should send him to your house.

------
"Some luck lies in not getting what you thought you wanted but getting what you have, which once you have got it you may be smart enough to see is what you would have wanted had you known."
~Garrison Keillor~

Everyday Sewist


USA
Member since 9/14/02
Posts: 2707
Skill: Advanced Beginner



Date: 10/1/07 11:07 AM

OMG. I think I am a little obsessive.

Yes, the TP must be hanging away from the wall.
Yes, the towels must be facing folded side out.

I run my dishwasher daily, whether it's full or not. This is more a simplicity thing than an obsessive thing, though. It's just easier to have a daily routine with the dishes.

My sewing room has to be clean or I cannot sew.
My fabric is perfectly folded and stacked on shelves.

I check the doors every night before bed--but the knife thing never occurred to me, LOL.

I do put a away sharp things in the sewing room, but this is for the safety of my cat who likes to play with pins etc.

SansSouci572


California USA
Member since 4/8/02
Posts: 3623
Skill: Advanced



Date: 10/1/07 2:12 PM

I wouldn't really call any of these cleaning and safety rituals obsessive...just organized.

I have driven back to the house several times thinking I left the iron on, and the cat might knock it over and set the house on fire, which will cause the garage to explode because there is a tiny little thing of gas for the lawnmower in there.... which will catch the next house on fire, and it will all be my fault. I have a strange fear of doing that.

------
"What you WANT is irrelevant, what you've CHOSEN is at hand." --Mr. Spock

tlmck3


Illinois USA
Member since 7/11/05
Posts: 3783
Skill: Advanced Beginner



In reply to SansSouci572

Date: 10/1/07 3:37 PM

OMG...I do the same thing--or very similar things--the forgetting if I've locked the door...turned off the coffee pot...or the oven...I always feel extremely DIS-organized because of it. Thank God I now have an iron that shuts itself off after a time.

Of course NONE of that helps when I put a pot on the stove, walk to another part of the apartment and forget said pot until I have incinerated whatever was in it...incinerated hard boiled eggs smell the worst.

------
I am going for a level of perfection that is only mine... Most of the pleasure is in getting that last little piece perfect...Inspiration is for amateurs. The rest of us just keep showing up and doing the work.

Chuck Close, painter, printmaker, photographer

Hope has two lovely daughters: Anger and Courage

St. Augustine

Printable Version
* Advertising and soliciting is strictly prohibited on PatternReview.com. If you find a post which is not in agreement with our Terms and Conditions, please click on the Report Post button to report it.
Online Class
Create a Jacket Muslin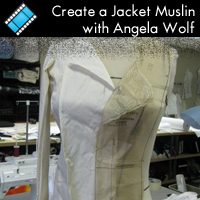 Online Class
Break your Serger Out of the Box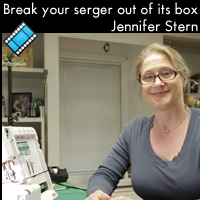 New Look 6122

by: sewquester
Review
ZIPPERS - A downloadable Book by Shannon Gifford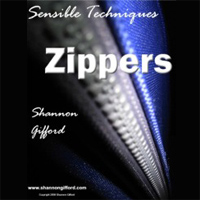 Pattern Details
Victoria Jones Collection Pattern 205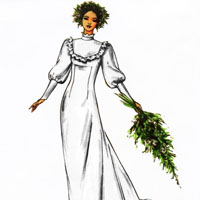 Pattern Details
Simplicity 2512

by: Lavenderbl...
Review